Hike'n Sail in Turkey - vacations and travel
Black Sea & Eastern Turkey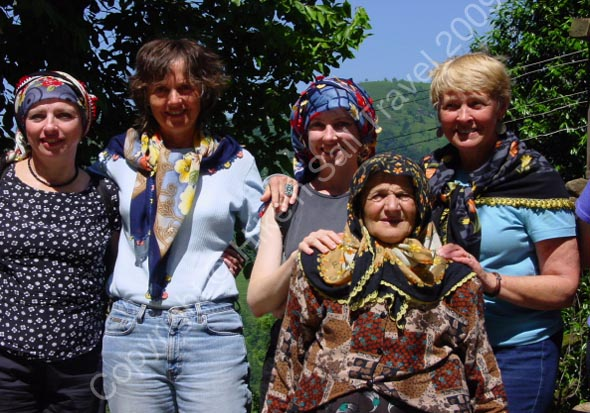 Contact provider for price
12 Days
Year-round
Boutique accommodations

Exertion level: 4

Operator:

Hike'n Sail in Turkey

16 people max
Istanbul airport, turkey
Culture & Nature trips
Black sea and Eastern Anatolia are two diverse regions in terms of landscape, etnic variety, food etc. Along the Black Sea Coast, we will explore the ancient monasteries, alpine mountains, lakes, evergreen lush Black Sea tea plantations, hazelnut groves, yaylas(high pastures), wooden homes, bag pipe, rich folklore and jokes. Then we sneak into the eastern borders of Turkey where where Turkish, Georgian, Armenian, Caucausian, Kurdish, Arabic, Persian cultures clush on the volcanic highlands.
Locations visited/nearby
Turkey, Europe
0 testimonials about this trip.
Reviewer:

Meg Russett

located in

LA

,

CA

US

My trip with Hike and Sail was an unforgettable experience that has literally changed my life. It was my first trip to Turkey, but I now visit regularly and consider Istanbul my "second home." Alper and the two other guides who accompanied us were warm, incredibly knowledgeable, and lots of fun. I can't recommend them highly enough.

5

Reviewer:

Jane Osborn

located in

US

Our family trip to Turkey with Alper as our guide was a trip of a lifetime. We loved the country and our experience hiking and sailing in Turkey. Turkey is friendly, beautiful and amazing. We cannot recommend Hike and Sail highly enough.

5

Reviewer:

Sally Goodman

located in

US

I am so excited for you and your new venture! Your website is lovely with its pictures, graphics, and links. The information is helpful and descriptive. I still have hopes of returning to Turkey and doing the northeast area like you described on our trip plus a few more days in Istanbul.


5
Comments from Facebook
Special information
This is a custom departure, meaning this trip is offered on dates that you arrange privately with the provider. Additionally, you need to form your own private group for this trip. The itinerary and price here is just a sample. Contact the provider for detailed pricing, minimum group size, and scheduling information. For most providers, the larger the group you are traveling with, the lower the per-person cost will be.
Itinerary
Day 1 ISTANBUL
Arrive in Trabzon. Check in to our hotel, and enjoy a superb welcome dinner.
Day 2 TRABZON
Formerly Trebizond and in ancient times Trapezus, is a busy, modern provincial capital. Visitors reared on stories of the peacock brilliance of the Comneni and expecting to find the remains of their glittering places will be disappointed. The Towers of Trebizond, Rose Macaulay's 'fabled city' is in the past now, but there is still a lot of charm and an original character here to impress the visitor. Sumela Monastery and the Hagia Sophia Church are the highlights of the day.
Sumela Monastery According to an ancient tradition Sumela Monastery was established c 386 by two monks from Athens, Barnabas and Sophronius. In his dream Barnabas was told by the Blessed Virgin to found a monastery in her honour in the Pontus. The monastic settlement was known as Panagia tou Melas, Our Lady of the Black Mountain. Haghia Sophia Church Trabzon's most renowned monument is the magnificent Church of Haghia Sophia, which stands on a high terrace overlooking the Black. After the Latin invason to Constantinople in 1204, Komneni Dynasty has escaped to Trabzon and established the Komneni Kingdom and built this church, referring the glorious Hagia Sophia Church of Justinian in Constantinople.
Day 3 UZUNGOL (Long Lake)
Trabzon and eastwards is always known with its "yayla"s (highlands), where one can see the all tones of green, beautiful wooden houses, the most picturesque villages, mystically grazing cows in the mist. Uzungol, often disappears in the mist, one great spot, the most glandour of all yayla villages. We hike around the lake and the village and stay one of the local wooden inns.
Day 4-5 AYDER YAYLA
Today we drive back to the coast and continue eastwards toward Rize, the tea capital of Turkey. We go up to the famous yayla of Rize called Ayder, where many trekkers and mountaineers approach the summit of Mt. Kackar. For two days we explore very panoramic yaylas hamlets, with breathtaking views of Firtina(Thunder) Valley, enjoy the incredible number of wildflowers, meet friendly Laz or Hemsinli people, may coincide a gentlemen playing "tulum" ( Turkish Bagpipe – Were celts around here? Yes they were.) Of course, during our Black Sea expedition we taste the famous local dishes, trout in famous black sea butter, honey, muhlama, hamsi (national fish in this area – a myth), kaygana (omlet with hamsi). (Did you know that in Black Sea area they have parfume made of hamsi and tea) Do not mention the phenomenal Black Sea jokes. We will learn the brand new ones, while we are here.
Day 6 ARTVIN
After our morning hikes, including spectacular castles and waterwalls, in the afternoon, we drive to Artvin, a small city on Georgian border, on hilltops like a falcon crest. Artvin area accommodates 4 national parks, which are among the ecological hotspots of the world.
Day 7 KARS
We drive through the one of the most beautiful gorges from Artvin to 6000 feet Kars. This is the passage from Black Sea to the east of the world. Little is known about the early history of Kars, but it seems likely that it attracted settlers from the earliest times. In AD 961 the Bagtarid kingdom of Kars was founded by Mushegh, the brother of Ashot III, the Merciful, (951-977) who had made Ani his capital. The Bagtarid dynasty came into being in 806, when Ashot Bagratuni was recognised as prince of Armenia by the Abbasid Caliph Harun ar-Raschid. The In 1053 the Seljuks Turks attacked Kars and in 1064 the city was taken by Alp Arslan.
Day 8 DOGUBEYAZIT
Dogubayazit is the last town of any size before the Turkey-Iranian border. Sited on a plain 1800m above sea-level it is wreathed in dust clouds in summer and racked by icy winds in winter. A place of few attractions, it is just a convenient centre for visiting one of the most attractive and most exotic buildings in Turkey, Ishak Pasa Sarayi, and for exploring the bleak, fascinating, countryside around Mount Ararat.
Day 9-10 VAN
Van is one of the most important tourist centres in eastern Anatolia.Built on a large fertile plain on the eastern shore of Van Lake, 4km from the lake. In antiquity the area was famous for its horses. The tradition continues. Van is a hub to explore the extensive amount of historic relics of the Iron Age Urartu Civilisation, Seljuk and Ottoman Turks and 10 century Bagdarit Armenian Kingdom. Our visits in van area include, the unique Akdamar Church on Akdamar island, the 10 century Armenian Church with the most exquisite stone carved exterior decoration, Urartu relics in Van, which was the capital of Urartu Kingdom, and Hosap, Van Castle, one of the best location on earth to watch the sunset, and maybe an opportunity the see famous Van kilims and Van cats (indigenous to this area, with one yellow and one blue eye)
Day 11 ISTANBUL
Return to Istanbul. Have a farewell dinner.
Day 12 Transfer to Airport.
More information from Hike'n Sail in Turkey: