The World Outdoors - vacations and travel
Baja Adventure Cruise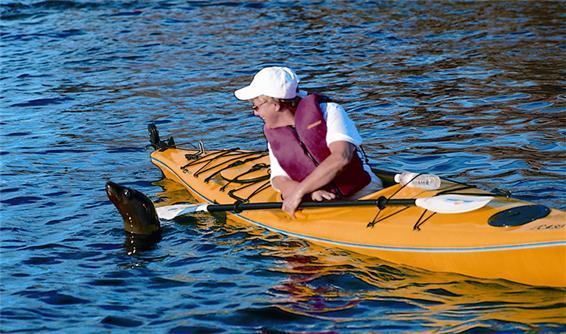 from $5,240* per person
8 Days
January-March
Comfort accommodations

Exertion level: 3

Operator:

The World Outdoors

24 people max
La paz airport, mexico
Boats, Barges & Small Ship Cruises trips
Explore the spectacular waters off the coast of Baja, Mexico by zodiak, kayak and on foot. Our small ships visit the hidden gems where big ships never go. See whales, dolphins, sea lions, and clouds of colorful fish all along Baja's magical and unspoiled desert wilderness.
Locations visited/nearby
Mexico, Central America
Comments from Facebook
Itinerary
Day 1: La Paz-San Carlos
Arrive in La Paz and transfer across the Baja Peninsula to San Carlos where we board our ship.
Days 2-4: Bahia Magdalena
Our whale watching takes place in Bahia Magdalena on the Pacific coast of Baja, a vast wilderness of sculpted sand dunes, mangrove channels and protected waters. This is one of the main breeding and calving areas for 17,000 California gray whales. We observe these enormous yet gentle animals from the ship but also at water level from our Zodiacs. While we would never presume to predict Nature's behavior, it is highly likely that you will have the privilege of a "touching" up-close encounter. We also take our kayaks and Zodiacs through the mangrove swamps to discover magnificent frigate birds, pelicans, cormorants, terns, great blue herons, and ibis.
Day 5: Los Cabos-Gorda Banks
We cruise past spectacular Friars Rocks at Land's End. For those who wish, we arrange a visit to the historic town center of San Jose del Cabo. The afternoon is spent at the Gorda Banks sea mount, a gathering place for whales and dolphins. Humpback whales are often sighted here at this time of the year. Their variety of behaviors is of great interest as we watch them tail lobbing, flipper slapping and breaching.
Day 6: Islas Los Islotes-Espiritu Santo
With deeply indented shorelines and dramatically eroded cliffs, Islas Los Islotes and Espiritu Santo are two of the most beautiful islands in the Sea of Cortez. We enjoy them to the fullest with a leisurely afternoon of swimming and snorkeling. You soon experience a thrill not soon forgotten: swimming with the curious and friendly sea lions. Another great way to observe the impressive geology of these islands is by kayak. Or opt for long walks or lazy beachcombing, finishing the day with a relaxing beach barbecue complete with campfire and a star-spangled sky.
Day 7: Sea of Cortez
Today is a day with the luxury of no specific plan. We may spend the morning whale watching in the waters around Isla Danzante, an area that has proven to be one of the best for finding blue whales and bottlenose and common dolphins. When diving or snorkeling in the clear waters of our anchorage, observe the tropical fish flitting along the reef as they come and go in waves of brilliant color. There is also time to explore one of the many lovely, uninhabited islands such as Isla San Jose or Isla Santa Catalina, famous for the 12-foot wavy barrel cactus and other desert plants that grow along the canyon. Stay alert for the great diversity of bird life--ladder-backed woodpeckers, Costa's hummingbirds, Gila woodpeckers and verdin.
Day 8: La Paz
We disembark in La Paz after breakfast.
More information from The World Outdoors: