AdventureSmith Explorations - vacations and travel
Glacier Bay Adventure Cruise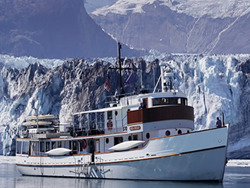 from $3,500* per person
6 Days
May-September
Boutique accommodations

Exertion level: 2

Operator:

AdventureSmith Explorations

12 people max
Gustavus airport, gustavus, ak, united states
Boats, Barges & Small Ship Cruises trips
The 6 day Glacier Bay Adventure Cruise travels from the ancient rain forest of Icy Strait to the barren mountain faces of the East and West arms of Glacier Bay. 100's of miles of glacial fjords are here for you to enjoy by kayak, hike and small ship cruise. Your base of exploration is the historic 12 passenger small ship M/V Sea Wolf. The Glacier Bay Adventure Cruise is suitable for all abilities and desired level of activity. On our exciting small ship explorations the possibilities of seeing the coastal brown bears, black bears and the rare glacier bear as well as wolves, moose and a myriad of other land and marine mammals are endless. Marvel at breath taking glaciers, towering mountains that shoot up from the sea and the acrobatic humpback whales. All of this and more make up the magic of Glacier Bay!

Locations visited/nearby
Bartlett Cove , Marjorie Glacier , Muir Inlet , North Sandy Cove , Dundas Bay , Whale Watching , Gustavus, Alaska, United States
0 testimonials about this trip.
Reviewer:

R. and D. Ivanova

Galapagos Motor Yacht Eric/Letty/Flamingo Cruise

Thank you for the most incredible experience! We just came back from our trip to the Galapagos. We were on the Eric - a terrific yacht and an even greater team. The islands are beyond belief, but I wanted to tell you how perfect the entire trip was. Everything went incredibly smoothly from our arrival (late) in Quito where our guide was waiting for us despite the late hour, to all transfers, luggage and ticket arrangements - everything. Our guides were fabulous, as was the entire crew, including the Captain. AdventureSmith Explorations did a terrific job!

5
Comments from Facebook
Itinerary
Day 1 - Bartlett Cove
Board the MV Sea Wolf in Bartlett Cove at 8am and embark on your exciting Glacier Bay Adventure Cruise. Meet for a brief orientation/introduction to discuss safety, boat layout and Sea Wolf amenities as your Alaskan adventure cruise begins.
Cruise up Glacier Bay to Geike Inlet while enjoying lunch and the beautiful sights. Once in Geike Inlet - a beautiful waterfall laden fjord, partake in your first kayaking excursion that may offer a glimpse of black bears, wolverines, mountain goats and a large variety of seabirds and ducks.
After paddling, cruise to our evening anchorage at Reid Glacier. This is about a 4-hour journey filled with incredible vistas, wildlife along the beaches and possibly breaching whales in the waters. Along the way, learn about the natural history of Glacier Bay National Park, current research projects in the park as well as the plentiful sea and wildlife. Pass in front of the incredible wall of ice and make a beach landing for more exploration. Ashore, learn about glaciers geology and plant and animal succession. Head to another beach that offers bird lovers a binocular paradise, as it is a nesting ground for Arctic Terns, Kittlitz's, Murrelets, Ptarmigan, Grouse, Plovers and a variety of other shore and sea birds. Enjoy a fabulous dinner aboard the Sea Wolf as we watch the sunset over beautiful Glacier Bay and turn in for the night.
Accommodations: Sea Wolf
Included Meals: lunch and dinner
Day 2 – Marjorie Glacier
Wake up early and enjoy breakfast as we cruise to Marjorie Glacier. Cruise into Tarr Inlet where the Grand Pacific and Marjorie Glaciers cascade into the water. Take a wonderful paddle along the sheer cliffs of the Kittiwake and Puffin rookery and head out in front of Marjorie Glacier for a breathtaking experience and the chance to watch an active calving glacier from a safe distance.
Have lunch while cruising toward Bear Knob and Lamplough Glacier. Once past Lamplough, the Sea Wolf will hug the shore looking for wildlife. Explore Gloomy knob on a short Botany hike before returning to the ship for the evening's anchorage and dinner.
Accommodations: Sea Wolf
Included Meals: breakfast, lunch and dinner
Day 3 – Muir Inlet, the East Arm of Glacier Bay
With the engines starting early, wake up to a hot breakfast and get energized as we make our way up Muir Inlet - the East Arm of Glacier Bay. This is a rarely visited and exceptional wilderness area within Glacier Bay. Start the day with an amazing hike by McBride Glacier accompanied with a paddle up to Riggs Glacier.
Enjoy lunch, and explore the shorelines which have a great variety of shore birds, vista's and provide very high possibilities of bear, wolf or moose sightings. Once back aboard the Sea Wolf, cruise to our evening anchorage and dinner location to unwind.
Accommodations: Sea Wolf
Included Meals: breakfast, lunch and dinner
Day 4 - North Sandy Cove
If the tides are right, partake in a morning paddle at North Sandy - a very rich ecosystem that supports black bears, moose coyotes, and a plentiful marine environment. If not, head down bay to another pristine paddle area to kayak around the shores scanning for wildlife. Paddle over to Puffin Island for a truly wondrous look at a low tide vertical intertidal zone. This zone is home to hundreds of aquatic species such as sponges, periwinkles, whelks, sea stars, sea cucumbers and urchins just to name a few.
Back on board the Sea Wolf, head to South Marble Island to view a large Stellar Sea Lion Haul and a seabird-nesting rookery as we cruise onward to Dundas Bay, one of the most remote regions of Glacier Bay National Park. Head to the beach at Dundas where you can pick strawberries, learn about and taste native plants and revel in the glorious flower strewn meadows. Cow parsley, Chocolate Lily's Yarrow, Lupine, Wild Iris's, Lily of the Valley, Indian paintbrush are among the few plants that brighten the splendid landscape here. Stroll the beach following the tracks of Otters, Bear, Moose and Wolves. Then head back to the Sea Wolf for a brief lecture about the Native history and lore of this area. Spend the evening relaxing on board and savoring dinner as the peaceful sounds of the wilderness overcome the ship.
Accommodations: Sea Wolf
Included Meals: breakfast, lunch and dinner
Day 5 - Exploring Dundas Bay
Begin the day with breakfast followed by a hike exploring Dundas Bay. Survey the erratic boulders; climbing on them for views of the rivers and surrounding meadows. Watch for sea otters, black bears, wolves and moose as well as hoary marmots that graze these meadows and feed upon the intertidal dinner plate.
Cross a river for a brief foray through a Sitka Spruce forest and hike up the mountainside to explore and learn about a mature muskeg. Here you will see bog plants such as orchids, an insect eating plant called a sundew, stunted spruce, hemlock, marsh marigolds and violets. This is the end of a plant life cycle that starts from the rocky lands just exposed by glaciers and ends as a mossy watery bog called a muskeg. Back on board the Sea Wolf for lunch, followed by a paddle up the bay for more wildlife sightings. Once back aboard we will transit to our evening anchorage for dinner and relaxation.
Accommodations: Sea Wolf
Included Meals: breakfast, lunch and dinner
Day 6 – Humpback Whale Watching, Gustavus
This morning is dedicated to Humpback Whale watching! At midday head back to Gustavus for a 2:00pm docking. A local taxi will transport you to the Gustavus airport for your flight to Juneau.
Accommodations: N/A
Included Meals: breakfast & lunch
More information from AdventureSmith Explorations: