Journeys of the Spirit - vacations and travel
Angkor Wat, Cambodia: Unconditional Love In Action – Jan 23-Feb 2nd, 2013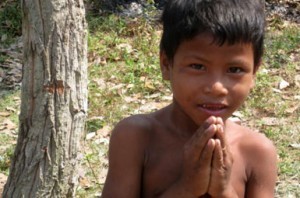 from $1,499* per person
11 Days
January
Boutique accommodations

Exertion level: 3

Operator:

Journeys of the Spirit

20 people max
Siem reap airport, siem reap, cambodia
Volunteer Vacations trips
Join New Thought Minister Rev. David Ault for a profoundly heart-opening spiritual journey of service to Siem Reap, Cambodia – home of the incredible ancient temples of Angkor Wat. To open oneself deeply, to risk feeling the suffering of others, and to wish to relieve that suffering – is the definition of compassion and the cultivation of the Buddha within us. As Gandhi once said: The best way to find yourself is to lose yourself in the service of others.

Mysterious & Ancient Temples

We'll have the opportunity to explore the amazing temple complex at Angkor Wat – or at least a part of it! Built in the 12th century, Angkor Wat lies north of the modern town of Siem Reap and was originally Hindu dedicated to the God Vishnu. Around a century later the official religion was changed to Buddhism. Since Buddha was a Hindu, the change of religion was adopted seamlessly and people converted from Hindu to Theravada Buddhist, which continues to the present day.


Locations visited/nearby
sacred service , temple tour , culture , spiritual growth , spiritual journey , teaching , learning , giving , volunteer , buddha , Theravada Buddhist , Cambodia, Southeast Asia
Comments from Facebook
Itinerary
Day 0-1 Jan 21-22 (-/-/-) Traveling to Cambodia
Depending on where you are departing you must plan on leaving January 21st or the 22nd to be able to arrive on time. After a long flight we are finally in Siem Reap, Cambodia at 10:15pm! You will gain a day going west crossing the international date line. For those of you that are flying from Atlanta, we will do our best to have you all flying together. If you are joining us from another city, we will work with you to make sure you arrive at a similar time so everyone can be together. Tonight we will check into our lovely hotel and rest.
Day 2-10 Jan 23rd – Feb 1st (B/-/-) Unconditional Love, Children, & Angkor Wat
Our first day in Siem Reap, Cambodia! Today we eat breakfast and meet together to discuss our time together and group intent for this amazing journey. We will begin the day easy since we will all be pretty tired from our long flights, but we have lots to discuss and plan!
For the next 10 days we are going to have an amazing variety of experiences – from awe-inspiring to heart-breaking. On the days that we are involved with our volunteer work we will be totally in service to the local children and people.
Working with the children in school will be one of our focuses. We may be needed to prepare meals, help in the teaching of English, or even giving instruction in proper hygiene. Whatever we do will be done with absolute love and lack of judgment. These people have had a harrowing and devastating history and have found a way to keep their dignity, joy and grace – we can certainly learn as much from them as they can from us.
Some of our time will be spent scouting locations for wells, talking to villagers to see what they feel they need, and finding a location for the new school David is planning to build for the children. Certainly a well is cause for great celebration – clean water saves hundreds of lives and lowers the death rate!
You will be part of this wonderful work, making special connections and sharing yourself. We will be in remote villages and you will be seeing life in a way that most tourist do not.
You have the opportunity to assist in as great or as little a way as you wish. It is up to you, no one is going to make you do anything you do not want to do. It is about being present and open and allowing your heart to lead the way.
On the days we are not in service we will be touring Angkor Wat – the most remarkable temple complex in all of Southeast Asia.
The Hindu-Buddhist mythology is gorgeous and incredibly complex, truly a once-in-a-lifetime experience. There is no way you can fit these ruins in your camera. Try as you may, you will hardly come close.
We plan on exploring the temples on three and a half separate days. On day one of our touring we will visit the Bayon (at Angkor Thom), Ta Prohm and Angkor Wat (the world's largest temple), with a special sunrise at Angkor Wat – wow.
On the second day of our touring we will visit Prash Khan, Prash Neak Pean and Ta Som with a special sunset at Phnom Pakheng. The third day of touring will take us to Prerup Temple and the Floating Village. Last of all we will have a morning visit to Baneay Srey Temple.
Day 11 Feb 2nd (B/-/-) Leaving for home
Our hearts filled to the brim, we say good-by to our new family and friends knowing that we will return! We have a flight tonight at 11:15pm so we'll make the best of our last day in this amazing country!
Day 12 Feb 3rd (-/-/-) Arrival home!
You are going to lose a travel day crossing the international date line going home!
More information from Journeys of the Spirit: