European Waterways - vacations and travel
Renaissance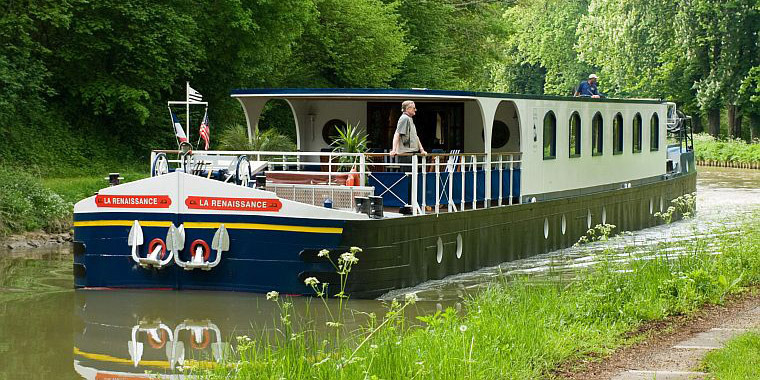 from €4,790* per person
7 Days
April-October
Luxury accommodations

Exertion level: 3

Operator:

European Waterways

12 people max
Airport near paris, france
Boats, Barges & Small Ship Cruises trips
Renaissance accommodates up to eight passengers in ultimate luxury. She was extensively refitted in 2009 and will delight the most discerning passenger. The air conditioned interior includes a beautifully appointed lounge with comfortable seating, a cosy bar stocked with your favourites and bookshelves which contain a Bose CD system, current books, up-to-date periodicals.

Renaissance has five members of crew who attend to the eight passengers throughout the cruise including a captain, tour guide, master chef and two housekeepers. She has four large suites which can be configured as twins or doubles. Each has a 60ft sq private bathroom and a TV/DVD system. The sundeck has seating and a spa pool, and bicycles are available for clients use.

Below you can find some of the highlights of the cruises we are currently offering on Renaissance, along with some examples of the cuisine and fine wines the master chef will present you with on board. You can view the current itineraries and maps by clicking "Renaissance Cruises" on the menu on the right where you will also find links to the photo gallery, deck plan and cruise rates.
Locations visited/nearby
France, Europe
Comments from Facebook
Special information
May accommodate certain types of disabilities. Contact the operator for more information.
Family oriented trip.
Itinerary
Sunday, Day 1 Paris to Montargis
Guests are met at Hotel Ampere in Paris at 1.30pm and transfer to the spacious Renaissance where a Champagne Welcome awaits you. Time to explore the pretty village of Montargis. Dinner aboard.
Monday, Day 2 Montargis to Montbouy
Morning cruise through the Loiret countryside with towpath cycling to Montbouy. After lunch we visit The Château de Fontainebleau, a residence of Napoleon 1st, from where he abdicated his reign in 1814, also boasts the finest example in France of Renaissance interior design and magnificent gardens. A tour will also be taken in a horse drawn carriage. On the way back to the barge we can stop at Souppes-sur-Loing and if the weather is fine there is time for a swim in the beautiful beach lake or tennis. Dinner aboard.
Tuesday, Day 3 Montbouy to Rogny les Sept Ecluses
Today's excursion is to Chateau-Landon. With a history going back 20,000 years to the first evidence of primitive habitation, this seldom visited, mainly medieval town was captured by Caesar in 52 BC. We have a private guided walking tour and see the 11th century Saint Severin Abbey, as well as enjoy a tasting of Loire wines. (If you prefer to replace Chateau Landon we can visit Parc Animalier de L'Emprunt, a children's animal farm in Souppes-sur-Loing, or karting at Planete Karting in Pannes(payment for karting is made by customer directly to karting on the day). Return to the barge for an afternoons gentle cruise to historic Rogny and its 350 year old floodlit 7 lock-flight. If you prefer this afternoon to trek around the local country-side on horseback with experienced guides, visit the super stables where palomino horses are raised and given a maximum of freedom, every attention is given to their well being (payment should be made by clients directly to stables on the day). Dinner ashore at Auberge des Templiers in Les Bezards.
Wednesday, Day 4 Rogny les Sept Ecluses to Ouzouer Trezee
After a leisurely breakfast of fresh croissants, baguettes and assorted pastries we visit Chateau de la Bussiere. This moat-encircled 18th century family owned chateau has a freshwater fishing museum full of antique rods, reels and fishing memorabilia, working gardens and interesting brick architecture. Originally built in the 11th century it was extensively modernised 600 years later and represents an interesting glimpse of Chateau lifestyle. Other options for today is lake swimming, Dinner aboard.
Thursday, Day 5 Ouzouer Trezee to Briare
Morning cruise to Briare and Gustave Eiffel's magical aqueduct across the River Loire with walking and biking for those that wish to do so. We preview Friday's crossing of this amazing 10,000 ton, 662 metre Pont Canal which was completed in September 1896. Today we also visit Gien, home of the Faience pottery and hunting museums and Chateau de Gien. Another option is kayaking near Chatillon. Dinner aboard.
Friday, Day 6 Briare to Chatillon sur Loire
Morning wander around fruit and vegetable, seafood, cheese and French fashion stalls in the Market in Briare. Today we visit Guedelon Castle in Treigny located deep in secluded woodland, an abandoned quarry reveals a landscape, seemingly untouched since the dawn of the last millennium. Out of this wood and stone, using 13th century building techniques, a castle is being created. Evening cruise across the River Loire on Eiffel's aqueduct. Captain's Farewell Dinner aboard.
Saturday, Day 7 Chatillon sur Loire to Paris

After breakfast we return you to Paris by midday.
More information from European Waterways: