Off The Map Tours - vacations and travel
Gobi Desert Off Road Motorcycle Tour
"Just wanted to say thanks again for the trip, very much enjoyed it (despite my complaints of speed on the… "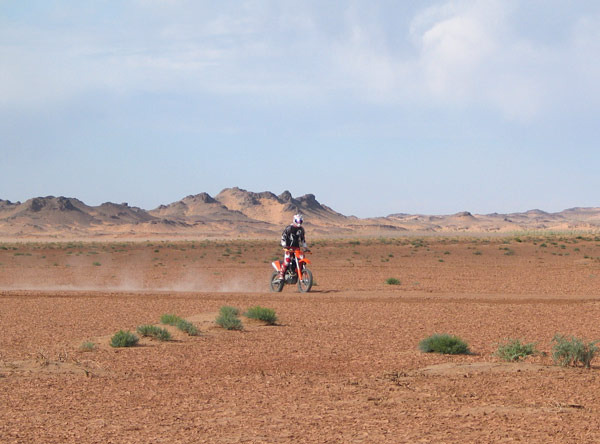 from €3,645* per person
10 Days
August
Comfort accommodations

Exertion level: 4

Operator:

Off The Map Tours

12 people max
Ulaanbaatar airport, ulaanbaatar, mongolia
Active & Adventure trips
The Gobi Desert straddling the border between Mongolia and China, is a wild and dramatic place, entirely suitable for motorcycling. We ride on all sorts of roads: asphalt as well as packed mud or gravel tracks with washouts and potholes. All pretty much free of traffic and through some spectacular scenery.

The famous Gobi Desert is not all vast flat steppe under a deep blue sky. There are bizarre rock formations, canyons, the Gurvansaikhan mountain range and sand dunes 100km long, as well as forests of small saxaul trees and other desert vegetation. Apart from a few villages and small towns that we pass through on the way, most of the population have a nomadic lifestyle, frequently moving with their round white felt yurts ("gers") and herds of camels, goats and horses. This trip is a fascinating cultural experience as well as an off-road bike tour across Mongolia of over one and a half thousand kilometres.


Locations visited/nearby
Mongolia, Asia
1 testimonial about this trip
Reviewer:

Stuart Thompson

located in

Seoul

,

South Korea

Just wanted to say thanks again for the trip, very much enjoyed it (despite my complaints of speed on the last day…sorry about that) and think you have a great team set up there who made the trip all the more memorable.

Maybe next year we can try to do another trip, if you'll still have us, please keep me up to date on any other options you create on the motorbike front.


5
0 testimonials about the provider, Off The Map Tours:
Comments from Facebook
Itinerary
Day 1
Arrive Ulaanbaatar and transfer to hotel. Evening meet crew and allocate motorbikes.
Day 2
Make an early start to get out of Ulaanbaatar city and onto the road leading south to the Gobi. The road is black-topped for a while, then soon becomes a rough jeep track as it crosses the green rolling hills of Tuv ("Central") Province. Ride on to Baga Gazriin Chuluu,
a mountain of unusual granite rocks which are home to ibex, marmots, steppe fox and plenty of birds of prey.
Day 3
Ride through Mandalgov, the capital town of Dundgov Province and continue across the open steppe of Middle Gobi to Tsagaan Suvraga, an amazing series of cliffs, white and pink limestone rock formations taking the appearance of stalagmites up to 30 meters high. It is an excellent site for some out-of-the-ordinary photography.
Day 4
The track to Dalanzadgad, capital of Umngov Province ("South Gobi") has little traffic, even though we are travelling on the main road. This is Mongolia as one imagines it – distant horizons, dry rocky earth and a huge blue sky. The town appears like a mirage and it takes nearly two hours of riding to reach it after seeing it from afar.
Day 5
Ride up into the mountains of the Gurvansaikhan Uul ("Three Beautiful Mountains") . This national park is so unexpected in the middle of the desert and it is a delight to feel so cool in the deep canyon where sunlight reaches for only a few minutes each day. After walking into Yolyn Am (the "Vulcher's Mouth") we ride westwards at the foot of the mountains to Khongoryn Els where huge sand dunes meet the end of the Altai mountain range.
Day 6
Leaving the golden dunes behind us we ride through a wonderful mountain pass and on to Bulgan village. Not far from here is Bayanzag, a forest of rare saxaul trees and the "flaming cliffs" where many dinosaur remains have been found and Roy Chapman Andrews discovered the first dinosaur eggs during his expedition of the 1920s.
Day 7
Today we travel north-east to Mandal-Ovoo and then to Saikhan-Ovoo. Here, on a bend in the Ongi river, are the remains of two monasteries, one on each bank of the river.
Day 8
Continue northwards through Middle Gobi to reach Zorgol Khairkhan, a dramatic granite mountain with bizarre rock formations jutting out against the skyline. Our last night is spent in this wonderful place and if you have enough energy you can climb on the mountain in the evening for great views of the area and different photographic angles.
Day 9
As we return to Ulaanbaatar, the landscape becomes gradually greener and more mountainous. Even close to the city people still live the traditional lifestyle; there are more horses and less camels than we encountered in the Gobi. We expect to arrive in Ulaanbaatar in the early afternoon.
Day 10
Transfer to airport for departure.
More information from Off The Map Tours: