Banana Adventure Tours - vacations and travel
Costa Rica Multi Activity Tour Christmas Special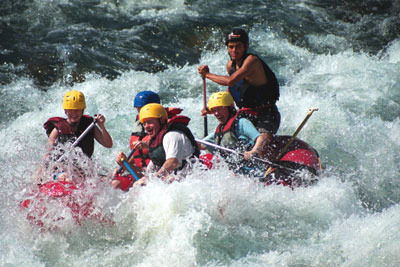 Contact provider for price
9 Days
Year-round
Comfort accommodations

Exertion level: 3

Operator:

Banana Adventure Tours

12 people max
San jose, costa rica
Family & Friends trips
Join us on this fantastic Costa Rican multi activity Christmas special and experience the rainforest erupting volcanoes and wildlife, especially made for family vacations and small group adventures. Activities include Canopy Tour, White Water Rafting, horseback riding and hiking. Spending Christmas in Costa Rica is an experience you will never forget.

Locations visited/nearby
Costa Rica, Central America
0 testimonials about this trip.
Reviewer:

Liz Warren

located in

California

USA

-The attention to detail was perfect - these guys are professionals! It takes an enormous amount of work to make all the details work, and this was done seamlessly.
I highly recommend Banana Adventures Tours to anyone who wants to get the most out of their Costa Rica vacation -




5
Comments from Facebook
Special information
This is a custom departure, meaning this trip is offered on dates that you arrange privately with the provider. Additionally, you need to form your own private group for this trip. The itinerary and price here is just a sample. Contact the provider for detailed pricing, minimum group size, and scheduling information. For most providers, the larger the group you are traveling with, the lower the per-person cost will be.
Family oriented trip.
Itinerary
Day 1: Arrival at San Jose Airport. Welcome to San Jose! Our exciting multi-sport tour begins immediately, as we travel from the Juan Santamaria International Airport to the Arenal Volcano. Our hotel is in an excellent location for observing the constantly erupting Volcano. Weather permitting, we may view one of its pyrotechnic shows. This evening we visit the famous Baldi Hot Springs and enjoy a soak in one of its many pools. Located in the shadow of the Arenal Volcano, the Baldi region is a wonderland of gardens, paths, steams and pools: twelve thermal pool and one with cool water plus three waterslides. Mud facials and professional massages are available as an option for an additional cost.
NOTE! Please plan your arrival time no later than 12:00 p.m. We will meet you at the airport exit. Pre lodging is available and pick up will be at your San Jose hotel; please contact us for pre lodging information. (D)
Day 2: White Water Rafting Pacuare River. After a fantastic breakfast (try the local tropical fruit, it´s delicious!) we head to the Rio Pacuare for our exciting Class III-IV White Water Rafting trip. After a thorough safety talk and a brief introduction to paddling, we launch our rafts down the mighty Pacuare River. We paddle more than 20 miles of scenic water, that course through a wilderness of dense vegetation that completely covers the riverbanks. The numerous rapids are interspersed with stretches of calm, tranquil water providing an opportunity to enjoy the surrounding tropical beauty and an occasional refreshing dip. Lunch will be at the middle of the river. Vegetarian meals are available. We return to our hotel in the late afternoon. (BL)
Day 3: The Arenal volcano is one of the world's most active (and studied!) volcanoes, thundering and blowing since 1968. Arenal is located in the Tilaran Mountains and dominates the background of today's tour. We will explore its National Park, and hike the trails through the forest and across the lava rivers to a safe viewing observatory from which you may see the majestic volcano's fireworks and lava rocks crashing down its slopes. In the afternoon, we will take the Jeep-Boat-Jeep Tour to transfer to our Hotel in the Monteverde area. The hotel offers views of the slopes of the Tilaran Mountains and Gulf of Nicoya. It is not uncommon to see humming birds, monkeys and quetzals from the hotel's balconies! (BL)
Day 4: Today we experience the thrill of exploring the surrounding forest canopy. Our tour consists of various platforms at canopy height and a rappel set in the heart of the cloud forest reserve. We begin with a hike through the cloud forest, and then we climb a rope ladder through the middle of a hug strangler fig. Once we reach the forest canopy, we slide from platform to platform enjoying splendid views of the multi-layered canopy. Assisted by expert guides, we then rappel back to the forest floor. The platforms vary in height from 20 meters to 33 meters above the ground. In the afternoon we will enjoy a hike through the Sky Wlak. The reserve is world famous for the huge variety of life forms it supports. An elaborate system of trails winds through the park inviting travelers to visit. The reserve is divided into six life zones, hosting a total of over 2,500 species of plants, 10 species of mammals (including the rare Jaguar),120 species of reptiles and amphibians including the endemic Golden Toad (sapo dorado), 490 species of butterflies, including the Blue Morpho and about 400 species of birds including the resplendent Quetzal. Overnight in Monteverde. (BL).
Day 5: Visit Monteverde Cloud Forest Reserve. Today we will transfer to Rincon de la Vieja area. In the afternoon, you will enjoy a beautiful horseback ride through the mountains to the Oropendula Waterfall. There you will experience the amazing sunset and landscape. The Oropéndola waterfall is a very impressive 82 feet high natural shower. The emerald green water invites for a refreshing dive. The waterfall is located in a beautiful vegetated canyon which beauty you'll enjoy. Overnight in Rincon de la Vieja. (BLD).
Day 6: Rincon de la Vieja Volcano. After breakfast prepare yourself for an amazing adrenaline filled experience with the Kazm Canyon Canopy Tour. We begin on a Zip line that is set on the edge of a cliff and slides on suspended ropes through a tight canyon. The first two traverses are done by rope, here we find ourselves on platform that are set on ledges inside the canyon. With a total of 10 platforms, 3 wall climbs and what has been christened "The Tarzan Swing", this tour features also a very long single traverse of 70 meters. Do not forget to bring your camera for those "once in a life time shots!" For those of you who do not want to experience these thrilling adventure optional hikes are available. After lunch, we will mount some horses and after a horse ride of 45 minutes through the forest we arrive at the changing rooms where we can prepare us for the tubing adventure. After a short walk, we arrive at the foot of the Victoria waterfall, where we'll have a short briefing about security. Then everyone gets his proper rafting "tube" to make the adrenaline in your body seek its way out, while you have to navigate through the rapids of the crystal clear Río Negro. (BLD).
Day 7: Transfer to San Jose and City Tour. After breakfast, we will transfer to the outskirts of San Jose into our beautiful hotel, here, after we have set into our rooms, we can enjoy a nice relaxing dip in the pool or a delicious fresh fruit cocktail. In the afternoon, your guide will pick you up for the City Tour. San Jose doesn't boast of beauty, it is actually a chaotic city with busy streets dirty busses and loud markets. However it does hide some important historical monuments, impressive landmarks and well stocked souvenir markets. Today you will be guided through the city visiting these important places and learning about their history and importance to the Costa Rican community, also, towards the end of your guided tour, you will be able to buy souvenirs and send your "wish you were here!" post cards. In the evening we will dine at the elegant Rancho San Miguel. The Ranch is about three km north of La Guácima, it raises Andalusian horses and has a charming little museum with capas, saddles, and other miscellany relating to horsemanship. The highlight is the nocturnal one-hour dressage and horsemanship show in an enclosed arena to the accompaniment of classical Spanish music. It's a fabulous experience. Although the show is spotlight, it's quite dark, so you'll need fast film or a digital camera to capture the action (BL)
Day 8: Poás Volcano National Park, Doka Coffee Plantation and Waterfall Garden Tour. (BLD).
Day 9: Transfer to Airport. (8:00 am) End of your adventure in Costa Rica. Transfer to San Jose. After a hearty breakfast, we will transfer you to the Juan Santamaria International Airport. (B).
More information from Banana Adventure Tours: