Banana Adventure Tours - vacations and travel
Costa Rica Family Tour And Adventure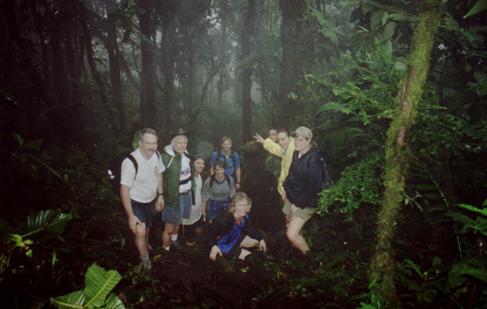 from $1,450* per person
8 Days
June-October
Comfort accommodations

Exertion level: 3

Operator:

Banana Adventure Tours

12 people max
San jose, costa rica
Family & Friends trips
Discover Costa Rica with your family. Travel with Banana Adventure Tours is not only about challenging adventures! If you are planning to travel with your family, this itinerary is ideal. It offers great quality hotels, private guide/driver, and fun activities like hiking, class II and III river rafting and canopy tour, not to mention the amazing wildlife and flora you will see, everything to enjoy a Costa Rica family vacations!.

Locations visited/nearby
Costa Rica, Central America
0 testimonials about this trip.
Reviewer:

Liz Warren

located in

California

USA

-The attention to detail was perfect - these guys are professionals! It takes an enormous amount of work to make all the details work, and this was done seamlessly.
I highly recommend Banana Adventures Tours to anyone who wants to get the most out of their Costa Rica vacation -




5
Comments from Facebook
Itinerary
Day 1:
Welcome to Costa Rica
You will be met on your arrival at Juan Santamaria International Airport by a tour representative and accompanied to your San Jose Hotel, located near the centre of San Jose. That first night you will prepare for your adventure tours.
Day 2:
The Costa Rica Family Adventure begins! Transfer to Tortuguero
You will be traveling with a bilingual naturalist guide on an air conditioned bus. Drive through Braulio Carrillo National Park, where you have the opportunity to see beautiful views and abundant vegetation. On the way we will stop for breakfast at Selva tropical Restaurant where you cans enjoy a butterfly garden with a variety of tropical flowers. After breakfast we will continue our trip to Caño Blanco deck driving by banana plantations. Al Caño Negro you will board the covered boat to the lodge, passing the Tortuguero canals arriving between 12:30 p.m. to 1:00 p.m. At the lodge our staff will be waiting for you with a refreshing cocktail, your rooms will be assigned and the guide will explain the afternoon activities after lunch –the visit to the Turtle Museum of the C.C.C. (Caribbean Conservation Corporation) and to the colorful Tortuguero town. You will return to the lodge around 5:30 p.m. free time to enjoy the pool, the bar service and prepare for your diner. Dinner service from 7:30 p.m. to 9:00 p.m. and the rest of the night free to enjoy the surroundings, pool and bar.
(B, L, D)
Day 3:
Tortuguero National Park
For those of us that are early birds, at 6:15 am, there is an optional tour to admire the awakening of the wildlife of Tortuguero. Return for breakfast (Service between 7:30 a.m. to 9:00 a.m.) Then another boat tour to admire the canals of Tortuguero National Park. This is wonderful and interesting experience where you can see abundant flora and fauna of Tortuguero National Park. Return to the lodge for lunch and free time for a siesta, enjoy the pool or go for a walk to the beach. Then you have another optional tour to the canals or stay at the lodge to explore the private trails of the lodge, visit the open butterfly garden or simply enjoy the pool. Dinner at the lodge and night at leisure.
(B, L, D)
Day 4:
Explore La Fortuna wonders
Costa Rica is rich in natural wonders and the area of La Fortuna is no exception. After breakfast we will begin our trip back around 9:00 a.m. The boat will arrive at Caño Blanco around 11:00 a.m. Here we will meet our private guide driver who will drive us to La Fortuna where we will check into our hotel. After lunch we will visit the Arenal Volcano National Park, our guide will take us to the old lava rivers and answer any question we may have.
In the early evening we will visit the world famous Tabacon Hot Springs and Spa.
(B, L, D)
Day 5:
White Water Rafting Rio Pacuare, Hike Arenal Volcano.
After breakfast we head to the Pacuare River for a wonderful class III-IV White Water Rafting trip. After a brief introduction to paddling, we launch our rafts down the Pacuare mighty River to begin our adventure. We traverse eight miles of remote and scenic waters that course through a wilderness of dense vegetation that completely covers the riverbank. The numerous rapids are interspersed with stretches of calm, tranquil water providing an opportunity to enjoy the surrounding tropical beauty. Lunch will be at the middle of the river and we return to our hotel in La Fortuna in the afternoon.
(B, L, D).
Day 6:
Biking or horseback riding Tour, and Pacific Ocean.
After breakfast we will head to our wonderful biking tour (or horseback riding tour at La Fortuna). The tour lasts about 4 hours. Then we will transfer from the Arenal area, at the base of the Tilaran mountain range to Manuel Antonio, on the Pacific Ocean. The climate in this area of Costa Rica is very warm and usually humid. This is a tropical transition forest between the dry lowland forest of the north and the wet rainforest of the south and therefore rich in bio diversity. Due to hot climate, clients are recommended to wear shorts and a t-shirt and to bring a change of clothing. There are restroom facilities but no restaurant here. We recommend you bring insect repellant, water and a camera.
After the tour we will stop for lunch at a local restaurant. We reach Manuel Antonio in the afternoon.
(B, L)
Day 7:
A day of Leisure at Manuel Antonio.
Finally some down time to be fully enjoyed at your own rhythm. This area of Costa Rica offers a wide range of tours from kayaking, rafting, hiking, National Park visits to even surf lessons. Manuel Antonio is also known for its beautiful beach. Here you may choose to just relax and work on that sun tan that will be the envy of your friends back home. Here you will have time to enjoy the beach and the sun at your own peace (B).
Day 8:
Transfer out.
Well, it is time for good byes.
We will escort you to the International Airport in time for your flight back home. (B)
More information from Banana Adventure Tours: