Ciclismo Classico - vacations and travel
Greece To Italy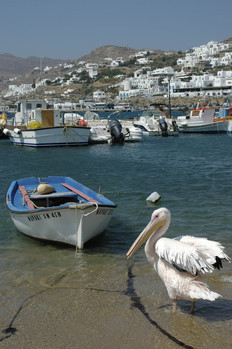 from $6,295* per person
14 Days
April, June, September, October
Boutique accommodations

Exertion level: 4

Operator:

Ciclismo Classico

24 people max
Loutraki, greece
Active & Adventure trips
Compare and contrast ancient and modern Greece and Italy in a single trip
Stroll the site of the original Olympic games
Feel the achievement of climbing to the lofty Passo L'Inferno
Walk amid the ruins of Brutus's villa in Velia

From law to literature to language, our culture bears the indelible imprint of the ancient Greeks and Romans. On this all-new Ciclismo tour, your bike becomes a veritable time machine as you pedal to classical ruin sites and pause in villages that hold fast to their old ways. Yet you'll feel at home at every stop of the way, thanks to comfortable accommodations, terrific food, and tour leaders who handle all the details - and plan those little, unexpected experiences that make your trip truly one of a kind.

Locations visited/nearby
Greece, Italy, Europe
0 testimonials about this trip.
3 testimonials about the provider, Ciclismo Classico:
Reviewer:

Harvey S.

located in

San Diego

,

CA

"We never would have found such wonderful places off the beaten path on our own."

5

Reviewer:

Nancy A.

located in

Chicago

,

IL

"Leave the real world behind, cycle through Italy and refuel your soul."

5

Reviewer:

Bill M.

located in

San Jose

,

CA

"As with a first taste of any fine wine, your Assaggio Toscana has whetted my appetite for much more of your beautiful country. I'll cherish the memories of our dinners at the Fattoria, our climbs up those beautiful hills and most of all the small personal details along the way." Never has the word 'Classico' been more appropriate!"

5
Comments from Facebook
Special information
May accommodate certain types of disabilities. Contact the operator for more information.
Itinerary
Day 1 – Loutraki
Meet your companions on a warm-up ride to ancient Corinth, followed by a welcome dinner.
Day 2—3 – Nafplion
Spin across the Corinth Canal to the storied Peloponnese, continuing to Mycenae, a UNESCO World Heritage Site and home of King Agamemnon. on Day 3, ride a loop to Eipdaurus, the third-century B.C. theater whose acoustics are so impeccable, it still hosts summer theater festivals.
Day 4 – Stemnitsa
A day of pure cycling and rich rewards! Climbing several mountains, we arrive in the Arcadian village of Stemnitsa, known for its fine gold and silver jeweler's school and a preserved Byzantine church that houses precious frescoes.
Day 5 – Olympia
Even cycling gods and goddesses deserve a break, and you'll get one on today's mostly downhill run to Olympia.
Day 6 – Lampeia
The Olympic spirit may very well sweep you up on this morning's tour of ancient Olympia. Originally a sanctuary where sacrifices were given, it became a site of athletic competition before a Roman emperor abolished the games as being too pagan. In the afternoon, ride up to a traditional mountain village.
Day 7 – Kalavrita
On our last day in Greece, we'll explore the stunning Cave of the Lakes.
Day 8 – Ferry to Italy
Down to the sea on cycles we go. In Patra, we'll board the overnight ferry to Bari.
Day 9 – Matera
Benvenuti all'Italia! A short shuttle will bring us to Matera, the city of caves and a filming location for The Passion of the Christ. Its sassi cave dwellings have merited a UNESCO World Heritage sites designation. If you're hungry for the road, join an optional ride to the town of Montescaglioso, whose origin dates to the seventh century B.C.
Day 10 – Castelmezzano
Begin with a roller coaster of a ride that affords wondrous views of Monte Ingino, the Brandano River valley, and Lago di Giuliano. For lunch, we'll break in Roman Tricarico. On a longer loop, you'll ride through Grassano, the site of author Carlo Levi's exile.
Day 11 – Padula
Zip downhill to Viggiano, where we'll fuel up for a challenging climb (but oh, the views!) that ultimately brings us to Padula.
Day 12 – Palinuro
Beginning in the Tangaro Valley, we climb steeply to the Passo L'Inferno before coasting down to dense forests, olive groves, and apple orchards.
Day 13 – Santa Maria di Castellabate
Hug the Mediterranean coastline to the Greek ruins of Velia. Continue along the coast of Cilento to Santa Maria di Castellabate, where our farewell celebration awaits.
Day 14 – Arrivederci
Transfer to Agropoli train station to make rail connections.
More information from Ciclismo Classico: