Off The Map Tours - vacations and travel
Overland Gobi Desert Expedition Tour
" I am reborn! Simply the best holiday I have ever been on The Gobi desert in Mongolia awesome. I took… "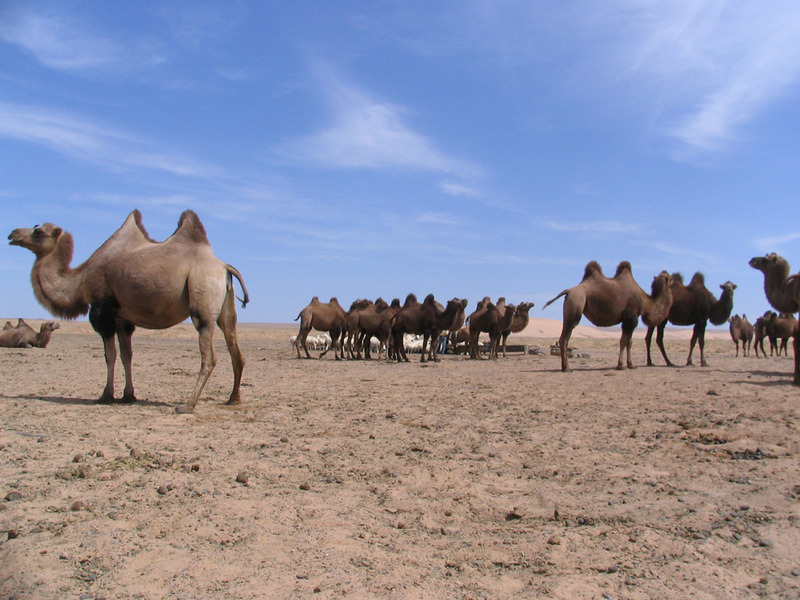 from €1,685* per person
10 Days
August
Comfort accommodations

Exertion level: 3

Operator:

Off The Map Tours

12 people max
Ulaanbaatar airport, ulaanbaatar, mongolia
Active & Adventure trips
This exciting 10-day tour is an overland adventure, starting from Ulaanbaatar and travelling down through the Middle Gobi steppe to the real desert of South Gobi province. There are many amazing sights along the way, including fantastic granite mountains, strange rock formations, massive sand dunes and mountain canyons.
These remote parts of Mongolia are the home of rare Gobi bears, wild camels and snow leopards. You are more likely to see ibex, black tailed gazelle, eagles and marmots.
All nights on this trip are spent in traditional ger camps where there are comfortable facilities and lovely surroundings.

We travel by jeep on rough tracks, rarely on good paved roads. In the countryside nomadic people live in gers and we will surely be invited into their homes where we will see a way of life which has changed little in centuries.
Locations visited/nearby
Mongolia, Asia
1 testimonial about this trip
Reviewer:

Charlotte Lundemo

located in

Jackson

,

Mississippi

US

 I am reborn! Simply the best holiday I have ever been on
The Gobi desert in Mongolia awesome. I
took around 4000 pictures and movies.  We really liked the sand dunes
 and camels. I got some great pictures of horses, camels, people and the
environment. It was awesome staying in Ger camps. Our driver, Ot, was
awsome.
Know that your guide and driver are very experienced. It's
 typical for a car to break down but the driver's are skilled in getting
 them started again. It's just part of the experience. Not everything
 always goes as scheduled because it's an adventure trip with no paved
 roads, etc. That's what makes it an adventure. There were some scary
 monents but  just know you're in capable hands.



5
0 testimonials about the provider, Off The Map Tours:
Comments from Facebook
Itinerary
15 Aug
Arrive Ulaanbaatar. Transfer to hotel. Afternoon free to see the city.
16 Aug
Set out from the city by jeep on dirt tracks through the green hills of Tov Province to Bag Gazriin Chuluu, a remarkable granite rock formation situated in the central steppe.
17 Aug
Spend a little time exploring these amazing rocks before continuing our journey southwards through Dundgov (Middle Gobi). The landscape suddenly becomes more desertified, dry and rocky with far distant horizons.
18 Aug
Near our ger camp we visit Tsagaan Suvraga where erosion of limestone cliffs has created a dramatic pink and white canyon (the name means "White Stupa", which is what it looks like from a distance). Jeep to South Gobi.
19 Aug
Jeep up into the mountains of the Gurvansaikhan National Park and walk into Yoliin Am ("Vulture's Mouth"), a canyon so narrow that the sun reaches for only a few minutes each day. Jeep west to Khongor Els.
20 Aug
Take a short ride on camels into the big golden sand dunes which are set against a backdrop of the black Gobi Altai mountain range. Jeep to Bayanzag where there is a small forest of low-growing saxaul trees .
21 Aug
See the valley where Roy Chapman Andrews found the first ever dinosaur eggs in the 1920s. Then travel northwards to a place on the Ongi river and stay at a ger camp near monastery ruins.
22 Aug
Jeep to Zorgol Khairkhan, another granite mountain with bizarre rock formations standing out against the big sky. Across the valley is a mountain where fresh spring water comes from the rock and the trees have been decorated with hundreds of blue Khadag (silk scarves).
23 Aug
Jeep to Ulaanbaatar, hopefully arriving early afternoon in time to spend a few hours shopping in the city and enjoying the restaurants and bars. Overnight hotel.
24 Aug
Depart.
More information from Off The Map Tours: