Backroads - vacations and travel
Bryce, Zion & Grand Canyon Multisport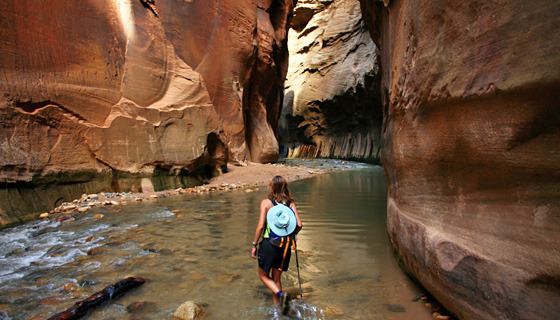 from $2,398* per person
6 Days
May-September
Boutique accommodations

Exertion level: 4

Operator:

Backroads

24 people max
Airport near st. george, ut, united states
Active & Adventure trips
You have to wonder. What did the first people think when they saw it? The Grand Canyon. The immensity of the chasm, plunging more than a mile at its deepest. Rocks nearly two billion years old. The vastness of the sun-soaked plateaus. Are the outcrops really those colors? The Colorado River - responsible for all the beauty - carving a tenacious path through the middle. It's incredible. Almost indescribable. And it's only a third of the trip. Bryce and Zion are waiting. Each with its own profusion of breathtaking moments. And as you're biking and hiking, feel free to just wonder.

Astonishing and beautiful geologic formations
Revel in the magnificence of the Grand Canyon
An impressive slot canyon in Bryce, whose walls are only ten feet apart in places
Pedal among crimson rocks and desert wildflowers toward Red Canyon
Splash your way through the Narrows in Zion


Locations visited/nearby
Utah, United States, North America
Comments from Facebook
Special information
You need to form your own private group for this trip. It will be scheduled for a date you arrange with the provider. The itinerary here is just a sample.
Offers some solo-only/singles departures.
Itinerary
Day 1 Splash your way through the Narrows in Zion, an exhilarating river hike through one of the most renowned slot canyons in the world - with small waterfalls and hanging gardens cascading down the rock faces.
Day 2 Picturesque routes abound in this hiker's paradise, from easy walks past emerald pools to the unforgettable climb to Angels Landing, bringing you nearly 2,000 feet above the valley for a 360-degree panorama of soaring sandstone.
Days 3-4 Revel in the magnificence of the Grand Canyon After cycling along Zion's crimson-colored roads, arrive at the Grand Canyon, one of the world's seven natural wonders Bike to Point Imperial, the North Rim's highest point, walk the secluded Widforss Trail for wide-open vistas across the canyon, or take the scenic drive to Cape Royal for superb views of the Colorado River as it slices through the earth.
Days 5-6 Bryce Canyon's maze of spires, windows and pinnacles Hike through a slot canyon in Bryce, whose walls are only ten feet apart in places On a walk to Queen's Garden, discover a labyrinth of hoodoos and vivid rock formations sprouting from the canyon floor Pedal among vermillion rocks and desert wildflowers toward Red Canyon along a quiet bike path surrounded by sheer cliffs and more hoodoos.
More information from Backroads: