Backroads - vacations and travel
Bryce, Zion & Grand Canyon Family Multisport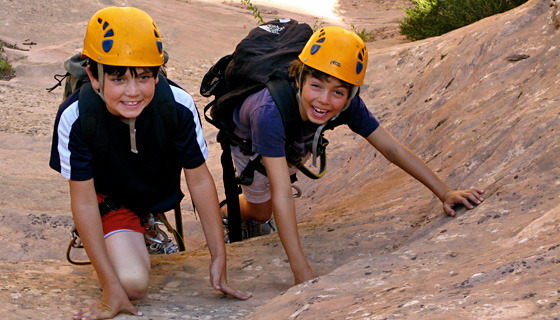 from $2,398* per person
6 Days
June-August
Boutique accommodations

Exertion level: 4

Operator:

Backroads

24 people max
Airport near st. george, ut, united states
Family & Friends trips
Hovering hoodoos. Walter's Wiggles. Spindly spires. Kids in giggles. Seems right out of Dr. Seuss. But this fantastical world exists. Right here. In the Southwest. You'll rub your eyes. Once. Maybe twice. To believe the whimsical rock formations. The spectacular views. The red and orange and yellow hues. And in this wonderland of slot canyons, pinnacles and bristlecone pine, your family gets to hike, bike, mule ride and rock climb. Watching the sun set at the surreal gorge's rim, you might just hear Dr. Seuss say: "Today was good. Today was fun. Tomorrow is another one."

Astonishing rock formations, river-carved canyons and sheer sandstone cliffs
Pedal among crimson rocks and desert wildflowers to Red Canyon
An impressive slot canyon in Bryce, whose walls are only ten feet apart in places
Kids make like early pioneers, exploring the Grand Canyon's rim by mule
Splash your way through the Narrows in Zion


Locations visited/nearby
Utah, United States
Comments from Facebook
Itinerary
Days 1-2 Bryce Canyon's maze of spires, windows and pinnacles Hike through a slot canyon whose walls are only ten feet apart in places Discover a labyrinth of hoodoos and vivid rock formations sprouting from the floor of Queen's Garden Grown-ups spin to Red Canyon, where youngsters join them for a breezy ride What was that? Desert critters, like lizards and chipmunks, scamper across your path Journey through an arid landscape with the spectacular Kaibab Plateau rising ahead.
Day 3 Kids make like early pioneers, exploring the Grand Canyon's rim by mule Adults enjoy an up-close look at the beauty of the Grand Canyon during a hike Youngsters delight in a special dinner with the Kid Coordinator while adults sit down to a satisfying meal at the Grand Canyon Lodge.
Day 4 Splash your way through the Narrows in Zion Admire expansive high-desert views of the Grand Staircase en route to Zion, a hiker's paradise It's an exhilarating river hike through the Narrows, one of the most renowned slot canyons in the world, with small waterfalls and hanging gardens cascading down the rock faces.
Days 5-6 The thrilling hike to Angels Landing, bringing you nearly 2,000 feet above the valley for a 360-degree panorama of soaring sandstone Opt for an easygoing walk past Emerald Pools if heights aren't your thing Experienced canyoneering instructors show kids the ropes Pedal a traffic-free route amid towering walls of sheer Navajo sandstone.
More information from Backroads: