Backroads - vacations and travel
Maine Walking & Hiking: In Acadia National Park & Along Penobscot Bay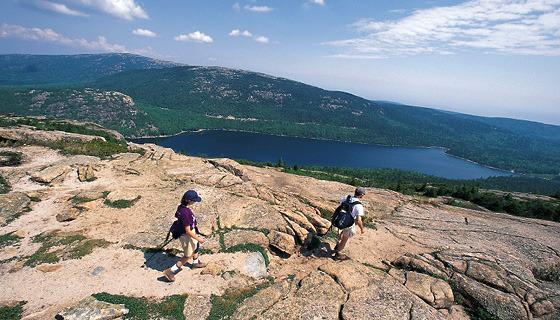 from $2,698* per person
6 Days
July, September
Luxury accommodations

Exertion level: 5

Operator:

Backroads

24 people max
Portland airport, maine, united states
Active & Adventure trips
The authenticity of Maine. Lobster boats. Rocky untrammeled shores. Calloused hands offering friendly waves. The land and people here are rugged and intriguing. Encounter the real life of a lobsterman in Camden, a picturesque fishing village famed for its historic architecture. Travel like the locals do, aboard the "mail boat" to Isle au Haut. Ascend Cadillac Mountain for million-dollar views. Amble through deep pine forests. And stroll Bar Harbor - inviting, proud and unmistakably Maine.

The understated beauty of Maine's coastline
Paddle calm waters past tall-masted schooners and stately homes
Discover old fishing villages forgotten by time
Hike up Cadillac Mountain, the highest point along the North Atlantic Seaboard
Seaside Camden, brimming with galleries, museums and shops


Locations visited/nearby
Maine, United States
Comments from Facebook
Itinerary
Days 1-2 Seaside Camden, brimming with galleries, museums and shops Hike up Mount Battie and admire the same panorama of Camden Harbor that inspired poet Edna St. Vincent Millay An old carriage road leads you inland to Maiden Cliffs, where you'll get dazzling vistas of Lake Megunticook and the countryside A cooking demo at a local winery caps off our time in Camden.

Days 3-4 Old fishing villages forgotten by time Arrive on Isle au Haut by mail boat and hike along the craggy shoreline, across marshes or up ridges serving up gorgeous views As you explore Deer Isle, dotted with enormous pink boulders, try to spot seals, whales, ospreys and eagles The secluded waters off Deer Isle create fantastic conditions for our sea kayaking adventure Visit a potter's cozy studio to see creations hot off the wheel.

Days 5-6 Acadia National Park is at your doorstep Gorham Mountain offers vistas of Sand Beach, Beehive Mountain, Otter Cliffs and the Cranberry Isles Stride beneath towering firs and past crashing surf in Acadia National Park Got your camera ready? Cadillac Mountain, the North Atlantic Seaboard's highest point, affords views in every direction.

More information from Backroads: