Backroads - vacations and travel
Bryce & Zion Walking & Hiking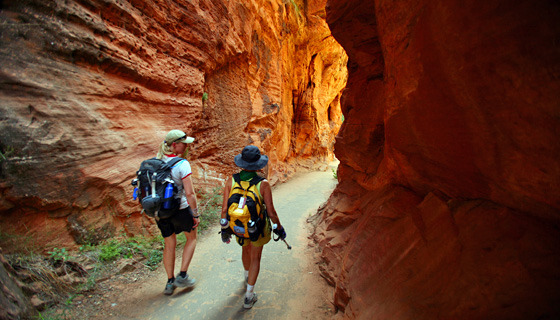 from $2,398* per person
6 Days
May, June, September, October
Boutique accommodations

Exertion level: 5

Operator:

Backroads

24 people max
Airport near st. george, ut, united states
Active & Adventure trips
Walk and the morning goes by, walk some more and three days pass. Time has its own rules here. You remind yourself that time and water are to blame for all this. Not blame, thank. It's so indescribable. Sometimes it's an illusion. "Are those miniature formations or massive ones?" One second the geology is like a city skyline, the next it's another planet. The colors, the plant life, the birds and animals, you're forever wondering how they all got here. It's a place that gets along pretty well without people. And as you walk, you'll be glad about that.

Astonishing rock formations, river-carved canyons and Navajo sandstone cliffs
Hike amid Bryce's hoodoos and spires
Splash your way through the Narrows in Zion
Angels Landing, with views of soaring rock faces and a yawning canyon abyss
Meet a local expert who reveals the area's geologic evolution


Locations visited/nearby
Utah, United States
Comments from Facebook
Special information
You need to form your own private group for this trip. It will be scheduled for a date you arrange with the provider. The itinerary here is just a sample.
Offers some solo-only/singles departures.
Itinerary
Day 1 Astonishing rock formations, river-carved gorges and Navajo sandstone cliffs Get your first taste of Zion National Park's grandeur on a stunning hike through cottonwood, box elder and Gambel oak trees to the Emerald Pools.
Day 2 Meet a local expert who reveals the area's geologic evolution Climbing more than 2,000 feet in four miles, the Observation Point trail is the most strenuous of the trip - but the sweeping vistas are worth the challenge.
Day 3 Angels Landing, with views of Zion's soaring rock faces and a yawning canyon abyss Wind your way through cool Refrigerator Canyon Beat the heat and get wet on a spectacular trek through the Narrows - a classic Zion Hike - following the inner gorge of the Virgin River as it forges through rock Small waterfalls and hanging gardens drape the canyon walls, which rise 1,000 feet.
Days 4-6 Hike amid Bryce's fantastical hoodoos, crooked stone spires and striking monoliths in brilliant hues of orange, pink and red The Fairyland Loop drops you into a seldom-visited section of Bryce Canyon National Park Discover the otherworldly wonderland of Queen's Garden Feeling young? You will next to bristlecone pines, some of the oldest living organisms on earth Grab your camera and a seat on the canyon rim to watch the sun set or rise over Bryce; the dance of light and color over the spires is a performance you'll always remember.
More information from Backroads: