Food N' Wine Vacations - vacations and travel
Exotic Morocco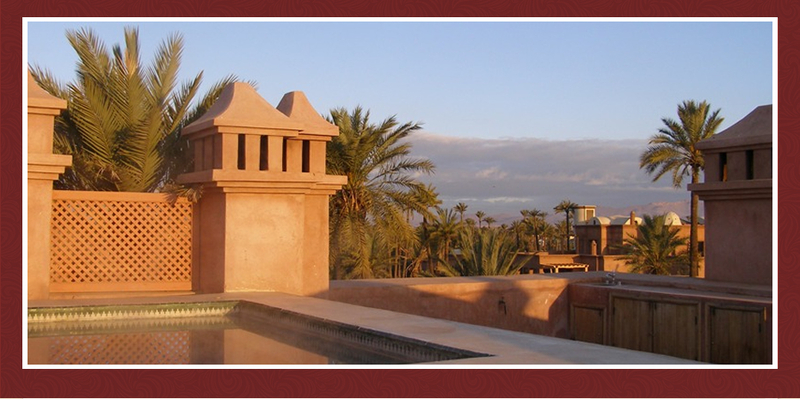 from $2,650* per person
8 Days
March, October
Boutique accommodations

Exertion level: 3

Operator:

Food N' Wine Vacations

12 people max
Marrakech near morocco
Culinary & Wine Travel trips
Our Moroccan cooking school at Dar Liqama is located just outside the ancient imperial city of Marrakech, a walled garden city of tall graceful palms set beneath the snow-capped Atlas Mountain range. About ten minutes from the medina, you will find the Palmeraie, a grove of over 150,000 towering palm trees. It is here you will find the luxury villa Dar Liqama, aptly named the 'house of green mint.

The Villa
Our luxury palazzo, set against the backdrop of the majestic Atlas and Jbel Ette Mountains, was constructed to reflect the traditional style of Moroccan architecture while offering modern conveniences. Magnificent Moroccan antique doors open from the grand columned entrance, as well as in the great hall and dining room. The graceful archways of the villa create a calm and elegant ambience surrounding an interior courtyard filled with scented flowers and the calming sounds of a bubbling fountain.

The eight spacious bedrooms of Dar Liqama are decorated in traditional Moroccan style and all have bathrooms en-suite, ambient wall lighting, limestone Tadlakt wall finishes, and most rooms feature private fireplaces. The luxury villa's large upper terrace has a panoramic view of the Atlas mountain range and sweeping views over the Palmeraie. The peripheral salon features a rustic fireplace and pergola with under floor heating for those cool evenings. Swimming pools, a Hammam (Turkish steam bath), an exercise spa, tennis courts, games room, and conference facilities are sensitively integrated among the palm trees.

The Owner's Villa A short distance from the main house, sits a truly remarkable villa with each of the five bedrooms opening to a large traditional central courtyard, shaded by orange trees with a cascading waterfall fountain. The sumptuous three-room master-suite features a private dome-covered bath and the four additional bedrooms contain individual fireplaces and luxurious en-suite bathrooms. The villa's rooftop terrace, with a brick oven cooking area and alcove seating, sets the stage for unforgettable lunches and dinners beneath the sparkling Moroccan sky. The seclusion of the private pond-shaped pool, surrounded by flowers and palms, provides the perfect refuge on a hot summer day.

Locations visited/nearby
Morocco, Middle East
Comments from Facebook
Itinerary
Day 1: Saturday: Arrival at Dar Liqama - Hands on cooking

Arrival at Dar Liqama We will meet you at the airport and bring you to our luxury Villa. You will be given time to relax and settle in your room, or you may indulge in a steam bath, hot tub or even swim after your long flight. 5:00pm to 6:30pm – For those of you who arrived before the evening, you will have your first hands-on cooking lesson when you'll cook your first Tajine in Morocco. A brief presentation on the history of Morocco and its cuisine.

Menu
Carrot Salad with Pepper and Cumin
Courgette Salad
Lamb with Prunes
Sweet Couscous

7:00pm to 8:00pm – Cocktails on the roof terrace with breath-taking views towards the Atlas and Jbel-Ette mountains
8:00pm – Dinner served in the grand dining room


Day 2: Sunday: Hands on cooking - Tour of the souk in Marrakech, Medina - Visit Museum of Marrakech

8:30am to 9:30am – Breakfast
10:00am to 12:00pm – Hands-on cooking lesson


Menu
Moroccan Soup
Tajine with Vegetables Preserved Lemon
Stuffed Moroccan Squids
Semolina-Based Cookies

1:00pm to 2:00pm – Lunch
2:30pm – Depart from the Villa for a guided shopping tour of the souk in Marrakech, Medina, with someone to translate and negotiate for you. Feel free to roam and shop on your own if you wish, there will be a designated location to meet before departure. It is here in the Medina where you will also visit the Museum of Marrakech. The ancient medina is where the souk merchants will tempt you with their textiles, pottery and ceramics, carpets, rugs, jewelry, woodwork, copper, brass, and leather goods. 5:00pm to 7:00pm – Meet at the Djemaa El F'na Square for a tour of the major historic monuments of Marrakech, including the Saudian Tombs and the Bahia Palace. 7:30pm – A special Champagne and cocktail hour with Moroccan musicians on La Terrasse Berbère. 8:30pm – Dinner at the Villa in the grand Salle à Manger while you're listening to the traditional G'naoua music


Day 3: Monday: Hands on cooking - Botanical Gardens - Camel Riding in Palmeraie golf Palace


8:30am to 9:30am – Breakfast
10:00am to 12:00pm – Hands-on cooking lesson

Menu
Sardine with spices
Prawns Briouates p.19
Tangia p.20
Swordfish Brochettes p.21
Moroccan Crêpes p.22

1:00pm to 2:00pm – Lunch
2:00pm to 5:00pm – Free time at the Villa to enjoy the botanical gardens, play tennis, have a massage, exercise in the spa, take a steam bath, swim or relax by the pool. You may choose to go camel riding in the Palmeraie Golf Palace or at beautiful Bab Atlas.
5:00pm to 6:30pm – Hands-on cooking lesson

Menu
Tomato and Onions Salad p.23
Black Olives Bread p.24
Preserved Butter p.25
Orange and Cinnamon Salad p.26
8:00pm – Dinner

Day 4: Tuesday: Day in Atlas - Ride Mules up to Kasbah - Hands on cooking

You will spend the day in the Atlas for an excursion to the Kasbah du Toubkal at Imlil. You will ride mules up to the Kasbah and follow an easy, charming route back through the Berber village of Imlil with its beautiful scenery, farms and rivers. The amazing view has been likened to Tibet and indeed, the Kasbah and its surroundings were used by acclaimed film director, Martin Scorzese, as the setting for his 1996 movie "Kundun", about the early life of the Dalai Lama.

8:00am to 8:45am – Breakfast 9:00am – Depart to High Atlas mountains 10:00am – Visit souk of Tahnaoute 11:00am – Depart Asni/Tahnaoute for Imlil 11:45am – Arrive at Imlil, visit village and walk or mule ride to Kasbah 1:00pm – Lunch at the Kasbah du Toubkal 3:00pm – Depart from Imlil 5:30pm – Return to Marrakech 7:30pm – Dinner in the grand Salle à Manger


Day 5: Wednesday: Hands on cooking - Visit subtropical Jardin Majorelle

8:30am to 9:30am – Breakfast
10:00am to 12:00pm – hands-on cooking lesson

Menu
Grilled Pepper and Tomato Salad p.27
White Cabbage Salad with Apples p.28
Roast Fish with salt p.29
Moroccan Almond Macaroons p.30

1:00pm to 2:00pm – Lunch
2:30pm to 5:00pm – A visit to the subtropical Jardin Majorelle, considered one of the most delightful spots in Marrakech. The garden was created in the 1920s by the French painter, Jacques Majorelle, and currently owned and superbly maintained by fashion designer Yves Saint Laurent.
5:00pm to 6:30pm – hands-on cooking lesson

Menu
Steamed Egg-Plants in a Tomato and Coriander Sauce p.31
Carrot and Raisin Salad p.32
Chicken Tajine with Lemon p.33
Dried Apricot Tart p.34

8:00pm – Dinner


Day 6: Thursday: Hands on cooking - Visit Djemaa El F'naa Square - Dinner in Medina

8:30am to 9:30am – Breakfast
10:00 to 12:00 – Hands-on cooking lesson

Menu
Moroccan Potato
Lamb Kebabs
Stuffed Vegetables
Fried Filo Pastry Topped with Cream

1:00pm to 2:00pm – Lunch
2:30pm to 7:00pm – Depart for a visit to the vast Djemaa El F'naa Square. The hustle and bustle of the square will entertain you with snake charmers, magicians, tumbling acrobats and rows of scrumptious food stalls. You will also have free time to explore Islamic monuments in North Africa. You will also have time to return to the souk for a bit of shopping.
7:30pm – Dinner in the Medina. You can choose between the casual yet lively experience of eating in the square or the beautiful ambience of dining at one of the best traditional restaurants of Marrakech. Please choose in advance, as reservations are required.


Day 7: Hands on cooking - Graduation ceremony

8:30am to 9:30am – Breakfast
10:00am to 12:00pm – Hands-on cooking lesson

Menu
Dry Fava Beans Soup
Fish Tajine
Chicken Pastilla
Almond Cigars


1:00pm to 2:00pm – Lunch
2:30pm to 5:30pm – Relax and enjoy the beautiful facilities of Dar Liqama, a bit of tennis, a steam in the Hammam, a workout in the gym, a dip in the hot tub or simply lounge by the pool. If you book in advance, you can treat yourself to a massage, an aroma therapy capillary head massage, or other salon treatments.
5:00pm to 6:30pm – Hands-on cooking lesson

Menu

Beetroot Salad
Briouate with vegetables
Couscous with vegetables Gazelle Horns

7:00pm – GRADUATION CEREMONY! Get dressed-up for a last "soirée" and receive your diploma, that is, if you've been a good student!
8:00pm – Dinner


Day 8: Departure

8:30am to 10:00am – Breakfast
10:00am to 12:30pm – Free-time at the Villa and time to pack
12:30pm to 3:oopm – Buffet lunch
Transfers to the airport throughout the day

More information from Food N' Wine Vacations: