Journeys of the Spirit - vacations and travel
Dahlonega, Ga: Raising Empowered, Radiant Daughters: Mother/Daughter Retreat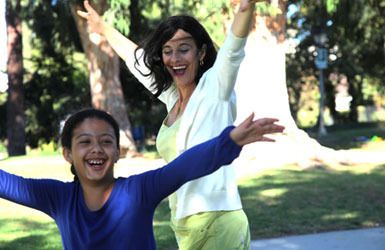 from $2,385* per person
7 Days
July
Boutique accommodations

Exertion level: 4

Operator:

Journeys of the Spirit

25 people max
Dahlonega + georgia
Family & Friends trips
Highlights Of Your Adventure:

Daily sessions with Katherine & integral parenting expert, Miriam Martineau
Mothers, aunties, grandmothers and friends will explore how to realize their own empowerment and radiance
Learn to model this empowerment for our daughters
Gather the necessary tools to support our girls in stepping fully into their co-creative feminine power
Together the girls will explore their own true and authentic selves through the creative arts
Our daughters will express their own unique, creative voices in co-creative partnership with each other
Participate in daily bonding activities creating a sense of sisterhood that will leave you nourished & fulfilled
Enjoy yoga, bonfire rituals, performance art, group singing, walking and sitting meditations, and the simple joys of connecting with mother nature
Six nights at the tranquil Dahlonega Spa Resort in the natural beauty of the foothills of the Blue Ridge Mountains
Lovingly prepared vegetarian food (*either fish or chicken is served at every lunch and dinner – all meals included)!
Access to the amazing spa leaving you rested and rejuvenated
Swim in magical waterfalls, star gaze, soaking in the lovely outdoor hot tub, or visit the Nature Tours Kangaroo Conservation Center (in your free time)
Return home with beautiful memories from this mother & daughter retreat
Cultivate a deep sense of connection with your daughter
Receive a renewed sense of possibility and hope for the future—both yours and hers
Leave rested, rejuvenated, empowered and radiant!

The program is designed for girls between ages 5 and 13 and the Mothers, Grandmothers, Godmothers, Aunties and friends who love them. Girls 14-16 are also welcomed to come as "Big Sisters" to the younger girls. Mothers and their grown daughters are welcomed as well, as their continuing journeys of closeness, connection and collaboration in weaving a deepened and enriching bond will be both honored and supported.
Locations visited/nearby
mother and daughter retreat, Georgia, United States
Comments from Facebook
Special information
This is a custom departure, meaning this trip is offered on dates that you arrange privately with the provider. Additionally, you need to form your own private group for this trip. The itinerary and price here is just a sample. Contact the provider for detailed pricing, minimum group size, and scheduling information. For most providers, the larger the group you are traveling with, the lower the per-person cost will be.
Family oriented trip.
Centered around activities for grandparents and their grandchildren.
Offers some women-only departures.
Itinerary
Day 1 (-/-/D) Welcome to the Dahlonega Spa Resort!
Our travels from various places around the world will bring us together at the tranquil oasis of the Dahlonega Spa Resort in the foothills of the Blue Ridge Mountains. After you have settled into your haven for the week, we will have a Welcome Gathering to share a delicious evening meal and meet the rest of the tribe of sisters.
We will then share an Intention Circle around the fire: a blessing of the efforts that have brought us all together, and setting of intentions for the week to come.
Day 2-6 (B/L/D)
Each day begins with a centering mother/daughter yoga class, and a healthy breakfast.
The daily dharma teachings will inspire both women and girls to a new way of relating to ourselves, to others, and to life. The girls will have their own daily sessions, exploring Feminine Power principles through improvisation, musical and theater arts, and imaginative play. While the girls are meeting, the women will also be meeting with Katherine and/or Miriam each day to learn Feminine Power practices and principles that will support them to realize their greater potentials, and provide guidance on how they can help their daughters to realize theirs as well.
We will also facilitate daily circles for the women and girls to gather together so that we might create a shared experience and cultivate an even deeper sense of connection – not only with those gathered, but with all women and girls throughout history, including those who will come after us. We will honor and celebrate our sacred evolutionary role, and awaken to our lives as filled with purpose, and a sense of co-creative power to influence the future of our world.
This journey will also include abundant opportunities to explore the breathtaking natural beauty of the North Georgia Mountains. You will have free time to go hiking in the woods, swim at Dicks Creek Falls, visit the Nature Tours Kangaroo Conservation Center, or go into town to see the local shops. Older gals might be interested in White Water Rafting, Panther Creek Falls, or Amicalola Falls, the highest waterfall east of the Mississippi! The resort has 1.5 miles of hiking trails right on the property and you can also explore the fields and meadows that reside on it's 72 acres. More than one-third of Lumpkin County resides in the Chattahoochee National Forest and is covered with trails for hiking, mountain biking, horseback riding, and four-wheeler touring. Let us help you plan some great activities!
There will be ample time for both exploration and introspection. Enjoy the surroundings of the resort, experience the relaxing and restorative spa treatments, and reflect on the shifts you experience and the possibilities that you will bring back.
Day 7 (B/-/-) Home Again!
Our final Circle will be this morning, a chance to share personal reflections from the week, gratitude for what has been experienced, and a blessing for our journeys home.
We'll be departing paradise with our hearts full, ready to put into practice all that we have shared and learned. New supportive and loving friendships have been made and we will already be looking forward to our next gathering!
More information from Journeys of the Spirit: