Journeys of the Spirit - vacations and travel
Dolores, Co: Revolution! Intuitive Awareness Retreat for Women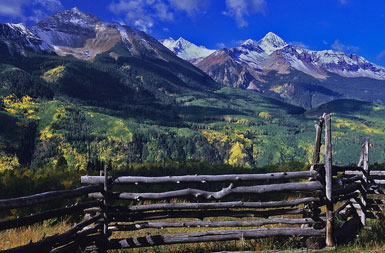 from $1,145* per person
5 Days
September
Comfort accommodations

Exertion level: 4

Operator:

Journeys of the Spirit

20 people max
Dolores, co, united states
Active & Adventure trips
Are you looking to…

Uncover your own true essence, inner guidance and intuitive wisdom?
Become more mentally & physically grounded, focused, and aware?
Create your dream with clarity, knowing what you truly value and desire?
Design a fully-expressed, empowered and revolutionary life for yourself?
Connect with awesome women, practice yoga & relax in awesome natural beauty?


If so ladies – join Join Kathy Knowles & Joy Kochmer in the serene and rejuvenating setting of the Sophia Peace Center. Unveil the truth of your spiritual awareness as you embark on a journey beyond traditional workshop techniques into the depth of your being ~ your personal universe. Revolution! is a uniquely powerful, 5 day immersion course held in the mountains of Dolores, Colorado where the Milky Way magically sparkles and unfolds above us and we can merge with the infinite possibilities of the universe.
Highlights Of Your Adventure:

Learn to connect with your intuition
Know, feel and communicate your true essence
Courageous communication & transformational language workshop
Daily Yoga classes!
Align the three planes of life; biological, psychological, & spiritual
Create health, abundance and radiance inside and out
New Moon Ceremony and vision quest.
Four nights at the restful Sophia Peace Center
Explore the wonderful hiking trails
Enjoy walking meditations on the Labyrinth
Visit Mesa Verde National Park
Delicious & nourishing home-made food
Come prepared to be challenged, and to laugh, sweat, and open your heart!

The Sophia Peace Center

Experience the quietude of the spectacular landscape of Mesa Verde and the lodge's 30 acres, which includes an outdoor pavilion, fire circle, and labyrinth. Take advantage of the Sophia Retreat Center's vegetarian & organic menus, Yoga & Meditation Room and pristine nature. On our retreat we'll be visiting the amazing ruins of Mesa Verde and walk along trails with stunning petroglyphs. Not to worry, there will be time to view the beautiful Native American pottery and crafts and bring some home!
Locations visited/nearby
United States
Comments from Facebook
Special information
This is a custom departure, meaning this trip is offered on dates that you arrange privately with the provider. Additionally, you need to form your own private group for this trip. The itinerary and price here is just a sample. Contact the provider for detailed pricing, minimum group size, and scheduling information. For most providers, the larger the group you are traveling with, the lower the per-person cost will be.
Offers some women-only departures.
Itinerary
Day 1 September 24th (-/-/d)
Meet the group at Sophia's Peace Center at 4:00 pm for our group gathering before dinner. Once settled in we'll have an opening ceremony which may include meditation, chanting, music, and the sharing of intentions. This week we'll be working with ritual, ceremony, Yoga, meditation, intuitive teaching and group discussion.
Over the course of our time together Joy will sharing several different types of Yoga depending on the group's needs:
Partner Yoga is a fun and playful way to experience Yoga Postures with the support of a friend. You will stretch deeper, gain trust and find balance with support. This class is a light-hearted approach to finding a deeper state of flexibility in the Body and Mind.
Sophia Retreat Center Yoga Nidra Meditation is a profound technique of releasing physical, mental and emotional tension. You will be guided into a deeper state of consciousness, re-connecting to your natural state of inner peace. When this natural state occurs ones reality and truth becomes known, and knowledge of truth only comes when you are free from tension.
Hatha Yoga is the Union of the Mind, Body, Intellect and Soul. The Physical body moves through a series of postures, the breath becomes your friend, the Mind returns to its natural state of stillness. Yoga optimizes your overall health and simply makes you Happy in the present moment.
Sophia Retreat Center Also this weekend, Joy and Kathy will engage us in a special Courageous Communication & Transformational Language Workshop. Some questions we will answer are: What motivates your actions and choices – and why? Where are you going in life and how do you get there? This workshop inspires a powerful, uncommon intrapersonal conversation. You will be empowered to resolve who you have been, and create with clarity who you are becoming – and encourage you to be courageous in creating a fulfilling life. Come prepared to create infinite possibilities and unpredictable outcomes.
Day 2 September 25th (B/L/D)
We'll meet for gentle yoga before a healthy delicious breakfast. Throughout the day we will move through several processes to help you access your deep intuition. You will learn to open up to your own energy and direct your attention in a way to create a foundation for intuition to start. Once you are aware of the different ways your intuition and Spirit can speak to you, a door is opened to this powerful guidance, which will assist you in creating and meaningful and magical spiritual journey. During the course of our time together, Kathy will also give readings to those in attendance.
After lunch we will dedicate time to ourselves to discover the nearby hiking trails, enjoy the outdoor courtyard or benefit from a walking meditation on the Labyrinth. On this day we will have a silent dinner and then, we will share our intentions with each other and bring in support with a channeled reading from our guides.
Day 3 September 26th (B/L/D)
Leaving at 5:45am from the Sophia Peace Center, we'll travel by bus to the Mesa Verde National Park. On the top of the ridge of Mesa Verde, we'll watch the sun rise while enjoying breakfast and fresh coffee. Angela Swain will be guiding the tour, sharing her special knowledge with us. She has 30 years experience of the park, both with regards to its history as well as the spiritual significance of the area. We are blessed to have special passes to the cliff dwellings sites and walk along trails with stunning petroglyphs.
At 12pm, a delicious lunch will be provided at a picnic spot. We'll end our special day with free time for shopping for beautiful Native American pottery and crafts. Then we'll travel back to the Sophia Peace Center in the late afternoon to enjoy a deep connection with our selves during a guided Yoga Nidra Meditation.
After dinner we will gather together and share all that is showing up for us with open hearts, minds and the willingness to learn and grow from our illuminating experiences.
Day 4 September 27th (B/L/D)
Our morning will start out with Hatha yoga to open our awareness for the day. After breakfast we will continue our intuitive process working hands on with partners to further develop our intuitive reading abilities. Lunch today will be served at the pristine McPhee Reservoir. There we will start preparing for our New Moon Ceremony and vision quest. Our purpose is to seek internal guidance and renewal, so we can let go of the old habits that are no longer serving us. Our New Moon ceremony this evening will be powerful – it's about creation and new beginnings, infusing us with fresh energy and empowering us to rekindle and rebirth our spiritual selves!
Day 5 September 28th (B/-/-)
We leave the beautiful Sophia's Peace Center today ready to build on our deep intuitive foundation and inner guidance. Having gained confidence in our abilities to create enjoyment and fulfillment in our lives, we go forth empowered to live a revolution!
More information from Journeys of the Spirit: