Off The Map Tours - vacations and travel
Naadam Festival Cultural Adventure Tour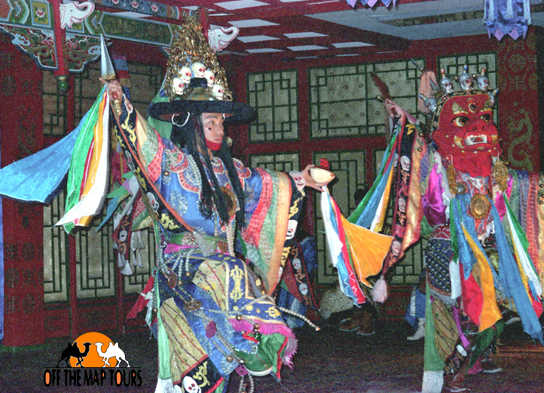 from €1,550* per person
9 Days
July
Comfort accommodations

Exertion level: 4

Operator:

Off The Map Tours

12 people max
Ulaanbaatar airport, ulaanbaatar, mongolia
Active & Adventure trips
This tour is a chance to experience the best of Mongolian culture and a variety of landscapes and activities. The annual naadam festival is celebrated in every city, town and village and is a sporting event with horse racing, wrestling and archery competitions. As well as enjoying the festival there will be opportunities to meet nomadic families and see how their ancient lifestyle has survived.

The route passes through all the different geographical zones of Mongolia: desert, steppe, mountain and forest. There will be some horse riding and hiking, and probably the chance to ride on a yak and cart or a camel, as the local people do.

A visit to Mongolia would not be complete without travelling to the Orkhon Valley where Chinggis Khaan established the capital of the great Mongol Empire. A huge Buddhist monastery was built on the same site in the sixteenth century. This 9-day itinerary reflects the fact that Mongolia is a land of variety and contrast.
Locations visited/nearby
Mongolia, Asia
Comments from Facebook
Itinerary
06 July
Arrive Ulaanbaatar and transfer to hotel. Afternoon at leisure.
07 July
Jeep to Khogno Khan. Overnight ger camp at the foot of the great granite mountain.
08 July
Jeep to Kharkhorin where Chinggis Khan established the Mongol Empire. Visit Erdene Zuu Buddhist monastery.
09 July
Jeep to Tsenkher hot springs. Afternoon visit a nomadic family. Evening relax in outdoor hot baths.
10 July
Spend the day horse riding, hiking in the mountains, or relaxing in the hot mineral springs at the ger camp.
11 July
Jeep to Tsetserleg town to enjoy the Naadam festival. Watch the wrestling and enjoy the horse races.
12 July
Jeep to Elsen Tasarkhai, an area of big golden sand dunes and desert vegetation. Ride camels or horses.
13 July
Return by jeep to Ulaanbaatar, arriving early afternoon in time for some shopping.
14 July
Transfer to airport for departure.
More information from Off The Map Tours: