Journeys International - vacations and travel
Trek To The Last Village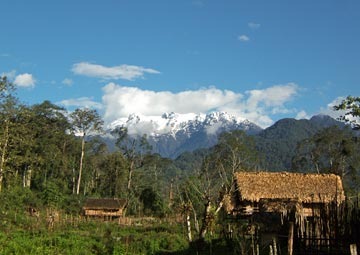 from $3,250* per person
11 Days
October-April
Comfort accommodations

Exertion level: 3

Operator:

Journeys International

10 people max
Yangon international airport, burma
Culture & Nature trips
Hike beyond the last village in extreme northern Burma to the base of the easternmost Himalayas. This active nature and cultural hiking exploration of wilderness trails and remote villages takes to into a sparsely populated, but very welcoming remote valley. Far from the famous tourist sites of Mandalay and Pagan, this trip will take you deep into the Lisu and Rawan tribal hill country north of Putao, in Kachin State, at the base of the Himalayas. Only recently-opened to foreigners, this area is famous for its snow-capped mountains, colorful tribal traditions, and rich natural history, including many rare animals and birds. You will be hiking through forests, remote villages, valleys, and foothills, and staying in local guest houses significantly upgraded to host Western visitors. There is no camping involved. All of Burma is legendary for great hospitality, and this area in particular offers special opportunities for exploration and cross-cultural learning. You will travel in the company of extraordinary local English-speaking guides who will give you insight into local cultures and offer great knowledge of the features and natural history of the terrain through which you will travel. January, though cool, is the best weather month in this area. Our first trip in January 2011 encountered no precipitation or weather delays.
Locations visited/nearby
Myanmar (Burma), Asia
0 testimonials about this trip.
Reviewer:

G. Wallace

located in

Chagrin Falls

,

OH

USA

We love that JOURNYES is eco-minded. The quality of the overseas tour companies are excellent. We have been very pleased with the quality and diversity of the content of your tours. We will definitely be back.

5

Reviewer:

L. Linker

located in

Sahuarita

,

AZ

USA

The major reasons that we enjoy traveling with JOURNEYS, are the fast responses to questions and information, talking to a real person who is friendly and empathetic to individual needs, the professionalism of the staff and the knowledge of all trips we have taken.

5

Reviewer:

L. Kofoid

located in

Chicago

,

IL

USA

This trip captured our souls and will live with us forever.  Our daughter still talks everyday of the Masaai people in the Sinya camp who carried her during our stay.  Our son bores anyone who comes through our door with our slide show.  We all look at our pictures and pinch ourselves…..were we really there?!  Did we really watch and listen as a mother lion "spoke" to her cubs and they sassed back?  Did we really see giraffes, monkeys, elephants and zebra….all in the same spot?!  Could we really see for hundreds of miles across the savannah?!  Could the sky hold any more stars and has the Milky Way ever been clearer?!  Could the people have been any nicer!?  It is all like a magical dream…

5
Comments from Facebook
Special information
This is a custom departure, meaning this trip is offered on dates that you arrange privately with the provider. Additionally, you need to form your own private group for this trip. The itinerary and price here is just a sample. Contact the provider for detailed pricing, minimum group size, and scheduling information. For most providers, the larger the group you are traveling with, the lower the per-person cost will be.
Itinerary
Day 1 Arrive Yangon
Your guide will meet you at the airport in Yangon and transfer you to your hotel for check-in. Along the way, observe Yangon's colonial-style red-bricked buildings. The cultural and spiritual heritage make Yangon one of the most fascinating capitals of Southeast Asia. If you are interested and if time permits, you may visit a local glasswork shop to observe the unique Burmese way of making glass. Enjoy a welcome dinner at a local restaurant and perhaps a walk around the market area with your guide.
Meals: Dinner
Lodging: Kandawgyi Palace (or similar)
Day 2 Markets, Reclining Buddha & Shwedagon
Consider a dawn walk or job around Inya Lake from your hotel. After breakfast, head out on a full city tour of Yangon. Highlights today include spectacularly busy and lively fish and vegetable markets and have great photo opportunities. You'll also visit Chaukhtatgyi, the colossal reclining Buddha, and Botataung Pagoda, said to enshrine the Buddha's hair relics. In the late afternoon, visit the Shwedagon Pagoda, more than 2,500 years old, and claimed to be the world's richest golden stupa. This is the Full Moon night and there will be special celebrations taking place. The golden dome rises roughly 322 feet above its base, and is covered with 60 tons of pure gold along with numerous precious stones, including a 76-carat diamond on the top. Return to your hotel for the night.
Meals: Breakfast, Lunch, Dinner
Lodging: Kandawgyi Palace (or similar)
Day 3 Putao
This morning, board a flight to Putao, a small town situated in the far northern section of Burma in Kachin State, the gateway to the region's tallest mountain, Mt. Khakaborazi (19,296 feet). The local tribes who live in this area are of Tibetan ancestry and consist of the Rawan, Lisu, Tai Hkamti, and the last remaining members of the Tarong Tribe, an endangered group of small people who are no more than four feet tall. Including stops, the flight takes about five hours. Upon arrival at Putao airport, you will be transferred to your guesthouse. After freshening up, you'll walk to a nearby local restaurant. After lunch, a leisurely hike takes you to Majaw Lisu village, about a two-hour walk through paddy fields. This is a beautiful village with Mt. Slimatdin in the background. The glistening snow on the peak sparkles across the horizon at sunset. Dinner will be at a local restaurant or at your guesthouse. Meet the local staff and attend a briefing about the trek prior to dinner. Your guesthouse will be basic standard facilities that include bed and linens, warm water, and western toilet. There is a comfortable lodge and rooms have electricity.
Meals: Breakfast, Lunch, Dinner
Lodging: Putao Trekking House (or similar)
Day 4 Trek Begins - Putao & Shangaung
After breakfast, visit the attractive Putao market, which is often filled with local tribal peoples such as Rawan, Lisu, and Kachin. Later, depart by jeep or truck to upper Shangaung (approx. 10 mi/1 hr). Both Lisu and Rawan tribes inhabit this village. The real hiking begins as you unload from the jeep and start trekking to Wasandum , a small Rawan village on situated on Nawlan Creek (approx. 12 mi/6 hrs), past Mt. Shangaung at approximately 4,600 feet on the shoulder of Mt. Slimatdin (6,000 feet). This is the most physical day of the trip, as you must ascend to 4,600 feet and then descend back to 3,000 feet within a distance of 12 miles. You will have a packed lunch on the way, and dinner will be freshly cooked and served local style. This the most difficult hiking day of the trip. Your accommodations are very basic and include a foam mattress, blanket, and pillow.
Meals: Breakfast, Lunch, Dinner
Lodging: Wasandum Guesthouse (or similar)
Day 5 Namro Creek/Awadum/Ziyadum
In the morning, the group will hike toward Ziyadum. Today's journey will be much easier, since you'll be walking on relatively flat land with few ups and downs. You'll cross Namro Creek to Awadum Village (approx. 4 mi/2 hrs), which is inhabited primarily by the Lisu tribe. Here, you'll cross a suspension bridge that spans Namlang Creek to Kalang, a Rawan village. On a clear day, the enormous mass of Mt. Phonyin Razi appears to be just an arm's length away. You'll stop for a short lunch break before continuing on through deep evergreen forests to Ziyadum (approx. 3.5 mi/2 hrs). Tigers and other large cats have been reported in the area recently, although they are nocturnal. You will want to be alert for gibbons and the many species of birds found here including hornbills,bulbuls, sunbirds, and kingfishers, Ibisbill, Black Eagle, Brown Dipper and Black Stork. Ziyadum, situated at an altitude of 3,440 feet, is the most northwestern and most remote frontier village in the Putao region. After your arrival, visit Ziya Creek for a fantastic sunset view of the blazing Snow Mountains in the west. Enjoy a special refreshment at the evening bonfire on the deck of the guesthouse, which overlooks Ziya Creek. Your overnight will be at a traditional Rawan-style lodge with basic standard facilities, including a mattress, warm water, and western toilet.
Meals: Breakfast, Lunch, Dinner
Lodging: Ziya Lodge (or similar)
Day 6 Ziyadum Local Encounters
Today will be a relaxing day to enjoy this wild, beautiful, and ecologically-rich region. You may decide simply to sit by the Ziya River and enjoy the mountain views while listening to the bird calls and watching fish in the river, or you may opt to trek to Chaungzone (approx. 5 mi/3 hrs). The hike to Chaungzone takes you through deep evergreen forest with plenty of bird life and allows for social interaction with local hunters, searching for medicinal plants, etc.
Meals: Breakfast, Lunch, Dinner
Lodging: Ziya Lodge (or similar)
Day 7 Ziyadum/Wasandum
You'll enjoy a final morning at Ziyadum before starting the easy hike back to Wasandum. After an early lunch, enjoy the last views of the "blazing mountains" and head to Awadum, crossing over suspension bridges and hiking through the beautiful dense forest of "Evergreen Avenue".
Meals: Breakfast, Lunch, Dinner
Lodging: Wasandum Guesthouse (or similar)
Day 8 Back to Putao - Trek Concludes
Today, hike uphill to the plateau of Mt. Shangaung and then continue rapidly downhill to Shangaung village, where your jeep will be waiting to take you back to Putao. After checking in at the guesthouse and freshening up, you'll celebrate the success of the trip at a special dinner with the group, which will also include local leaders, porters, and cooks.
Meals: Breakfast, Lunch, Dinner
Lodging: Putao Trekking House (or similar)
Day 9 Naungkan & Mulashidi Villages
Today, depart by jeep for Naungkan village (approx. 14 mi/1 hr), where you'll cross a suspension bridge on foot over the gorge to Machanbaw. This small administrative town is beautifully designed in colonial style and connected to the other side only by this 700-foot suspension bridge. After exploring this charming town and followed by lunch at a local shop in the small market, you'll visit Mulashidi Village, home to a Lisu tribe, and also accessible only by suspension bridge across the Mula River. The village sits against a backdrop of dense forest. Here, you'll enjoy dinner at a local restaurant before returning to Putao for the night.
Meals: Breakfast, Lunch, Dinner
Lodging: Putao Trekking House (or similar)
Day 10 Putao to Yangon or Mandalay
After breakfast, transfer to the airport for your flight to Yangon, where you meet your driver and transfer to your hotel. You may spend your afternoon shopping at the Bogyoke Market, a sprawling 75-year-old shopping complex noted for its great variety of handicrafts and other items. For those joining the Treasures of the Golden Land, you'll fly to Mandalay and follow that itinerary. This part of the trip provides a superbly- interpreted and revealing trip which includes Mandalay, an overnight river cruise, Bagan, and Inle Lake, among other areas. The trip will also feature an optional balloon ride over the ruins of Bagan.
Meals: Breakfast, Lunch, Dinner
Lodging: Kandawgyi Palace or Hotel by the Red Canal (or similar)
Day 11 Yangon / Onward
Your driver will transfer you to the airport for your onward departure. After a week of trekking, consider relaxing on an extension to Ngapali Beach on the Bay of Bengal. This is an isolated, relatively wild beach with little development -- in contrast to the resort beaches of Thailand.
Meals: Breakfast
Lodging: None
More information from Journeys International: