Journeys International - vacations and travel
Adventures With Apes, Arts, And Dragons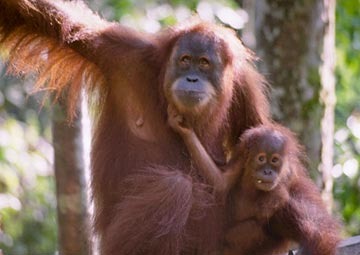 from $3,950* per person
13 Days
May, July
Comfort accommodations

Exertion level: 3

Operator:

Journeys International

14 people max
Denpasar airport, bali, indonesia
Culture & Nature trips

Explore corners of Indonesian islands that few tourists have visited, in more depth and detail than most trips. Engage with geography, natural history, cultural history, and human origins. Spend time with orangutans in Tanjung Puting National Park on Kalimantan (Borneo). Search for Komodo Dragons while sailing on a yacht around six small volcanic islands. View the sunrise and tour the magnificent monuments at Borobudur.

Add an in-depth experience of art and culture on the island of Bali before or after the trip.
Locations visited/nearby
Indonesia, Australia and Pacific
0 testimonials about this trip.
Reviewer:

G. Wallace

located in

Chagrin Falls

,

OH

USA

We love that JOURNYES is eco-minded. The quality of the overseas tour companies are excellent. We have been very pleased with the quality and diversity of the content of your tours. We will definitely be back.

5

Reviewer:

L. Linker

located in

Sahuarita

,

AZ

USA

The major reasons that we enjoy traveling with JOURNEYS, are the fast responses to questions and information, talking to a real person who is friendly and empathetic to individual needs, the professionalism of the staff and the knowledge of all trips we have taken.

5

Reviewer:

L. Kofoid

located in

Chicago

,

IL

USA

This trip captured our souls and will live with us forever.  Our daughter still talks everyday of the Masaai people in the Sinya camp who carried her during our stay.  Our son bores anyone who comes through our door with our slide show.  We all look at our pictures and pinch ourselves…..were we really there?!  Did we really watch and listen as a mother lion "spoke" to her cubs and they sassed back?  Did we really see giraffes, monkeys, elephants and zebra….all in the same spot?!  Could we really see for hundreds of miles across the savannah?!  Could the sky hold any more stars and has the Milky Way ever been clearer?!  Could the people have been any nicer!?  It is all like a magical dream…

5
Comments from Facebook
Special information
This is a custom departure, meaning this trip is offered on dates that you arrange privately with the provider. Additionally, you need to form your own private group for this trip. The itinerary and price here is just a sample. Contact the provider for detailed pricing, minimum group size, and scheduling information. For most providers, the larger the group you are traveling with, the lower the per-person cost will be.
Itinerary
Day 1 Arrive Denpasar
Arrival day into Denpasar, Indonesia. Meet at the airport and transfer to your hotel for overnight. If you have not been to Bali before, you will probably want to arrive early for the Bali extensions and to fully explore the island and it's culture. After check-in at your hotel the rest of the day is yours for leisure to recover from jet lag or to enjoy the beach.
Meals: Dinner
Lodging: Santika Beach Hotel
Day 2 Arrive Semerang, Java
Fly today from Bali to Java, and spend a transit night in Semerang. This city has historically been at the crossroads of maritime trade routes, and continues to be a center of commerce. However, while you are here, enjoy visits to Sam Poo Kong Temple Complex, a holy site for both Buddhists and Muslims, and the Chinese Buddhist Temple, where you will have the chance to make traditional offerings. Spend the night at the Ciputra, a 4-star hotel with a fantastic breakfast spread.
Meals: Breakfast, Lunch
Lodging: Ciputra Hotel
Day 3 Tanjung Puting National Park
After breakfast, fly to Pangkalan Bun in central Kalimantan (Borneo). Transfer to the river port to board your klotok (a traditional motorized wooden boat) to cross Kumai Bay toward the main waterway in the Tanjung Puting National Park, the Sekonyer River. The two-hour float on the Sekonyer passes incredible riverside plant life. The vegetation varies from nipah palms and mangroves, dominating the coastal forest, to the evergreen plants that proliferate in the peat swamps and dry land forest. Tanjung Puting National Park covers more than 1,600 square miles and hosts a diverse population of flora and fauna – most notably, the orangutan. The National Park is in a continuous battle against loggers, gold miners, poachers, and corporate palm oil developers. Tourism in this area offers an economic rationale for preserving the natural habitat. After a stop at Tanjung Harapan to arrange the permits, it's straight to Rimba Lodge for 3 nights. Begin your search for proboscis monkeys and the many birds of the area during your 3-hour float up the river. If you're lucky, you may even spy an orangutan en route. Your 35-room lodge, built of ironwood and set on stilts, is quite simple but beautifully sited — and really the only accommodation in this area. A group of long-tailed macaques lives all around the rooms, so be sure to keep your doors closed!
Meals: Breakfast, Lunch, Dinner
Lodging: Rimba Lodge (or similar)
Day 4 Camp Leakey Tour
Today, visit Camp Leakey, the historic research station in Tanjung Puting National Park. Birute Galdikas set up this research station in 1971. She named it for Louis Leakey, who was both teacher and mentor for three young primatologists who would then go on to international renown: Jane Goodall and Dian Fossey, who gained fame for their work with chimpanzees and gorillas, and Birute Galdikas, who studied orangutans here at Camp Leakey and authored the book Reflections of Eden (1995) about her early studies in this area. Take the boat to Camp Leakey right after breakfast. Enjoy a beautiful 2½-hour upstream float with bird- and primate-spotting opportunities along the way. Lunch on the boat. At Camp Leakey, hike into the primary forest and stop at the visitor center where you may come very close to semi-wild orangutans. At the afternoon orangutan feeding, usually starting around 2:30, you'll spot the orangutans as they approach from above or behind you and then watch their mealtime and gymnastics for as long as they stay. This is a great opportunity to take close-up photographs of the animals. Orangutans are often quite curious about human beings, and they may want to investigate your pockets and your belongings. Keep a safe distance of at least 5 meters, and follow the guide's instructions carefully. Return to the boat to ride back to the lodge for the evening.
Meals: Breakfast, Lunch, Dinner
Lodging: Rimba Lodge
Day 5 Pondok Tanggui Orangutan Visit
After breakfast at the lodge, head out by boat to Pondok Tanggui. After a short walk in the jungle, reach the feeding site for baby and juvenile orangutans who are in the course of rehabilitation and returning to the wild. Lunch aboard the boat, then visit a village in Tanjung Harapan, just outside the border of the National Park, to learn about the Malayan and Semi Dayak people's settlements and ways of life.
Meals: Breakfast, Lunch, Dinner
Lodging: Rimba Lodge
Day 6 Sightseeing en route to Borobudur
Return downriver to Kumai, and head back to the airport for a return flight to Semarang where you'll be greeted by your Java guide. Drive across the island of Java, sightseeing en route to the Manohara Hotel, housed within the Borobudur monument complex. We will try to arrive in time for a sunset walk around the grounds. Dinner at the Manohara.
Meals: Breakfast, Lunch, Dinner
Lodging: Manohara Hotel
Day 7 Borobudur / Prambanan
This will be a full and glorious day! Arise before dawn to visit Borobudur, the most spectacular ancient Buddhist archeological site in Indonesia. This gigantic three-dimensional mandala was constructed between the eighth and the ninth centuries by the kingdom of Sailendra, using an estimated 1,600,000 blocks of volcanic stone each dredged out of the river and assembled piece-by-piece by thousands of workers. The architecture and embellishment of the temple depicts the path to the heavens and nirvana through its 1,500 intricately carved figures stretching more than three miles. Modern study of the site began in 1814 by Sir Stamford Raffles, the founder of Singapore. The monument was first restored in 1907, but suffered from both passive degradation of neglect and the more active destructions of war. It was then restored in the 1970s under the guidance of UNESCO, which declared the Borobudur temple complex a UNESCO World Heritage site. We climb the incredible pyramidal structure at dawn to witness the sunrise and the very active, steaming volcanic cone of Mount Merapi in the distance. When you're ready, amble back to the hotel for breakfast. Mid-morning depart for Prambanan, about a 1½ hour drive from Borobudur on the outskirts of Yogyakarta. Prambanan, a spectacular example of Hindu temple architecture and another UNESCO World Heritage site, is one of the largest and most ornate Hindu temples in Southeast Asia. It was built around 850 CE, during the Sanjaya Dynasty, and then abandoned. Reconstruction began in 1918, and the main building was restored in 1953. An earthquake in Java damaged the temple in 2006, but the complex remains a stunningly ornate relic of a vanished dynasty. Also view the smaller temples near Prambanan, such as Candi Sewu, Candi Plaosan, and Candi Kalasan. After check-in at a lovely 4-star hotel in Yogyakarta, enjoy dinner with a Ramayana Ballet performance at Purawisata.
Meals: Breakfast, Lunch, Dinner
Lodging: Jogjakarta Plaza or Similar
Day 8 Yogyakarta / Transit night in Sanur
Today, tour the highlights of Yogyakarta City, including Sonobudoyo Museum. This museum houses an extensive collection of cultural artifacts. Consistent with our theme of better understanding the earliest human occupants of Indonesia, we observe Neolithic ceramics, original eighth and ninth century statues, bronze articles collected from Central Javanese temples, various puppets, masks, and wayang (puppets for shadow plays), as well as heirlooms and artifacts from Bali. Next, continue on to Sultan's Palace, known for its grand and elegant Javanese architecture. Late in the day, fly to Bali and transfer to a comfortable hotel to be ready for the next morning's flight to Flores.
Meals: Breakfast, Lunch
Lodging: Santika Beach Hotel
Day 9 Fly to Labuhan Bajo, Begin Cruise
Transfer to Denpasar airport for an early morning flight to the seaport of Labuhan Baho on Flores, where you board your lovely schooner for a 3-night cruise around the islands of Komodo National Park in the Flores Sea. Your ship is completely prepared with modern safety and navigational equipment, small but adequate cabins with bathroom facilities and an experienced, attentive crew. Set sail for Pink Beach for first-rate snorkeling experiences. All gear is provided, and there's ample time to enjoy the beach and its amazing coral and marine life. Next, we sail to Kalong Island for sunset, when tens of thousands of "flying foxes" (bats) take off from the island in search of food. The boat anchors near Kalong Island and Komodo Islands. Dinner on board.
Meals: Breakfast, Lunch, Dinner
Lodging: On board a motorized schooner
Day 10 Komodo and Other Islands
Today, wake up to the gentle light and breathtaking vistas of the Flores Sea. Enjoy breakfast on board before setting off for a hike on Komodo Island, escorted by park rangers. The landscape is dramatic and you're likely to encounter a number of Komodo Dragons, the world's largest lizard (Varanus komodoensis), in the wild. You are also likely to encounter a wide variety of other animals in the park, such as wild deer, wild boar, and many species of birds. There may be time to visit Kampung Komodo, the only village on Komodo Island, inhabited mostly by Bugis people, known for their seafaring culture and their woodcraft. Lunch aboard the boat then partake of more opportunities for snorkeling and beachcombing. Later, sail to Rinca Island.
Meals: Breakfast, Lunch, Dinner
Lodging: Motorized schooner
Day 11 Rinca Island
After breakfast, hike again in search of wild Komodo Dragons in their own habitat, escorted by park rangers. Rinca (pronounced "Rin-cha") has even more of these giant lizards than Komodo does. The afternoon brings more opportunities for swimming, snorkeling and coral viewing.
Meals: Breakfast, Lunch, Dinner
Lodging: Motorized schooner
Day 12 Bidadari Islands / Labuhan Bajo/Bali
Enjoy breakfast on board as usual and an early morning sail to Bidadari Island for fantastic swimming and snorkeling before transferring back to Labuhan Bajo for a return flight to Bali. A final group dinner will be provided this evening.
Meals: Breakfast, Dinner
Lodging: Santika Beach Hotel
Day 13 Extend in Bali or Return Home
Continue your Indonesia exploration on the beautiful Hindu island of Bali or transfer to the airport for your international departure.
Meals: Breakfast
More information from Journeys International: