Large Minority - Adventure Holidays & Tuk Tuk Challenges - vacations and travel
North Lanka Tuk Tuk Adventure
"The Lanka Challenge was undoubtedly one of the best experiences of my life. Incredibly well organised, a tonne of fun,… "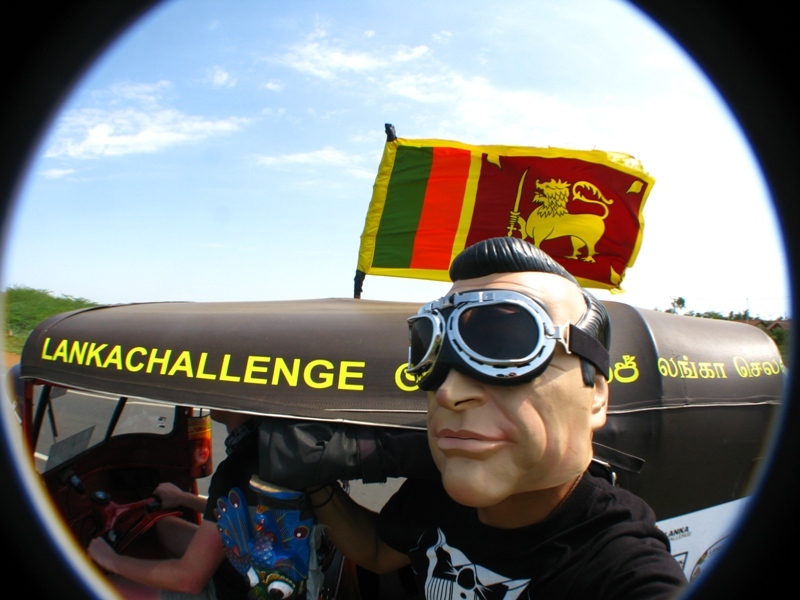 Sri Lanka
Active & Adventure trips
The world's greatest tuk tuk road trip, bar none.
Imagine being able to tell your mates that you travelled 1,000km around Sri Lanka. In a rickshaw. A rickshaw that you drove. That, friends, is the Lanka Challenge rickshaw adventure: the ultimate road trip for those who like their travel fully-charged and no-holds-barred. Each day you'll wake up, be told where you need to be by sundown, and get handed a list of challenges to complete along the way – the completion of which will see your team accrue points. The rest is up to you, you big legend. Questions you will be forced to ask yourself during the Lanka Challenge include: Who's going to go and get a photo of that crocodile? Who's going to get us invited to a local's place for lunch? Who's going to take one for the team in the chilli-eating challenge? What day is it? And where did I put my Imodium? One hell of an amazing time is guaranteed. Life-changing experiences are probable. Navigational stupidity is optional.
Locations visited/nearby
Asia , Sri Lanka , mountains , tea , beach , coast , spicy , curry , Sri Lanka
2 testimonials about this trip
Reviewer:

Cameron Mitchell

located in

Brisbane

,

Australia

The Lanka Challenge was undoubtedly one of the best experiences of my life. Incredibly well organised, a tonne of fun, and an adventure that I will never forget.  Such a great way to see such an incredible country, Im sure Ill be returning in the next few years for a second shot at the Lanka title.  I'm doubly looking forward to the Cambodia Challenge and any other adventure the team put together. Thanks for such an incredible journey



5

Reviewer:

Natasha Tome

located in

Vancouver

,

Canada

The Lanka Challenge is the best way to test your fortitude, see a country off the beaten track and interact with locals, which results in an unforgettable experience. It was great fun, and such a unique way to see the country. Wonderful friendships were forged, an insight into Sri Lanka was achieved, and memories made for a lifetime.



5
Reviewer:

Warut Phanomphaitoon

located in

Bangkok

,

Thailand

Who needs a tour guide when you can make your own way around Sri Lanka? Lanka Challenge was a fun-filling-10-day-trip with Amazing People from all over the world. LC is definitively one of the world's most adventurous activities. It's not only about winning the Challenge but also about helping the kind people of Sri Lanka. It offers you a chance to absorb the Lankan culture and eventually turn into one of them for a while.
Believe me when I say that Large Minority's people will make you do things Lankan style. LM has done it this time and I am sure they will do it again... Two thumbs up for the good people at Large Minority and those who participated in the event in 2009.



5

Reviewer:

Tim Hartford

located in

Dubai

,

UAE

Who else can claim they have circumnavigated Sri Lanka and Cambodia driving a Rickshaw? Or bought fuel in a coke bottle whilst wearing pyjamas? I truly believe there is no better way to see a complete country and get down with the local culture. You just can't do this on a tour. Make no mistake, this is a mentally and physically challenging adventure that will test you in many ways.
The social side plays the biggest part - we made a great group of friends and every night was a party. Large Minority gave us an expertly planned fully-inclusive holiday which would be nearly impossible to organise on your own, all for a great price and still supporting local charities. Bring on the next location!



5

Reviewer:

Jamie Raskin

located in

Tokyo

,

Japan

People keep asking me about the Cambo Challenge and I think I've nailed what makes it so incomparable for me, it's all about the human interactions. The group were fun, switched on, non-competitive and from all over the map. The challenges got us past our barriers and into authentic Cambodian communities and interactions.
The LM team were smart, creative, playful and good times. Traveling by tuk tuk was crazy, liberating and totally engaging with your surroundings, and Cambodia itself...half confronting, half embracing and incomparable throughout. We loved it.



5
Comments from Facebook
Itinerary
Less travelled but no less exhilarating, our
Northern Route
will take you all the way up to the history-rich Jaffna and back down to beautiful beachside Trincomalee, and sometimes even further down the East Coast. Along the way, countless incredible landscapes will be thrust upon your face, and you'll probably struggle to compute the severity of the serenity of it all. Best take a camera, then.
*** Please note route and hotels for reference only & subject to change
More information from Large Minority - Adventure Holidays & Tuk Tuk Challenges: