Bredeson Outdoor Adventures - vacations and travel
Hiking Adventure on Maine's Magnificent Coast and Islands
"If you want a great time and a super guide ask Deborah to plan an adventure for you. I just… "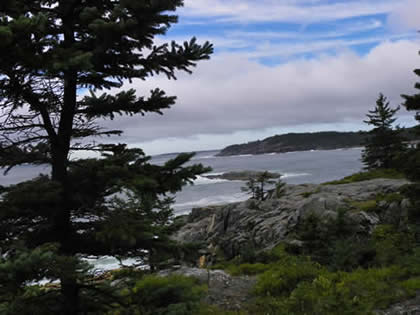 from $2,900* per person
8 Days
May-October
Comfort accommodations

Exertion level: 5

Operator:

Bredeson Outdoor Adventures

10 people max
Portland international airport, portland, or, united states
Active & Adventure trips
Join Bredeson Outdoor Adventures on a guided hiking adventure "Down East" along Maine's coast. When ships sailed from Boston to ports in Maine, which were to the east, the wind was at their backs, so they were sailing downwind, or Down East. Mainers still speak of going "up to Boston" despite the fact that that city lies about 50 miles to the south of Maine's southern border. Down East is more than a counter-intuitive geographic designation; it's also the happy state of mind one enters when crossing the border into Maine. Our group will have fun exploring the coast whose beautiful ruggedness is softened by evergreens and quaint, traditional fishing towns and islands, and where endless tidal inlets add up to 3,478 miles of shore, longer the coast of California. Maine's coastal mountains thrust up from the shore and provide great hiking with fabulous ocean views. Add to this mix fall foliage, a lobster dinner, blueberry pie and Maine's legendary artistic, literary, and conservationist history and you get one great trip, if we do say so ourselves.

We'll start our hiking tour in exquisite Acadia National Park, first spending two days in lively Bar Harbor, after which we'll then venture to Acadia's "Quiet Side," Southwest Harbor, for three days. While there, we'll participate in a venerable Maine tradition on our first mail boat ride. Grand scenery, wonderful hikes, and fascinating history will mark our stay in Acadia. We'll spend the last two days of the tour based in Camden, known for its idyllic inner harbor, state park, the poetry of Edna St. Vincent and the shooting location of Peyton Place. We'll enjoy a second mail boat ride, this time to Monhegan Island, famous among artists, to hike and to hunt for fairy houses. We hope you'll join us on this quintessential Maine coast and islands hiking adventure. Your guide will be Bredeson Outdoor Adventures' owner, Deborah Lewis -- a "Maineiac," who delights in sharing hidden corners of this beautiful state. Did we mention lobster and blueberry pie?
Locations visited/nearby
United States, North America
2 testimonials about this trip
Reviewer:

Mary Pepper

located in

Ames

,

Iowa

USA

"If you want a great time and a super guide ask Deborah to plan an adventure for you. I just got back from a wonderful trip in Maine. As always Deborah took us to places that showed authentic Maine. She is right on with places to visit and accommodations and trails to hike and food to eat. Enjoy!"  and "Once again you have given me a bunch of memories and experiences I will relive with joy and happiness for many years to come.  Thanks for all your planning ahead of time and your care and information along the way.  I know a little more of Maine now and have such a warm spot in my heart for beautiful Acadia."

5

Reviewer:

Deborah Grenard

located in

Chicago

,

IL

USA

" Thank you, thank you thank you!  My visit to Maine was fabulous, awesome and fantastic!  It was so much better because we were able to share it and be guided by you.  You are fabulous!  I look forward to many more adventures."


5
Reviewer:

Kate Johnson

located in

Norwalk

,

Connecticut

USA

"Our trip to Cinque Terre was the best trip we have ever taken. The beauty of the location was certainly a factor, but, in retrospect,Deb organized and designed a week that far exceeded our expectations. Once we became part of the trip, we immediately began to receive pertinent information-"walk,bike,lift weights every day"-not quite, but she was getting us in shape for the trip that lay ahead.The detailed list of items that we would need was given to us with plenty of time to acquire them.The itinerary provided us an exact time table from landing in Europe to heading back out. Where and when we would be staying, eating, hiking, railroading,ferrying, having options-nothing was missed. Deb's attention to every detail of the organization and flow was flawless. Beyond that, Deb's knowledge of the area and her sense of humor -we would follow her anywhere. With enormous appreciation." Guided CInque Terre hiking trip


5

Reviewer:

Steve Ruggiero

located in

Bainbridge Island

,

Washington

USA

"Thank you again for your wonderful assistance and guidance before, during and after our trip through the Alps this summer. Your detailed and hands on knowledge of the locales, suitability of the intended hikes for our family and an understanding of our exact requirements were spot on. With two little boys in tow and an ambitious schedule spread out over three areas in two weeks, we needed to have the details in hand with no worries. You gave us not only what we asked for but also suitable alternatives to be able to make decisions on the fly if schedules, enthusiasm or weather changed. Your ability to listen and then tailor an appropriate schedule is the mark of a true professional who enjoys what they do. Your passion for it shows and we would have no hesitation to use your services in the future or happily endorse your services to others." Self-guided family trip in Chamonix, Zermatt and Wengen (French and Swiss Alps)




5

Reviewer:

Mary Pepper

located in

Ames

,

Iowa

USA

The gals were all absolutely delighted with the trip. I think you just blew their minds with the places you chose and the level of professionalism you displayed as our guide. We would all go anywhere you would like and I am anxious to plan more trips with you...I feel certain other of my friends and friends of all the Leaf Ladies are going to be anxious to join any trip in which you are involved as our guide/friend. I am so thankful I had the good fortune to travel with you and you were willing to take us on. You listened to what I wanted for the group and were so attentive to the needs of all of us. We got to see what the true Vermont is like through the eyes of someone who really loves it. It couldn't have been better. I heard from talking with others at the airports that they felt the same and we all really thank you for it." Guided Vermont hiking trip


5
Comments from Facebook
Special information
Family oriented trip.
Centered around activities for grandparents and their grandchildren.
Self-guided (includes hotels, maps, luggage transfer, etc but no guide).
Itinerary
Day 1: Witch Hole Pond and the Wild Gardens of Acadia; Cadillac Mountain
Our Maine adventure begins today when your guide meets you at 9:00 a.m. in the seaside city of Portland. We'll transfer to Mount Dessert Island and Acadia National Park, where we'll experience the first of many adventures in the first National Park east of the Mississippi River. (Note: this trip will require a pre-trip overnight in the charming, lively city of Portland. We will provide information on a range of Portland hotels and bed and breakfasts, however we will pick you up at the conveniently located Eastland Park Hotel.) People have always been drawn to the rugged coast of Maine. Awed by its beauty, many of the east coast elite of the late 19th and early 20th century spent their summers roughing it in Bar Harbor in huge "cottages." These "rusticators" were rich with both idealism and financial resources. Early 20th century philanthropists and visionaries such as John D. Rockefeller Jr. donated the land that became the 47,000 acre Acadia National Park. Rockefeller also built and donated the Park's legendary carriage paths that we continue to enjoy today for non-motorized activities such hiking and bicycling. The Park is home to many plants and animals, the tallest mountain on the U.S. Atlantic coast, and wonderful granite peaks. Today we'll visit the National Park Visitor Center, where we'll view a brief movie that provides an excellent introduction to the Park. We'll head out directly from the Visitor Center for a scenic hike and firsthand experience of one of the carriage paths to Witch Hole Pond with fantastic views en route of Hulls Cove and Frenchman Bay. We don't know the origin of the name Witch Hole, but, no worries, we won't linger as we'll also plan to walk on Jessup Path, an old Native American trail, to the Wild Gardens of Acadia.
If the weather is clear we'll drive up Cadillac Mountain to enjoy the spectacular view and go on a short hike. At 1,532 feet Cadillac Mountain is the tallest peak on the north Atlantic coast and the place where the sun rises first in the U.S. for five months of the year. In 1688, Antoine Laumet, an ambitious young man who had immigrated to New France and bestowed upon himself the title Sieur de la Mothe Cadillac, asked for and received a hundred thousand acres of land along the Maine coast, including all of Mount Desert. Cadillac's hopes of establishing a feudal estate in the New World were short lived. Although he and his bride lived here for a time, they soon abandoned their enterprise, leaving behind this mountain's name. Cadillac later gained lasting recognition as the founder of Detroit. We'll then transfer to Bar Harbor, the gateway to Acadia National Park. We'll check in to the elegant and historic Bar Harbor Inn. Our inn is on the harbor, and is in a surprisingly quiet setting given its location in this lively town. What is now called the Bar Harbor Inn was once an oasis of culture for the likes of the Vanderbilts, Pulitzers, and Morgans. The first social club to be organized on the island was started in 1874 and named the Oasis Club. After brief stays in rented buildings, the club moved into its own quarters in 1887, newly incorporated as the Mount Desert Reading Room, with the avowed purpose of promoting "literary and social culture." This later became the Bar Harbor Inn. We'll enjoy our welcome dinner together in the Inn's elegant, harbor side dining room.
Hike: 4 - 6 miles of moderate terrain. Overnight: Bar Harbor Inn, Bar Harbor
Day 2: Great Head, Sand Beach and Ocean Path or Gorham Mountain
Early risers will go on pre-breakfast walk on the Ocean Path in Bar Harbor, an excellent opportunity to savor the harbor's morning atmosphere. (No worries -- coffee will be available before our walk.) After returning to the inn for breakfast, we'll drive on the beautiful Park Loop Road to Sand Beach where we'll embark on a loop on historic and dramatic Great Head and learn about a famous mule. After a picnic lunch on Sand Beach, we'll have two options for the afternoon. The first is a hike up Gorham Mountain, which provides some of the most rewarding views of Acadia for a relatively modest effort. We'll enjoy uninterrupted ridge top panoramas and a pleasant walk along the rocky shore, including a visit to Thunder Hole and Sand Beach. The other choice is the lovely Ocean Path Trail to Thunder Hole. We'll leave time free this afternoon for exploring the town, providing you with the opportunity to stock up on blueberry jam, eat blueberry ice cream, walk out to Bar Island (if the tide is on your side), enjoy a history walk of Bar Harbor, or relax in the hotel's hot tub. Dinner tonight will be on your own, giving you a chance to try out one of the many fine and fun restaurants in Bar Harbor.
Hike: 5 miles with approximately 500 feet elevation gain. Overnight: Bar Harbor Inn, Bar Harbor
Day 3: Flying Mountain and Beech Mountain
Early risers can take a walk back in time to Compass Harbor, the site of the residence of George Dorr, considered the father of Acadia. We'll explore the remnants of the Dorr family estate and gain a firsthand sense of the destruction of the fire of 1948 large portions of Mount Dessert Island were destroyed. After a hearty breakfast we'll transfer to Southwest Harbor, located in what is known as the "Quiet Side" of Acadia. Our home for the next three nights will be a charming inn, which was built in 1884 and overlooks the calms waters of Southwest Harbor. The inn is particularly known for its friendly, relaxed service, and is both quiet and centrally located in the village of Southwest Harbor. Before checking in we'll drive the short distance to Flying Mountain for a hike. We'll walk toward Somes Sound (recently demoted from the status of fjord to fjard -- stay tuned for more information) on a beautiful, old carriage path. After arriving at Valley Cove and savoring this peaceful setting we'll ascend stone steps to the summit of Flying Mountain. The view from the top is unobstructed and provides a spectacular panorama of the entrance to Somes Sound, Southwest Harbor, and the Cranberry Islands. The history of this area is also fascinating, as it was the location of the first inhabitants of Mount Desert Island and the location of the first French mission in America. Those who wish to extend this hike and arrive on foot at our inn can walk over a causeway and through a charming residential area to the village of Southwest Harbor. Others will arrive by van.
This afternoon we'll venture out a short distance from our inn to Beech Mountain for a second hike. Beech Mountain affords stunning views of the region, including Long Pond and Blue Hill across Blue Hill Bay. At the summit we'll climb up the abandoned fire tire for views of Southwest and Northeast Harbors, the entrance to Somes Sound and the Cranberry Isles. This loop hike begins and ends in Somesville, the oldest village on Mount Dessert Island. After a relaxing happy hour on the hotel's front porch, we'll have dinner is in a famous and informal restaurant right up the street from our inn that is known for its seafood stew, blueberry pie and awesome, huge, hot macaroons.
Hike: 4 -5 miles. Overnight: The Inn at Southwest, Southwest Harbor
Day 4: Little Cranberry Island Mail Boat Ride and Island Exploration
We'll enjoy the first of our mail boat rides today to Little Cranberry Island. Nestled just 30 minutes by boat southeast of Mount Desert Island, with superb views of the mountains of Acadia National Park, the five Cranberry Isles host a year-round community of lobstermen, boat builders, and craftsmen, as well as numerous rusticators who've been returning each summer for years, if not generations. We'll learn about lobstering, walk to a beautiful and almost secret salt marsh where we'll have a picnic lunch, and visit the history museum that is operated by Acadia National Park. Dinner tonight is in one of the islands most elegant restaurants and a two minute walk from the inn.
Hike: 3.4 miles. Overnight: Inn at Southwest, Southwest Harbor
Day 5: Jordan Pond and Thuya and Ascitou Gardens
Today we'll drive to the trailhead for North and South Bubble mountains and will hike up North Bubble, another walk that rewards us with truly awesome views, this time of Eagle Lake, Jordan Pond and Cadillac Mountain. We'll then hike along Jordan Pond to Jordan Pond House. The walk around the lovely pond is a more moderate and also amazing alternative. The Jordan Pond House traces its history from 1847 when the first settlers conducted a logging operation. The original farm house was built by the Jordan family of Seal Harbor, for whom the pond and house were named. It was later converted to a restaurant on the idyllic shores of the pond. The first Jordan Pond House was destroyed by a fire in 1979 and was subsequently rebuilt. We'll stop here for a break and also visit one of the carriage path gatehouses. We'll visit the Ascitou and Thuya Gardens on the way back to the inn, each lovely and possessing its own interesting history.
We'll then venture down to Bass Harbor, the most authentic fishing village on the island, for dinner in a family run restaurant on the shore of this serene working harbor..
Hike: 4.43 miles, total ascent 814 feet. Overnight: Inn at Southwest, Southwest Harbor
Day 6: Farnsworth Museum, Mount Battie, Camden and Beauchamp Point
Our coastal journey continues today, as we depart from Acadia and head south, where we'll ponder the question if going Down East means heading north are we now traveling Up East? En route to Camden we'll stop in the town or Rockland and visit the Farnsworth Museum. Rockland is a busy, working harbor and is also famous for its windjammers. It has boomed during the last decade, becoming a haven for artists, a reputation enhanced by the presence of the estimable Farnsworth Art Museum. More than 5,000 works can be found here, many by painters, who called Maine home or summered here, including Marsden Hartley, John Marin and Winslow Homer. A separate building down the street, a converted church, houses an extraordinary collection of three generations of the Wyeth family: N.C., Andrew and Jamie. The latter two, father and son, live not far from here.
We'll then travel to Camden, whose well-earned slogan is "where the mountains meet the sea." Its legendary harbor is framed by the Camden Hills, especially Mount Battie. On all of the Atlantic coastline, from the tip of Florida to the Bay of Fundy, the mountains meet the sea in only two places: Camden and Mt. Desert, both in Maine, and both the focus of this trip. Camden is considered by many to be Maine's prettiest village. Its inner harbor's mix of working and pleasure craft includes a fleet of windjammer schooners that have been operating cruises since 1936. Our inn is quaint, conveniently located and historic. It was both the location of the first reading of Edna St. Vincent Millay's Camden inspired poem "Renascence" and the filming of the movie "Peyton Place." After checking in we'll head to neighboring Rockport for a classic country walk from the Rockport Harbor, former home of Andre the Seal, along the shore to Beauchamp Point and the Children's Chapel, past the 136 year old Aldermere Farm and back to Rockport. Time permitting, we'll drive to the top of Mount Battie, where the view will provide a vivid understanding of St. Vincent Millay's inspiration for Renascence. We'll get to relax on yet another inn porch before strolling to downtown Camden for dinner in one of our favorite elegant and intimate restaurants, known in the area for its fine cuisine and for its cooking school.
Hike: level, 4 mile country walk. Overnigh: Whitehall Inn, Camden
Day 7: Port Clyde and Monhegan Island
After a hearty, hot breakfast we'll drive to the picturesque fishing village of Port Clyde at the tip of the St.George Peninsula. We'll visit the Marshall Point Lighthouse and will then board either the Elizabeth Ann or the Laura B for the original mail boat journey to Monhegan Island. Located 12 miles out to sea, traveling to Monhegan is like taking a step back in time. The island is famous for its fishermen and lobstermen, for artists, for its small winter population, and for fairy houses (yes, fairy houses, tiny houses made from twigs and moss). Monhegan holds a special place in American art history, having been the part-time home of Edward Hopper, Rockwell Kent, George Bellows and Robert Henri. Jamie Wyeth, the youngest of the celebrated Wyeth clan, owns a shingle-clad home on the island's southern shore that was originally Rockwell Kent's. We'll spend the afternoon exploring the island, walking up to a dramatic overlook at Whitehead and searching for fairy houses on the Cathedral Woods Trail. If we are lucky we will see seals or a whale from the ferry. Today's adventure will be a fitting, final experience for our Down East adventure that we'll cap off with an al fresco dinner at one of Maine's most famous and friendly family owned seafood stands known for its fresh lobster and clams, and homemade pies and ice cream. (Non-seafood choices are also available.) We'll toast each other and the week while savoring the setting, which overlooks beautiful Muscle Ridge Channel, just a short drive from the ferry .
Hike; 3 - 4 miles hike; moderate elevation but rugged train. Overnight: Whitehall Inn, Camden
Day 8: Farewell to Down East
After breakfast we'll say good-bye to the beautiful coast of Maine and transfer to the Portland Airport by noon.
More information from Bredeson Outdoor Adventures: