Summit Expeditions and Nomadic Experience - vacations and travel
The Zanzibar Experience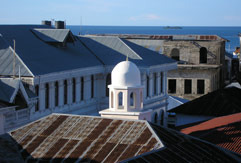 Kilimanjaro international airport, kilimanjaro, tanzania
Active & Adventure trips
Zanzibar Island, commonly known as the Spice Island, is the largest island off the coast of Tanzania and is home to some of the most beautiful beaches in the world. Offering a truly remote tropical getaway, tourists infrequently visit this tropical paradise. The Omani Sultans ruled this island for many centuries and the Arabic influence is still very strong.
Locations visited/nearby
Tanzania, Africa
Comments from Facebook
Special information
This is a custom departure, meaning this trip is offered on dates that you arrange privately with the provider. Additionally, you need to form your own private group for this trip. The itinerary and price here is just a sample. Contact the provider for detailed pricing, minimum group size, and scheduling information. For most providers, the larger the group you are traveling with, the lower the per-person cost will be.
Itinerary
Days 1/2: 236 Hurumzi, Stone Town.
flying from Kilimanjaro International Airport to Zanzibar, you will be met by a SENE representative who will drive you to 236 Hurumzi, a charming bed and breakfast located in the heart of Stone Town, the ancient section of narrow winding streets and alleys in Zanzibar's largest city. Stone Town is rich with architecture and culture from the diverse peoples that have called this island home. A walking tour is the only way to truly experience this ancient town, which exists today much as it did when Zanzibar was a great trading center known the world over for spices, timber, and slaves. Feel the rhythm of life in the main marketplace, alive with the chatter of locals bargaining in Swahili and the vibrant palate of colors from the fabrics, tropical fruits and vegetables, spices, and intricately carved wood. Relax on a rooftop lounge in the evening as the smell of cloves wafts in on the cool Indian Ocean breezes and the quiet murmur of men playing bao, the centuries old African board game, rises from the street below. Other activities while in Stone Town may include visits to the ancient ruins of the Sultan's palace, a beachfront shop where craftsmen build traditional sailing dhows using methods handed down for generations, an underground coral cave, ancient slave chambers, and a tour of a spice plantation. (breakfast)
Days 3/4/5: Shooting Star Lodge or Mchanga Beach Lodge.
After breakfast you will be picked up at 236 Hurumzi and transported by private car to the beach area of Zanzibar's northeast coast. You will arrive at lunchtime after a 1 to 1˝ hour drive across the island through tiny tropical villages. Your hotel, either Shooting Star Lodge or Mchanga Beach Lodge, sits quietly on Zanzibar's brilliant white beaches of the northeast coast. These hotels, specially selected for their serenity, immerse you in the romantic island atmosphere of the Indian Ocean. Relax, soak up the sun, and enjoy all that the warm turquoise water has to offer. Your hotel manager can arrange snorkeling, scuba diving, wind surfing, or sailing on a local dhow. (breakfast, lunch, and dinner)
Day 6: Stone Town/Kilimanjaro. Transfer to Zanzibar Airport and fly back to Kilimanjaro International Airport for your evening flight home.
More information from Summit Expeditions and Nomadic Experience :