Liz Caskey Culinary & Wine Experiences - vacations and travel
The Age Of Argentina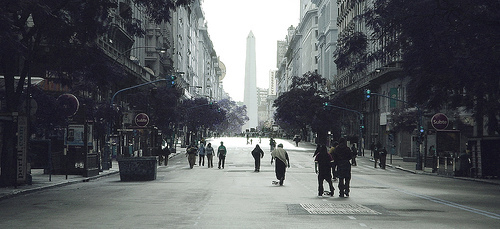 Buenos aires, argentina
Active & Adventure trips
Argentina, and its lush wines, are seducing foodies and wine lovers around the world with their sublime signature varietals like Malbec and Torrontes at excellent price points. Does even putting a Malbec to your lips send you off into dreams of gauchos and beef? Does the thought of Buenos Aires, a South American style, art, and dining capital ignite your imagination? Does your heart skip a beat at the first note of a nostalgic, heartfelt tango? Do you yearn to experience, first hand, this wild, native land where wine gems are handcrafted at the feet of the jagged, snowcapped mountain peaks? Do you want to connect with the passionate, inspiring, and dedicated families and winemakers behind these projects? Here's your once-ina- lifetime opportunity this summer to beat the heat and spend 7 fabulous, festive days in Argentina's capital, Buenos Aires, and its wine country, Mendoza, on a very special signature tour. Join American expat Liz Caskey, owner of Liz Caskey Culinary & Wine Experiences on this food & wine adventure in her beloved Buenos Aires and Mendoza. With more than 12 years' experience living in Chile, Argentina, & South America, Liz is a trained sommelier, accomplished chef, published cookbook author, food/wine writer and blogger, culinary ambassador for Emiliana Orgánico winery (Banfi Vintners) in the US market, and produces international TV productions in Chile like Anthony Bourdain's No Reservations. Join Liz on this intimate, personally hosted trip to discover her Argentina. Come unearth and live the magic behind South America's foodie capital, the captivating wines, the vibrant local foods, and learn the secrets of a good "asado", barbeque. Indulge in the charms and unique flavors of Mendoza's wine lands as you connect with the vintners, owners, and growers. Pamper yourself in exquisite five-star properties, including Mendoza's premier Relais & Chateaux wine lodge. This delectable week is filled with adventure and inspiration. If you've been waiting to come to Argentina, now's the time. Won't you join Liz? She can't wait to welcome you.
Locations visited/nearby
Argentina
0 testimonials about this trip.
Reviewer:

Joe P

located in

Shreveport

,

LA

USA.

"Our trip through Chile and Argentina with you was truly memorable. You've done a great job at establishing relationships in the wine industry as well as the hospitality industry – and it all shows in the finished product that was our trip. We thoroughly enjoyed everywhere we went, the first class establishments where we stayed, and the experience of the whole trip (not to mention all we ate and drank!). We've been a lot of places and on a lot of trips – this truly will be remembered as one of our more fun experiences as well as a great educational experience in the Chilean/Argentine wine industry – and our now much better understanding of wine as well as the industry. Thanks."



5

Reviewer:

Rona M

located in

Toronto

,

Canada

"We thoroughly enjoyed our adventure with you in the Colchagua Valley--without question a highlight of our three weeks in South America. Your professionalism, expertise, passion and sense of fun brought our trip to what seemed like the perfect conclusion."



5

Reviewer:

Margaret P

located in

Lancaster

,

PA

USA.

"Thank you for all of your assistance in making our trip to Chile and Argentina a wonderful experience! We enjoyed the food, wine, accommodations, culture but, most importantly, our guides. Everyone made us feel welcome. Having lunch at your home was a great way to wrap up our Chilean experience."



5
Comments from Facebook
Itinerary
Day 1: Saturday, August 6, 2011 (Arrival in Buenos Aires)
"¡Bienvenidos a mi Buenos Aires querido!" Welcome to "beloved" Buenos Aires, as the locals call it; those charming porteños who adore their vibrant, sprawling, cosmopolitan, and seductive capital. Meet the group and your host, Liz Caskey, and transfer from the international terminal to the heart of Buenos Aires, Recoleta. Check into Ayres de Recoleta, a luxury all-suites boutique hotel with chic interior design and within walking distance of all the sights and restaurants. Today, the day is yours to settle in, rest, and explore the city.
In the evening, your dinner venue is at a closed-door wine and food society in the magnificent private Belle Époque home of one of Argentina's top sommeliers. Start your culinary adventure with a wine aroma game, meant to sharpen your nose and intensify your pleasure. Allow the attentive sommelier, private chef, and staff to woo you with a thrilling multi-course dinner paired with fine Argentine wines, from Torrontes to Malbec. To be sure, the spotlight is on the wine, and the sommelier will enthusiastically share his knowledge with you. The innovative dishes fuse Argentine culinary traditions and techniques with the freshest local ingredients. In this warm and exclusive environment, you will have the opportunity to socialize with the sommelier/host on a familiar level to learn about Argentine life and society beyond food and wine. Ultimately, it is the combination of good food, fine wine, and stimulating conversation that you will remember. This is a delicious way to experience Buenos Aires. (D)
Lodging: Ayres de Recoleta Plaza
Day 2: Sunday, August 7, 2011 (Colloquial Buenos Aires)
Put on your walking shoes for a private, half-day historical exploration of Buenos Aires. Buenos Aires is a beautiful, exciting and endlessly fascinating city! Dynamic and sophisticated, it is surprisingly European yet definitively Latin American—an exquisite combination! Meet our guide, an academic scholar at the hotel to take us on a journey into Buenos Aires' unique social, political, and cultural history from its founding days to the latter half of the 20th century and present. From the bustling, congested downtown centro to the stylish and "aristocratic" northern neighborhoods to the somewhat seedy, working class southern districts, you will visit the city's highlights. Marvel at the capital's transformation from sleepy backwater to great metropolis. As you hear the tales and learn the secrets about the tumultuous history, elegant architecture and immigrant culture of Buenos Aires, begin to understand the porteños.
Visit the microcentro, site of the Palacio del Congress, Casa Rosada and other government buildings--and the Plaza de Mayo, spot of so many political demonstrations. Enjoy the colorful and unabashedly touristy El Caminito in La Boca, but be aware that this is still a rough-and-tumble neighborhood. Inspect the renovated docks and converted warehouses—now marinas and condos--of Puerto Madera. Saunter along the tree-lined streets of Palermo, the barrio with the coolest cafés, hippest restaurants and trendiest boutiques. Meander through posh Recoleta: upscale, European in style and home to the famous cemetery. The Cementerio de la Recoleta is a neighborhood unto itself—even though all of the inhabitants are dead!—and must be seen, for no words can do it justice.
For lunch, stop at a foodie hot spot for in-the-know locals, an unpretentious little family-run Spanish eatery. Savory and fresh flavor combinations dominate the ever-changing daily menu that waiters offer on blackboards that they tote around from table to table. Savor their zesty homemade pastas (such as saffron and herb), steak, and braised rabbit; but their forte is clever combinations with seasonal produce. The service, while perhaps not snappy, is unfailingly amiable. It's the food, the food, the food!
In the afternoon, return to your hotel where the rest of the day is yours to spend as you like. Dinner is on your own tonight. (B, L)
Lodging: Ayres de Recoleta Plaza
Day 3: Monday, August 8, 2011 (Free Day in Buenos Aires & Tango)
Sleep in. Relax. Read a book. Go shopping. Walk around in the bustling city. The day is yours to enjoy as you please.
In the afternoon, meet up to head to a private tango studio of one Buenos Aires premier tango dancers. Learn the basic steps of this passionate dance. Practice makes perfect! Afterwards, drive to the posh and hip Faena Hotel to exerience El Rojo Tango, BA's hottest tango show--upscale, sophisticated and enthrallingly dramatic! Beautifully choreographed, costumed and produced, the top-talent dancers, musicians and vocalists evoke the melodrama and nostalgia of the tango with a modern edge. The venue, the all-red El Cabaret, creates a seductive, stylish atmosphere. Before the show, enjoy a mouth-watering gourmet dinner. Then, sip your fernet cola, the favorite local mixer, or Malbec, and experience the moody, sensual, and oh-so-Argentine tango.
Head back to your hotel to say buenas noches, or use your newfound tango skills to hit the town's milongas, where the locals go to tango the night away. The choice is yours. (B, D)
Lodging: Ayres de Recoleta Plaza
Day 4: Tuesday, August 9, 2011 (Arrival & Chill Out in Mendoza)
This morning, check out and transfer to the inner city airport, Aeroparque, for your domestic flight to Mendoza, only 1.5 hour hours to the west. Touch down at the majestic base of the snow-capped Andes, towering in the distance. Transfer to the luxurious, Cavas Wine Lodge, an exclusive Relais & Chateaux hotel, nestled in a vineyard outside the city of Mendoza. Check into the modern adobe and stone-style casitas, each with their own fireplace, living area, walk-in closet, terrace with a plunge pool, and rooftop terrace overlooking the Andes. Ahh, the perfect venue to perfect the art of sipping Malbec.
The rest of today is free to unwind and enjoy the place. Indulge yourself in the vinotherapy treatments such as wine baths and grapeseed exfoliations. Tonight, we'll meet in their wine cellar for an introduction to Mendoza's varied terroir through an educational wine flight with Cavas' sommelier. Afterwards, we'll celebrate the beginning of our Mendoza wine adventure together with a full-course group dinner at the hotel. Cheers everyone and welcome to Argentina's wine country! (B, D)
Lodging: Cavas Wine Lodge
Day 5: Wednesday, August 10, 2011 (Luján de Cuyo)
Malbec is Argentina's most famous, beloved, and alluring wine. After a delicious breakfast spread at the hotel, set off to become acquainted with the region of Luján de Cuyo, the self-proclaimed Tierra del Malbec, Land of Malbec. Explore the different microclimates of the area and develop an appreciation for why the unique combination of desert-like climate and high altitude provide the ideal place for the grape to express itself.
At our first stop, learn how meticulously tended 80-year-old vines produce the finest wines in Mendoza. This winery is the project of talented winemaker Roberto de la Mota. Get to know his intense yet elegant wines which are full of character. Tour the charming turn-of-the-century adobe bodega followed by a tasting of different samples of Malbec. You will never look at Malbec the same way again!
Next, drive to the area known as Lunlunta. The winery is hidden off a dusty country road next to an old ivy-covered church. Chime the bell of this tiny garage winery, whose owner and winemaker is considered to be one of the fathers of Mendocino terroir. Using their own savings, ingenuity, and passion, he and his family have transformed and reignited viticulture in this part of Mendoza. Visit this enchanting place, meet the family, and try their handcrafted wines. This is as local as it gets!
Stop for a five-course gourmet lunch at a family-owned estate. Here, the clever chef skillfully pairs each dish with their full line of five Malbecs, from rosé to the reserva. Delight in the stunning views of the mountains, elegant setting, and superior service. ¡Salud!
Just around the corner, the Bressia Family is dedicated to making the very best wines possible: long, satiny and ripe wines for the soul. Visit their petite family winery and receive a warm welcome that makes you feel like… family! Learn the art of their craft, taste straight from the barrels, and understand how they slowly built their bodega through hard work and heartfelt passion. After getting to know the cellar, sit down with them for a relaxed tasting of their wines that includes delicious cheeses and spirited conversation.
Return to hotel in the late afternoon to relax. Dinner is on your own tonight. (B, L)
Lodging: Cavas Wine Lodge
Day 6: Thursday, August 11, 2011 (Uco Valley)
This morning, drive over the scenic, rolling hills an hour south of the city of Mendoza to the high-altitude Uco Valley. Here, surrounded by the grandeur of the Andes Mountains, many wineries are experimenting with new varietals such as Cabernet, Tempranillo, and Syrah. A lush agricultural valley in the midst of a parched desert, the valley floor is dotted with almond trees and fruit orchards.
Drive to the southern end of the Uco Valley to the village of La Consulta. In the middle of the lunar landscape is their winery with irresistibly alluring, architecture. After touring this high-style bodega, you will understand that the eye-catching look of the winery is, above all, functional, as it uses gravity in their state-of-the-art winemaking process. Indeed, the futuristic architecture seems to express the very essence of a 21st century New World wine. The vision of a Spanish entrepreneur, the house specialty is Tempranillo. Enjoy a tasting which includes their full range of wines.
Journey to a small family-owned boutique winery located in Vista Flores, some of Uco's most coveted terroir. Producing two spectacular Cabernet blends, an innovative Pinot Noir, and a wonderful house wine, the focus here is on quality not quantity, and, of course, expressing Uco's stony, high-altitude soil in the full, generous wines. Be welcomed into their guesthouse for a wonderful tasting with local cheeses to accompany the wines while they tell their story, transmitting their enthusiasm and passion for what they do. Afterwards, stay on for a private lunch as their most invited guest. Each course is paired with their wonderful house wines. Enjoy the views of the Andes from their balmy terrace. Ahh, such is the life in Mendoza!
Next, to the newest winery of French winemaker extraordinaire, Michel Rolland's, "wine condo". As the Mendoza plateau rises into the Andes, here this bodega is an amazing intersection of architectural innovation combined with classic winemaking methods. The new, local project of the proprietors of Château Malartic-Lagravière (Grand Cru Classé de Graves) and Château Gazin Rocquencourt (Pessac- Léognan). With the intensity of the sun, the wines are rich, complex, elegantly crafted, and sell out each vintage. Visit the facilities and sit down to an exclusive tasting.
Return to the hotel in the late afternoon. In the evening, to celebrate our last night together, head into Mendoza city to Chef Francis Mallman's 1884 restaurant, located inside the elegant century-old Bodega Escorihuela. Admire the handsome architecture with its huge antique iron windows overlooking the terrace and garden, the setting is a beautiful prelude for the meticulously presented cuisine. A celebrity chef in Argentina—and now in the U.S. with the release of his book Seven Fires—Mallman showcases his food philosophy using only the finest Argentine meats and fresh local produce. Melding his Patagonian upbringing with his French culinary training, he offers local favorites such as lechón (young pork), chivito (baby goat), and salt-crusted chicken, all slow roasted in the traditional outdoor mud oven. The wine list reads like an encyclopedia of Argentine wine. Divine. (B, L, D)
Lodging: Cavas Wine Lodge
Day 7: Friday, August 12, 2011 (Foodie Mendoza & Departure)
This morning, dive into the other side of Mendoza wines: sparklers! Dry, sparkling wines are an Old World tradition that was brought to Argentina by Spanish and Italian immigrants. Clay-based and rocky soils, a semi-desert climate, cold nights and distinctive thermal amplitude combine to create the perfect conditions for obtaining grapes with higher acidity, body and flavor.
Visit an exciting sparkling wine project—the "baby" of Argentina's most revered sparkling winemaker, Don Pedro. Learn how he creates the base wines from different grape varieties such as Pinot Noir and Chardonnay and then goes on to transform them into their elegant Brut, Nature, and Rosé wines. Aaahhh… "bubbly" always makes the perfect "second breakfast!"
Head to the shady village of Chacras de Coria to an oasis amid the vines. Join a passionate local chef in her family's boutique hotel and home for special cooking class held underneath the centuries-old walnut tree. Learn how to prepare empanadas mendocinas in the traditional clay oven. Understand the art of grilling the Argentine way with succulent grass-fed beef, artisan chorizo (sausage) and vegetables over the open fire. Untap the secret to preparing the pungent, explosive chumichurri sauce, with garlic, parsley, and red chili, made with the farm's own native Arauco olive oil. Still hungry? Finish up with caramelized fruit from the clay oven and organic herbs. Heaven.
Transfer to the Mendoza airport in the afternoon for your departing flight. (B, L)
Private Tour Inclusions:
Private first-class van transportation to/from hotel for all tours with professional drivers as per itinerary, including airport pick-up and drop-off
Owner, chef, sommelier, cookbook author, Liz Caskey as your host for duration of tour
Accommodations (Double Occupancy):
§ Three nights in studio-suite at Ayres de Recoleta Plaza hotel in Buenos Aires
§ Three nights in luxury cabaña at Cavas Wine Lodge in Mendoza
Meals:
- Daily buffet breakfast at hotel with room rate
- Four full course lunches with paired wines and gratuity
- Four full course dinners with paired wines and gratuity
All private winery visits, premium tastings, entrances, and culinary activities as per itinerary
Mineral water for van
Sales tax where applicable
24-hour in country support
Comprehensive up-to-the-minute materials such as: Argentina travel information sheet; annotated lists of museums and art galleries; restaurants; and regional craft shops.
Price per person, based on group of 8-12 people:
Double Occupancy: US$3,650
Single Occupancy: US$780
**Please be sure to refer to Liz Caskey Culinary & Wine Experiences' booking and cancellation policies, Terms & Conditions, listed on our website: www.lizcaskey.com
More information from Liz Caskey Culinary & Wine Experiences: