Volunteer Adventures - vacations and travel
Coastal Animal Rescue Volunteer Program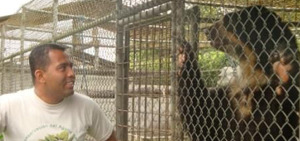 from $1,440* per person
14 Days
Year-round
Comfort accommodations

Exertion level: 3

Operator:

Volunteer Adventures

24 people max
Guayaquil, ecuador
Volunteer Vacations trips
Volunteer Activities

Prepare and distribute food to all the animal species sheltered at the center
Keep track of the animals' behavior
Clean the enclosures and exterior areas of the animal habitats
Plant fruits for the animals' diets and maintain crops
Collect wild fruits and leaves for the animals to eat (during some seasons)

Locations visited/nearby
Ecuador, South America
Comments from Facebook
Itinerary
Schedule:
You will volunteer in the mornings and afternoons, 5 days a week from 7:00 AM to 4:30 PM. Volunteers will attend Spanish classes prior to the volunteer program.
What Volunteers Can Do:
As a volunteer on this program, you will be working at an animal rehabilitation center in Balao Chico, just two hours away from Guayaquil, Ecuador. You will be responsible for helping to care for a large number of wild animals at the center. In addition, the center works with the American Crocodile, the Spider Monkey, and the Guayaquil Macaw in three captive breeding programs; you may take a part in these programs as well.
Volunteers will help in the rehabilitation and improvement of the animals' living conditions by supporting the day-to-day operations of the center. Regular duties include the daily cleaning of the enclosures and exterior areas where the animals live, and the preparation and distribution of food to all of the species sheltered at the centre. In particular seasons, volunteers regularly go on walks to collect wild fruits and leaves for the animals to eat. Volunteers can also use the center's special kitchen to prepare the animals' meals based on their specific diets. Additional volunteer work includes keeping track of the animal behavior, and planting and maintaining food crops.
The center is located on a shrimp, cocoa, and banana farm that was founded 20 years ago. Approximately 300 wild animals from different species and origins are rehabilitated at the center and receive professional care. All of these animals are donated by the public or by the environmental police.
More information from Volunteer Adventures: