Volunteer Adventures - vacations and travel
Child Daycare Volunteer Program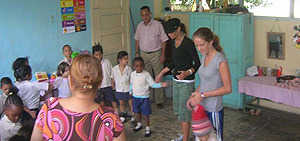 from $1,260* per person
14 Days
Year-round
Comfort accommodations

Exertion level: 3

Operator:

Volunteer Adventures

24 people max
La ceiba, honduras
Volunteer Vacations trips
Volunteer Activities

Teach basic English and computer skills
Organize team games
Help with homework
Help with drawing, coloring, and painting activities
Assist with kitchen and laundry tasks
Help with general maintenance

Locations visited/nearby
Honduras, Central America
Comments from Facebook
Itinerary
Schedule:
Volunteers typically work 4 hours a day from Monday to Friday. Work hours are in the morning or afternoon depending on the activities for the day. Volunteers have the rest of the day free.
What Volunteers Can Do:
Volunteers in this program willtake care of orphans in La Ceiba, Honduras. You will lead games, organize arts and crafts activities, and help with homework. You will also teach basic English and valuable computer skills to the children so that they can be better qualified to find employment and improve their future. Your energy and affection will go a long way in making a positive impact on these orphans' lives.
More information from Volunteer Adventures: