Volunteer Adventures - vacations and travel
Andean Conservation Volunteer Program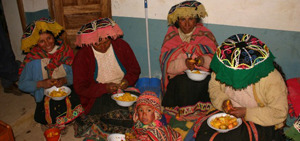 from $1,095* per person
7 Days
Year-round
Comfort accommodations

Exertion level: 3

Operator:

Volunteer Adventures

24 people max
Cusco, peru
Volunteer Vacations trips
Volunteer Activities

Help reforest land
Help in the daily care and rehabilitation of animals at the local zoo
Create animal inventories
Document and help conserve seed stocks for native farmers

Locations visited/nearby
Peru, South America
Comments from Facebook
Special information
This is a custom departure, meaning this trip is offered on dates that you arrange privately with the provider. Additionally, you need to form your own private group for this trip. The itinerary and price here is just a sample. Contact the provider for detailed pricing, minimum group size, and scheduling information. For most providers, the larger the group you are traveling with, the lower the per-person cost will be.
Itinerary
Schedule:
The volunteer schedule will vary according to your chosen program. With the reforestation programs, work hours are usually Monday through Friday, 8:00 am to 12:00 pm and 2:00 pm to 4:00 pm, though this may vary based on weather and specific program needs. At the zoo, volunteer work hours are normally Monday through Friday, 8:00 am to 12:00 pm.
What Volunteers Can Do:
Our Andean Conservation Program in Peru works with several organizations to help conserve Peru's profound natural and cultural treasures. As a volunteer, you can help to reforest sections of the Amazon Rainforest or to conserve native Peruvian animal species. Whichever you choose, you will help defend Peru's fragile natural and cultural heritage.
More information from Volunteer Adventures: