Kensington Tours - vacations and travel
14 Day China Family Adventure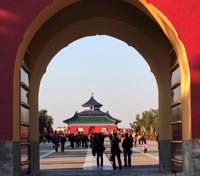 from $3,738* per person
14 Days
Year-round
Boutique accommodations

Exertion level: 3

Operator:

Kensington Tours

12 people max
Beijing airport, china
Family & Friends trips

This National Geographic award winning tour showcases the culture & beauty of this fascinating land with the comfort & flexibility of private guide, driver & plenty of family flair. Highlights include the Forbidden City, the Great Wall, the Temple of Heaven, the Terracotta Warriors, stunning Guilin & more. Family adventure & fun abounds: cook lunch with a local family, practice Tai Chi in the park with the locals, cruise the Li River, visit rural villages, see an awe-striking 500-person water & light show, bicycle the banks of the Dragon River, go mountain climbing, take cooking lessons & more! Speak to your agent about customizing this tour to suit your style, schedule & budget.

Locations visited/nearby
China
0 testimonials about this trip.
3 testimonials about the provider, Kensington Tours:
Reviewer:

Rinat Goren, 2009

located in

Central America

"Just wanted to thank you. We are back from Costa Rica and had a wonderful trip. Everything worked really well, on time and we had really good time. Also, I wanted to comment on your contacts in Costa Rica- they were very responsive, helped solve problems on the spot and it was very reassuring to have them there."

5

Reviewer:

Nita Duncan, 2009

located in

Egypt & Ancient Lands

"For any single traveling woman - no fear! I, a single 61 year old female, traveled through Egypt & Jordan with absolutely no fear or concern for my safety. Not because I am brave but because there was no external cause for fear. The representatives who met me at the airports, the guides (especially Sam), and the drivers were all wonderful and very informative. The tour was first class and I would love to take another with Kinsington Tours and will recommend them to all my friends."

5

Reviewer:

Marie, 2009

located in

Asia

"We are back and we had a wonderful trip. Everything was perfectly organized, with the right balance between time with a guide and free time. We were very lucky with the weather, no rain at all except for a 20 minutes thunderstorm in Dalat. Halong Bay was very clear all the time although it is supposed to be foggy during the day. The Metropole was perfect, the best breakfasts ever, the boat, Jasmine, wonderful and we were only 14 people instead of 44…,the Palm Garden in Hoi An very nice, the Ana Mandara in Nha Trang, pure Heaven, the Sofitel in Dalat beautiful, almost empty and a very friendly staff."

5
Comments from Facebook
Special information
This is a custom departure, meaning this trip is offered on dates that you arrange privately with the provider. Additionally, you need to form your own private group for this trip. The itinerary and price here is just a sample. Contact the provider for detailed pricing, minimum group size, and scheduling information. For most providers, the larger the group you are traveling with, the lower the per-person cost will be.
Family oriented trip.
Itinerary
Day 1 Beijing
Beijing is China's foremost city and capital for twenty four successive emperors. Some of the major sights include: Forbidden City, Tiananmen Square, Temple of Heaven, Great Wall and Summer Palace. The complete range of Chinese cuisine can be found in the capital, and evening entertainment is superb.
Take an airport transfer by private car with an English-speaking guide.
The Park Plaza Beijing Wangfujing is a modern oasis, right in the heart of Beijing's bustling cultural, commercial, business and entertainment center. With its superb location, spacious facilities and personalized service, the Park Plaza Beijing Wangfujing is the ideal choice for both business and leisure guests. All guestrooms feature Western décor and are furnished with lounge chairs in sandstone colors.
Overnight at Park Plaza Wangfujing.
Day 2 Beijing
Start off the day in Chinese style peace, harmony and good health through having a Tai Qi instructor instruct and lead you through a one hour Tai Qi session at your hotel or, as part of your tour at one of the most popular venues for public space recreation in all of China, the park surrounding the Temple of Heaven.
Full day private guided tour of Tiananmen Square, Forbidden City and Temple of Heaven with a deluxe lunch (is included). Tiananmen Square was built in 1417 during the Ming Dynasty and stretches a vast 440,000 square meters. The Forbidden City is the world's largest palace complex with 9,999 buildings. The Outer Court was where the emperor exercised his supreme power over the nation. The Inner Court was where he lived with his royal family. Fourteen emperors of the Ming dynasty and ten emperors of the Qing dynasty reigned here until 1924. The Temple of Heaven was built in 1420 AD during the Ming Dynasty to offer sacrifice to Heaven.
Enjoy a private deluxe dinner at a fine local restaurant, then settle into your VIP seats for the Legend of KongFu Show, featuring a group of the best Kung Fu practitioners of China.
Overnight at Park Plaza Wangfujing.
Day 3 Beijing
You will be picked up by private car and English speaking guide for a tour of the Great Wall at MuTianYu located 45 miles northeast of Beijing. En route, pass by the site of the Olympic Green to view the grandeur of the site and architectural wonder of buildings like the "Cube" and the "Bird's Nest". The extent of access to the Olympic area depends on the status on post-Olympic development but currently includes access inside the buildings. Lunch is included
Overnight at Park Plaza Wangfujing.
Day 4 Beijing
Full day private guided city tour. Begin with a morning exploring the hutongs – Beijing traditional neighbourhood of winding laneways and courtyard homes. Stop for lunch with a local family where your family can get engaged by watching and helping prepare Jaozi – the traditional dumplings of Northern China. Next travel to the Summer Palace – an impressive fusion of classical Chinese architecture, garden design and construction and enjoy a boat trip (not private) on the palace's Kunming Lake.
Enjoy a transfer to/from train station with private vehicle, driver, and English-speaking guide.
Board your overnight train bound for Xi'an. Choose either the standard soft sleeper, which is a cabin of 4 berths (two upper bunks, two lower bunks) or opt for the private 2 person berth (two lower bunks only). Comfortable bedding and good quality pillows are provided. Each bunk is equipped with a small reading lamp. Temperature controls are installed alongside the door. Generally speaking, the facilities include a clothes rack, slippers, clothes brush, stainless steel thermos, fine porcelain teacup, a trash can and wall socket. Travel time is roughly 11-13 hours.
Overnight at Train - Xi`an.
Day 5 Xi'an
Xi'an was the capital of China's first emperor whose tomb is guarded by the world famous terracotta warriors.
Train station to hotel or hotel to train station transfer by private car with professional tour guide.
Take a full day private guided tour of the Terra Cotta Army, Banpo Museum and the Buddhist Wild Goose Pagoda with a deluxe lunch. China's greatest archaeological excavation - over 7,000 terra cotta life size warriors and horses arranged in battle formations symbolically guard the Mausoleum of Emperor Qin Shi Huang, the first Emperor of the Qin dynasty (246-209 BC). The Neolithic Banpo Village has nearly 10,000 production tools and the remains of 45 houses on display.
Enjoy your VIP seats at the Tang Dynasty Dinner Show with private car transfers. At each performance there are over 100 artists who entertain with a colorful spectacle of dance and music symbolizing the splendor of the Tang Dynasty, regarded as the most progressive and prosperous era of Imperial China.
The Grand Mercure Xian on Renmin Square is housed in a low-rise heritage building built in 1957 on the sprawling grounds of Renmin Square Xian. With a Sino-Russian style façade fronting lush gardens, the structure is a charming blend of old, classic architecture and modern, sophisticated facilities including a stunning grand lobby. Complementing its charming ambience, Grand Mercure is a boutique hotel offering guests personalized service. Its rooms and suites are decked in contemporary Oriental décor in rich fabrics and are well equipped with complete amenities for a comfortable, convenient stay. It features a breakfast buffet restaurant and lounge; and guests have access to other facilities and services offered at its nearby sister hotel, the Sofitel Xian on Renmin Square.
Overnight at Grand Mercure on Renmin Square.
Day 6 Guilin
Guilin is situated in the northeast of the Guangxi Zhuang Autonomous Region on the west bank of the Li River. Its name means "forest of Sweet Osmanthus", owing to the large number of fragrant Sweet Osmanthus trees located in the city. The city has long been renowned for its unique scenery.
Half day private guided city tour. Built in the 13th century on the foundations of the original Tang Forbidden City surrounding the city centre, experience the full 14km circuit of China's most intact city wall with great views of the city on either side.
Take an airport transfer by private car with an English-speaking guide.
Direct flight to Guilin.
Airport transfer with private vehicle and guide.
Ideally located alongside the Li River lies the five-star Sheraton Guilin Hotel. Guilin has been an inspiration to Chinese poets and artists throughout the centuries and the hotel sits in the heart of this enchanting city. The hotel includes 430 guest rooms, including 19 suites. Facilities at the hotel include a pool and fitness center, and there is a golf course nearby.
Overnight at Sheraton Hotel Guilin .
Day 7 Yangshuo
Yangshuo lies in the northeast of Guangxi Province and to the southeast of Guilin City along the banks of the scenic Li River. The special geography gives it breath-taking beauty while over 1,400 years of history bless it with a cultural diversity coupled with a modern day cosmopolitan style as an outdoor adventure mecca.
Your baggage will be transported separately from Guilin to Yangshuo while on you enjoy a cruise down the Li River.
Relax on a full day Li River Cruise with a deluxe lunch (included). The cruise from Guilin to Yangshuo is the centerpiece of any trip to northeastern Guangxi Province. Gorgeous Karst peaks surprise and delight at each bend of the river under the blue sky. Water buffalo ply the fields, peasants reap rice paddies, school kids and fisherman float by on bamboo rafts. The river trip is over eighty kilometers (52 miles) long and is estimated to take seven to eight hours with lunch on board. The eye-feasting landscape and country scenery will never disappoint you. With its breathtaking scenery and taste of a life far removed from the concrete metropolis, the scenery along the Li River is one of China's top destinations.
Enjoy a Deluxe local dinner followed by the Sister Liu Show. This spectacle was created by the Oscar winning Zhang Yimou and presents the local culture through a cavalcade of lights and cast of 500 using a private bay as the theatre and local mountains as the backdrop. This is sure to be one of the most memorable activities of your trip.
The Li River Retreat is located about a 20 minute walk north of Yangshuo in an isolated location overlooking the Li River. While there are more conveniently located hotels in the area, this is in fact the absolute best located to enjoy a scenic panorama of the local topography while still being able to get to town. The rooms are simple yet spacious, clean and well appointed. The owners are some of the friendliest people in Yangshuo and serve some of the finest local and international fare in the area.
Overnight at Rural: Li River Retreat .
Day 8 Yangshuo
Experience the local karst scenery at your own pace while exploring the villages and rice farms of the Dragon River area by bike. Stop en route to enjoy lunch next to one of the cliff in this world world-famous rock climbing destination. Get your adrenalin flowing and experience a different view of these unique rock formations under the expert supervision and instruction of internationally trained rock climbing guides. Finish the day at a charming rural farmhouse professionally converted into a gourmet cooking school where you will finish your lesson enjoying the fruits of your labour.
Overnight at Rural: Li River Retreat .
Day 9 Longsheng
The spectacularly terraced rice paddies 90km northwest of Guilin cling impossibly to sheer hillsides. The most famous section is called "Dragon's Backbone", with the terraced rice paddies like the shining scales of the dragon down the steep slopes. Lush bamboo groves and small hillside villages show off the rich culture of the Zhuang and Yao people.
Depart from Guilin for by Private car to begin your Private guided multi-day trek through the minority villages and highland rice terraces of the Longsheng region. This includes all meals, admissions and guiding around the Longsheng area en route to your guesthouse. Commence your first night with a stay in a village guesthouse in the Yao minority village of Dazhai.
Enjoy a fine and eclectic mix of fare.
The local guesthouses are actually staying in the local style building which, perched hillside are typically made entirely of wood with no nails. Accommodation is basic but clean and hygienic. Dazhai village is rural pedestrian access Yao area. Part of the Sino-Tibetan Miao-Yao ethno linguistic group, the Yao minority is one of the most colorful in China known for their traditional clothes.
Overnight at Local Guesthouse Dazhai.
Day 10 Longsheng
Travel overland with your private guide from the Yao village of Dazhai through forests and valleys of rice terraces to the Zhuang village of Ping'An. Basic Accommodation. Breakfast Lunch and Dinner included this day.
The Li-An lodge is a unique facility in a traditional Longsheng wooden building, perched on a mountain side. The Lodge is located in Long Sheng County and is about 50 miles northwest of Guilin; roughly a two-and-a-half-hour drive. Due to the lodge's exclusive location, a half-hour uphill hike is required before one can actually reach it. Porters are available to relieve some burden and sedans can provide one with a ride. Each of the 16 rooms is artistically unique and built in traditional Chinese architectural style, offering all the western amenities. Dine on Chinese specialties or western dishes and have a drink at the bar. Lounge around the hotel, enjoy a photography showing and embark on a guided walking tour, highlighting beautiful scenic spots.
Overnight at Li-An Lodge.
Day 11 Shanghai
Shanghai is the symbol of "New China", bustling and busy with excellent shopping. With an eclectic architectural mix from Asian infused Victorian and Art Deco to 21st Century avant-garde, Shanghai is an exciting, ever-changing metropolis. Popular attractions range from the Jade Buddha Temple, Yuyuan Garden and Shanghai Museum to modern wonders like the Oriental Pearl Tower. Landmarks of the city include the French Concession and historic waterfront known as the Bund. Shanghai is an excellent base from which to explore the canal towns of the Yangtze delta as well as nearby Suzhou or Hangzhou. Shanghai will host the 2010 World's Fair.
Trek completion from the village of Ping'An to your car where for a private drive back to Guilin. This include breakfast, lunch and touring while making your way from your guesthouse back to the van. This day can finish back in Guilin/Yangshuo or at the airport for travel on to your next destination.
Direct flight from Guilin to Shanghai.
Enjoy an airport transfer in Shanghai with a private vehicle, driver, and English-speaking Guide.
The Marriot run Renaissance Shanghai Yuyuan is a modern and luxurious property located adjacent to the Yuyuan Gardens and old quarter of downtown Shanghai. With a top-notch spa, 340 contemporary rooms and suites offering breathtaking views across the Shanghai city skyline and a central location within reasonable distance both to Shanghai's traditional attractions and the EXPO 2010 site this hotels offers a great luxury to value proposition well-suited to any trip.
Overnight at Renaissance Shanghai Yuyuan.
Day 12 Shanghai
Experience a full day private guided tour of Shanghai taking in the Shanghai Museum, Urban Planning Museum, Nanjing Rd, Bund, a cruise on the Huangpu and the views from the Oriental Pearl Tower. The museum is a veritable treasure house of ancient Chinese art and houses 120,000 precious relics. Bronzes, pottery, paintings and calligraphies are distinctive features of the Museum's collection. The nearby Urban Planning Hall is a fun and informative introduction to the exciting city that Shanghai past and future. Strolling down Nanjing Rd, once listed as one of the most interesting in the world, you will arrive at the historic Bund. Enjoy a cruise on the Huangpud river that divides old Shanghai from the futuristic Pudong before venturing across the river for a trip up the Oriental Pearl Tower to view the city from above. Much of this tour is best done by foot.
Overnight at Renaissance Shanghai Yuyuan.
Day 13 Shanghai
Enjoy time at leisure to explore at your own pace, or relax at your hotel.
Overnight at Renaissance Shanghai Yuyuan.
Day 14 Shanghai
Transfer from central Shanghai with a driver, and English-speaking Guide to the Maglev station in Pudong from where you can complete your airport transfer in about 8 minutes at speeds of over 400 km/h. (Warning - involves a little walking).
Depart from Shanghai international airport - end of itinerary.
Overnight at Depart.
More information from Kensington Tours: