Elevate Destinations - vacations and travel
Elevate Haiti: Jacmel Volunteer Trip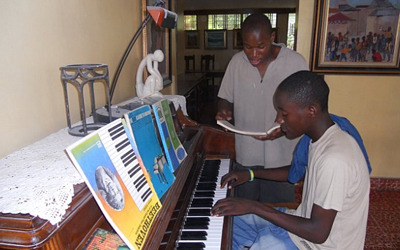 from $800* per person
15 Days
April-September
Comfort accommodations

Exertion level: 3

Operator:

Elevate Destinations

24 people max
Toussaint l'ouverture international airport, port-au-prince, ouest, haiti
Volunteer Vacations trips

The January 12, 2010 earthquake shook the already frail country of Haiti mercilessly. Over 200,000 deaths resulted as well as the displacement and destruction of thousands of families and lives.Months later, human resilience prevails as Haitians move to pick up the pieces, making a new life out of less than the little most people once had. The emergency stage is over, and now the long-term rebuilding begins. The future of Haitians, like for all of us, lies in their children. Ensuring they have the resources for education is one of the critical tenants of long-term rebuilding.

This journey takes you to Jacmel, Haiti, a beautiful port town known for a vibrant art scene and elegant townhouses dating to the 19th century. Jacmel experienced significant damage during the January 12th earthquake. Approximately 70% of buildings were damaged, with the most severe damage in the poorer neighborhoods of Jacmel. During your 14 days in Jacmel, you will help to support the efforts of organizations focused on creating a new sustainable Haiti.

Stand by Haitians as they start anew. This journey is for those of you who are moved into solidarity and action by the events of January 12.
Locations visited/nearby
Haiti
Comments from Facebook
Itinerary
Day 1: Port-au-Prince
Non-profit partner site or Palm Inn

After landing at Toussaint LíOuverture International Airport in Port-au-Prince, you will driven to the headquarters of our non-profit partner in Haiti.

At this time you will have the opportunity to meet our non-profit partner and receive an overview of Haitiís culture. You will spend the first night in Port-au-Prince and head to Jacmel first thing in the morning.

Day 2: Port-au-Prince to Jacmel
Non-profit partner site or Hotel de LíAmitie

After an overnight in Port-au-Prince you will travel to Jacmel by van. You will be welcomed to Jacmel by our non-profit staff and receive an orientation of the volunteer project you will be participating in.

Today you will begin your first day of volunteer work. After an intense first day, you will have the chance to spend the evening relaxing.

Day 3: Jacmel
Non-profit partner site or Hotel de LíAmitie

Today you will continue your work volunteering. You will be rewarded in the evening with a tour of downtown Jacmel and a chance to see the pretty seaside town as well as the aftermath of the quake.

Days 4-7: Jacmel
Non-profit partner site or Hotel de LíAmitie

Each day you will volunteer and begin to see the your work take shape! Each evening you will have downtime to relax, play with the kids and enjoy being in Haiti.

Day 8: Jacmel
Non-profit partner site or Hotel de LíAmitie

Today you will have the day off from your challenging volunteer work. You will be transported in the morning out to Bassin-Bleu, a series of natural waterfalls and basins in the hills above Jacmel. Known as one of Haitiís natural wonders, Bassin-Bleu is a must-see.


More information from Elevate Destinations: