Cultural Crossroads - vacations and travel
Maori Celebrations In New Zealand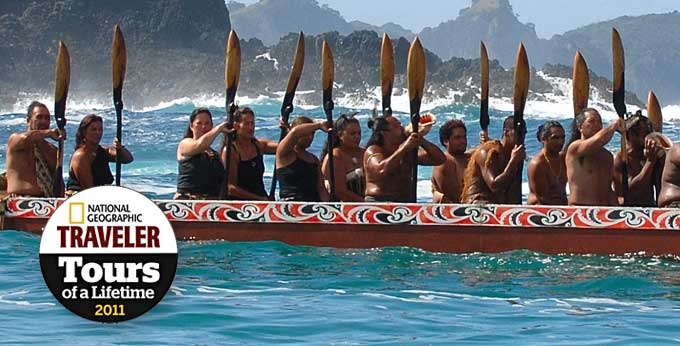 from $6,196* per person
9 Days
February
Comfort accommodations

Exertion level: 3

Operator:

Cultural Crossroads

12 people max
Airport near auckland, new zealand
Active & Adventure trips

Join Cultural Crossroads on this extraordinary cultural adventure. We will participate in the Waitangi Day Ngapuhi celebrations, an authentic Maori tradition.

Waitangi Day marks the Te Tiriti o Waitangi (the treaty) signed between Queen Victoria and Ngapuhi chiefs in 1840 at Waitangi, in the Bay of Islands. The Treaty established a British Governor of New Zealand, recognized M?ori ownership of their lands and other properties, and gave the M?ori the rights of British subjects, thus forming the basis of modern New Zealand. Every year, Maori tribes from all over the country congregate at Waitangi to commemorate the treaty. It is probably the most significant date in the Maori calendar.

The Maori Celebrations Tour is new for Cultural Crossroads travelers for 2012 to coincide with the Waitangi Day and represents a unique cultural immersion experience. We will be part of all preparations and celebration of the Ngapuhi tribe, the most prominent Maori community in New Zealand. We will live, train, learn and celebrate together with the Maori people.

Locations visited/nearby
New Zealand
0 testimonials about this trip.
Reviewer:

Lisa S.

located in

Hanover

,

New Hampshire

USA

What an amazing trip we had to Egypt! Oh, what memories to hold deeply! The trip of a life time and one we will hold dear to our heart and soul forever. Thank you for making it so special.




5

Reviewer:

Jan S.

located in

Vermont

USA

Wowwowowow what an amazing fantastic trip we had. Everything worked out so well. Really can't tell you how special it was Thank you for all your help




5

Reviewer:

Anne S.

located in

Marblehead

,

MA

USA

The trip of a lifetime!

(Sicily)





5
Comments from Facebook
Itinerary
Day One: February 1st, 2012
Auckland
Arrive in Auckland, New Zealand's largest city, with a population of 1.4 million out of a national total of 4 million. We transfer to our hotel. Our guide will be at the hotel, meeting us as we arrive, briefing, handing out special equipment (sleeping bags, insect repellent etc.) and so on. That night we will all come together for a dinner at one of the waterfront restaurants, where we will have a special Maori speaker.
Day Two: February 2nd, 2012
Auckland - Bay of Islands
We will spend the morning at Auckland Museum, visiting the Polynesian and Maori sections. The Auckland Museum is home to the world's most comprehensive collection of Polynesian artifacts.
After lunch we will drive north to the Bay of Islands, a trip taking 3.5 hours. After a stop to see the waterfront of Paihia and the Waitangi Treaty Grounds, we will arrive at Tauwhare Marae. Here, we will be accorded a traditional welcome, enjoy a traditional meal and learn about the waka. We will finish around 11pm.
Accommodation is on the marae in the traditional meeting house. We will sleep as all Maori visitors do, on mattresses on the floor of the meeting house, all in one big room. The meeting house is like a combination of church, town hall and social centre
Day Three: February 3rd, 2012
Tauwhare Marae - Paihia - Tauwhare Marae
If we are to be paddling with the best of Maori warriors in three days time, we have a lot to learn. After prayers at 5:30am, the morning will be spent learning to paddle - on land. We will then all go to Paihia to launch the waka and spend the afternoon paddling them until 5pm, after which we return to the marae, for dinner and another knowledge sharing session until 11pm.
Day Four: February 4th, 2012
Tauwhare Marae - Waitangi & Waitangi River - Haruru Falls - Tauwhare Marae
Today, all the waka participating in the Waitangi celebrations will meet at Waitangi and paddle together, practicing formations etc. In the afternoon we will paddle the waka down the Waitangi River, visiting Haruru Falls and a traditional marae. In the evening, we continue to learn more about the Maori traditions.
Day Five: February 5th., 2012
Tauwhare Marae
Today, waka training will take place all day with an early night in order to be ready for a very long day tomorrow.
Day Six: February 6th., 2012
Waitangi Day
Rise at 3am today for a traditional dawn ceremony before having breakfast at 6am and arriving at the waka at 7am. The waka ceremony will then continue until about 1pm after which everyone will be free to relax, wander around Waitangi and take it easy. The coach will depart for the marae around 5pm and everyone will go to the traditional hot pools at Nga Wha, where Maori warriors come after significant occasions for healing. After the long day, we will have an early night.
Day Seven: February 7th., 2012
Tauwhare Marae
Today, we will spend time preparing a traditional hangi (meal cooked underground) feast and spend the night eating, drinking, singing and relaxing. In Maori tradition, everyone will be expected to get up and say something - which can be serious or humorous, a speech or a song.
Day Eight: February 8th, 2012
Auckland
After a later start, prayers, and farewell speeches we will travel back down to Auckland.
Day Nine: February 9th., 2012
Departure
Today we depart for home or other destinations.
More information from Cultural Crossroads: