ECHO River Trips - vacations and travel
Rafting Siberia's Sayan Oka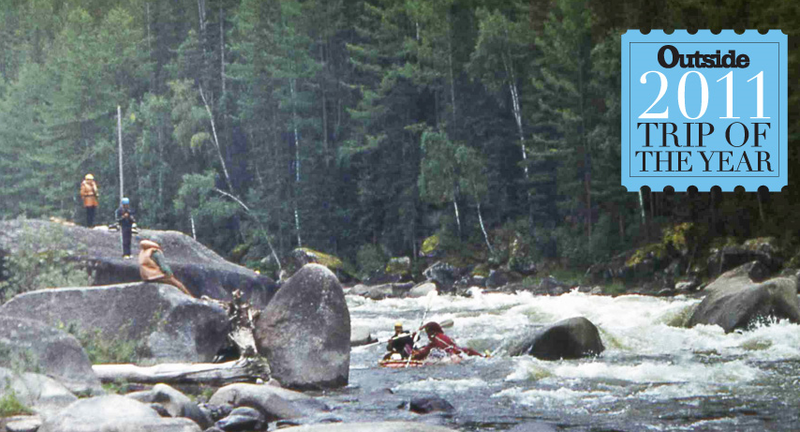 from $3,900* per person
15 Days
July
Comfort accommodations

Exertion level: 3

Operator:

ECHO River Trips

12 people max
Russian federation, irkutsk, irkutsk airport
Boats, Barges & Small Ship Cruises trips

A trip to Siberia had been the dream of a few ECHO guides and guests for years. Many of us had the opportunity to sit around a fire on the Middle Fork of the Salmon and listen to Vlad tell stories of the beautiful rivers and untouched wilderness in his native Russia. In 2011, this dream became a reality when Zach and Vlad took an American-Italian-Russian group to the Tuva Republic in the heart of Siberia.

During our trip to the Kaa-Khem River we experienced true wilderness (read trip report). We laid around the fire (some of us even slept near it), ate fish and delicious Russian foods, picked berries and mushrooms in the taiga (forest), enjoyed a traditional Siberian sauna and, of course, ran some big water rapids. This trip was named 2011 Trip of the Year by Outside Magazine and a Tour of a Lifetime by National Geographic.
Locations visited/nearby
Russian Federation, Europe
Comments from Facebook
Itinerary
Day 1 - Depart U.S. for Beijing, China
Fly from the United States and arrive in Beijing. You'll meet the other guests and one of your guides in Bejing and then fly as a group to Irkutsk.
We recommend that you arrive earlier and spend a couple of days exploring Beijing and acclimating to the time change. You will be responsible for your own meals and lodging while in Beijing.
Day 2 - Meet in Beijing, Fly to Irkutsk, Russia
Early morning flight to Irkutsk with the group. Upon arrival, you will meet your fabulous guide crew and begin the drive to the Sayan Oka.
You'll camp near put-in for the Sayan Oka.
Day 3 - Rafting to the Zhom-Bolok River Confluence
We'll load our boats and get on the river. The river is swift and we'll quickly travel 28 miles to the mouth of the Zhom-Bolok River. This is a beautiful spot with some great hiking up the Zhom-Bolok River, which cuts through lava fields and forms a 50 foot waterfall.
Day 4 - Rafting to Entrance of the Orkho-Bom Gorge
You'll raft down to the Orkho-Bom Gorge, where vertical walls squeeze the river creating the most exciting part of the trip. You'll camp at a beautiful spot just before the gorge's entrance.Rapid on the Kaa-Khem River in Siberia
Day 5 - Rafting the Upper Orkho-Bom Gorge
The unpopulated Orkho-Bom Gorge is surrounded by beautiful rocks and mountains and packed with at least 60 rapids. You'll run the first Class III-IV rapids in the stunning Orkho-Bom Gorge before stopping for a layover day.
Day 6 - Layover in Orkho-Bom Gorge
We'll choose a campsite that is good for hiking and probably build a river sauna (it's a very Russian thing to do!). Fishing for greyling is great on the Oka and you may also catch a Lenok (rainbow trout) or even a Taimen.
Day 7 - 10 Rafting the Lower Orkho-Bom Gorge
After a day of rest you'll be ready for the rapids of the Lower Orkho-Bom Gorge. One of the highlights will be camping at the confluence of the Oka, Hoito Oka, and Urdo Oka Rivers.
Your last two days are spent exiting the gorge and running the fast, easy rapids of the lower Oka River.
Day 11 - 13 Lake Baikal
Your river trip ends near Lake Baikal, where you'll spend a few days hiking and exploring this wonderful lake. You'll visit a biological research center dedicated to monitoring the lake's ecosystems as well as a cave dwelling used by ancient people.
You'll stay at a base camp for nights 11 and 12.
Day 14 - Irkutsk
You'll have a day to relax and explore Irkutsk, one of Siberia's largest cities. You'll spend nights 13 and 14 at a hotel in Irkutsk.
Day 15 - Irkutsk to Beijing
You'll fly from Irkutsk to Beijing and have the evening to spend there. You will be responsible for your own meals and lodging while in Bejing.
Irkutsk is located on the trans-Siberia railroad, so if time permits, you may opt for a train ride on the world's longest rail line, which connects Moscow with the sea of Japan!
Day 16 - Fly Home or On To Your Next Adventure
Wake up in Beijing and fall asleep where you choose!
More information from ECHO River Trips: