MIR Corporation - vacations and travel
Eastern Turkey & Georgia: Legacy Of Empire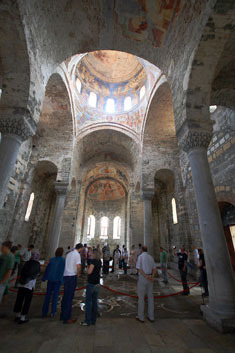 from $6,895* per person
20 Days
August
Comfort accommodations

Exertion level: 3

Operator:

MIR Corporation

16 people max
Gaziantep airport, gaziantep, turkey
Culture & Nature trips

The rugged sunburnt Anatolian Plateau of Eastern Turkey and the steep-sided green valleys of Georgia are brilliantly paired on this unusual back-road exploration. Begin among the folded hills of out-ofthe- way Anatolia, rich with the traces of early civilizations, and continue along the balmy Black Sea Coast to the unfamiliar little country of Georgia, where guests are welcomed at tables laden with some of the finest food and wine on earth.
Locations visited/nearby
Turkey, Europe
0 testimonials about this trip.
3 testimonials about the provider, MIR Corporation:
Reviewer:

K. Knack

located in

Malibu

,

CA

USA

Every day I am grateful for this fabulous trip. The destinations you specialize in are of much more interest now that I know what a well-delivered service you provide.

MIR's tour manager made my trip more deeply meaningful and made sure that everyone on the train came away with a greater appreciation for this vast country. Thank you so much for your great itinerary, for the tremendous abilities of your staff... You can be certain I will recommend your company.





5

Reviewer:

The Tobys

located in

Rockville Center

,

NY

USA

…It is safe to say without the expertise of your superb cadre of guides in the country we never could have put it all together. In fact, we were totally dependent on them to benefit from the extraordinary experienced of visiting three regions of [Ukraine] within a two-week time period.

Clearly, MIR Corporation has a well-deserved reputation for superb customer service. We support that well-deserved reputation, which is possibly rooted in the fact that your associates like their jobs and that job satisfaction has been transferred to customer and client relations….

Honestly, we were duly impressed with each of the regional guides and the drivers who accompanied us. Their local knowledge of the unique features of their respective region was so evident, impressive, and unmatched by any we have encounters over our 40 years of visiting 140 countries.

I want to thank you for a most stupendous trip; 5 stars plus. Loved Ukraine, the people, the sites, the precision of our tour; the fine quality of the guides and drivers - how much they care, how much they know and how much they kept our interests foremost in their hearts and their minds. It was just stupendous.

It was so fabulous we cannot stop talking about it. Again, thank you very much. And I will certainly recommend MIR Corporation when it is appropriate for our friends & colleagues.

It was excellent beyond all expectations.




5

Reviewer:

The Repkos

located in

Princeton

,

NJ

USA

We don't know where to start – a perfect itinerary which satisfied all of our needs, excellent accommodations superbly located, flawless execution of all aspects including visas, vouchers, theatre tickets, etc., and last but certainly not least, truly outstanding and professional guides and drivers.

…We only wish that MIR provided tours everywhere, in which case we would never use another tour company again..

MIR Office in Seattle was outstanding…We have already told several friends about MIR and how wonderful they are! You all put together a trip for us that was perfect to our budget, time frame and interests. Russia is a fabulous destination – wonderful history, magnificent sites we can't say enough about MIR and Russia.



5
Comments from Facebook
Special information
May accommodate certain types of disabilities. Contact the operator for more information.
Itinerary
Days 1-3: Gazientep, Mt. Nemrut, Diyarbakir
Arriving in southeast Turkey, admire the intricate Roman mosaics in Gazientep, rescued shortly before they were flooded by a new dam on the Euphrates. Make an early morning pilgrimage to Mt. Nemrut to see the beautifully carved stone heads in the luminous glow of sunrise. Inspect the medieval black basalt walls of Diyarbakir and visit its flourishing Kurdish quarter.
Days 4-7: Van, Kars
Explore Van, capital of the ancient Urartu Empire, crossing blue-green Lake Van to Akhtamar Island to admire the spectacular carvings on its 10th century Armenian Church. Stop in Dogubayazit, a Kurdish town surrounded by towering mountains. Admire the old Citadel of Kars, and visit the remains of the medieval Armenian capital of Ani, at its zenith larger than any European city.
Days 8-10: Erzurum, Trabzon
Explore the Kurdish Ishak Pasha Palace, a tiny gem set in the looming shadow of Mt. Ararat, before driving through the rugged Pontic Mountains to Trabzon to visit the astonishing Greek Orthodox Monastery of Sumela, clinging tightly to a steep forested cliff.
Days 11-15: Batumi, Mestia, Ushguli (Svaneti), Kutaisi
Skirt the palm-lined Black Sea coast to the Georgian resort of Batumi. Venture up to the mountainous Svaneti region, known for its UNESCO-listed medieval watchtowers. Explore Ushguli, the highest continually inhabited village in Europe. Tour the commanding UNESCO-listed Gelati Monastery near Kutaisi and visit a master potter in his private workshop.
Days 16-20: Borjomi, Bakuriani, Vardzia, Gori, Tbilisi
Drive to alpine Bakuriani and enjoy the beauty of Borjomi-Kharagauli National Park. Pay a visit to the fascinating cave town of Vardzia and to somber Gori, Stalin's hometown. Savor an authentic "Georgian Table" in the capital, sophisticated Tbilisi.
More information from MIR Corporation: