Reefs to Rockies - vacations and travel
Mozambique: By Land And By Sea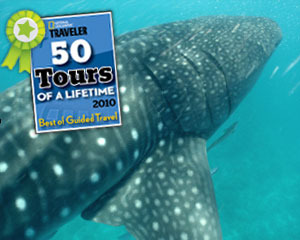 from $5,500* per person
11 Days
June-December
Comfort accommodations

Exertion level: 3

Operator:

Reefs to Rockies

12 people max
Johannesburg international airport, south africa
Active & Adventure trips

Trip Highlights: Ocean safari with whale sharks or humpback whales, behind the scenes with conservation efforts and community involvement at Gorongosa, and cultural heritage of Ilha de Moçambique

Mozambican Coast ~

2500 km of the most pristine seashore on the African continent. The beaches along its length are the quintessential Indian Ocean paradises and its shallow reefs are rated among the world's best marine playgrounds.
Gorongosa National Park ~

One of the most exciting travel destinations in Mozambique at the moment with a visionary Restoration Project in place to re-establish the park back to its former glory. From the lumbering African elephant to the endemic green-headed oriole; from the famed Gorongosa lions to the rarely seen fire squirrels of the rainforest – each of Gorongosa's species has a story to tell.

Locations visited/nearby
Mozambique, Africa
Comments from Facebook
Itinerary
Day 1 – Tofo
Upon arrival at the Inhambane airport from Johannesburg, you will be transferred to Baia Sonambula Guest House in Tofo. Tofo is famous for its azure waters, long arc of beach, and abundant marine life. Overnight at Baia Sonambula Guest House.
Day 2 – Tofo
After breakfast, you will head out for an unforgettable ocean safari. Depending on the time of year, you will have the opportunity to snorkel with whale sharks, the largest fish on the planet, or watch humpback whales as they breach the ocean's surface. Sightings of giant manta rays are common year-round. Overnight at Baia Sonambula Guest House. (B)
Day 3 –Maputo
Today you will transfer back to the Inhambane airport for your flight to Maputo. Maputo's Mediterranean-style architecture, wide avenues lined by jacaranda and flame trees, and waterside setting are sure to please. Maputo is arguably one of Africa's most beautiful capital cities. Overnight at Southern Sun Maputo. (B)
Restoration Efforts and Community Involvement at Gorongosa National Park
The rehabilitation of Gorongosa National Park in central Mozambique represents one of the greatest conservation opportunities in the world today. Gorongosa was once among the most popular destinations on the African continent – a place where animal herds were denser than on the famed Serengeti Plains. Years of civil war negatively impacted the park's wildlife; today, Gorongosa is experiencing a comeback. The Carr Foundation, a U.S. not-for-profit organization, has teamed with the Government of Mozambique to protect and restore the ecosystem of Gorongosa National Park and to develop an ecotourism industry to benefit local communities. Over the next few days, you will have the opportunity to gain a behind the scenes glimpse of conservation efforts at Gorongosa. You will also visit with members of local communities to learn how ecotourism at the park is helping build a sustainable future for them and their families.
Day 4 – Gorongosa National Park
Morning transfer to airport for flight to Beira. This afternoon, you will arrive at Gorongosa National Park for your safari by land. Gorongosa National Park is home to a diversity of animals and plants, some of which are found nowhere else in the world. Overnight at Explore Gorongosa Tent Camp. (B,D)
Day 5 – 7 Gorongosa National Park
For the next three days, you will have an extraordinary experience at Gorongosa. From walking safaris to night drives, sundowners on sandy riverbanks to brunches taken within old ruins, no two days are the same at Gorongosa. Visits to the local village are balanced with informative introductions to the conservation-based restoration project within the park. Game drives reveal areas of the Park that one cannot cover on foot, whilst walking safaris unveil aspects of Gorongosa's natural world that will truly astound you. Overnights at Explore Gorongosa Tent Camp. (B,L,D)
Day 8 – La Veranda
After breakfast at the camp, you will transfer back to the Beira airport for your flight to Nampula and drive to La Veranda in northern Mozambique. La Veranda is a privately-owned nature reserve with dunes, beaches and mangroves. Overnight at Coral Lodge 15.41. (B,L,D)
Day 9 – La Veranda and Ilha de Moçambique
Today, you will have a guided tour of Ilha de Moçambique (Mozambique Island), the former capital and the only UNESCO World Heritage Site in Mozambique. Ilha de Moçambique is rich in history, architectural heritage, and culture. Overnight at Coral Lodge 15.41. (B,L,D)
Day 10 – La Veranda
You have your choice of activities today. You can explore the neighboring nature reserve, the beach and the water, or satisfy your curiosity of Mozambique's rich history and culture of the Macua. Overnight at Coral Lodge 15.41. (B,L,D)
Day 11 – Transfer to Nampula Airport
After breakfast, you can relax or enjoy resort activities before your transfer to the airport for your return flight to Johannesburg. (B)
More information from Reefs to Rockies: