Oceanic Society - vacations and travel
Raja Ampat Archipelago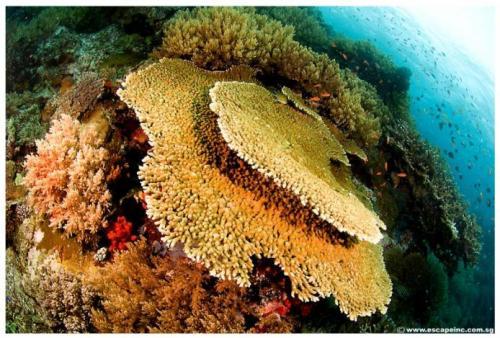 from $8,090* per person
13 Days
October
Luxury accommodations

Exertion level: 3

Operator:

Oceanic Society

12 people max
Jakarta airport, jakarta, indonesia
Culture & Nature trips

Located in the heart of the Coral Triangle- the waters surrounding the Raja Ampat Archipelago in Indonesia's West Papua province are one of the most biologically diverse areas on the planet boasting more than 500 species of coral and more than 1,300 species of fish. Aboard our traditional style Indonesian schooner with all the modern comforts and facilities, our small group enjoys an intimate exploration of this underwater paradise located far from the beaten track.

Reefs throughout Raja Ampat are among the world's most pristine. We snorkel along mushroom-shaped rock islands, which harbor miles of hard and soft corals. In addition to snorkeling in aquamarine waters, we also explore some of the larger islands of the region including Waigeo whose lush green forest is inhabited by many variets of bird and animal life. We enjoy strolling along white sand beaches, and at Gam Island there is a possibility to see the magnificent Bird of Paradise.
Locations visited/nearby
Indonesia, Southeast Asia
Comments from Facebook
Itinerary
Day 1: Depart Los Angeles/New York, cross dateline.
Day 2; Arrive in Jakarta and overnight in hotel.
Day 3: Jakarta/Sorong, continue to Sorong, West Papua.
Day 4-5: Misool, snorkeling.
Day 6: Penemu
Day 7: Waigeo
Day 8: Gam Island SW Waigeo Islands.Snorkeling activities and hikes inland.
Day 9-10 Mansuar Island reef area and Kri Island reefs.
Day 11: Cruise to Sorong.
Day 12: Debark Sorong, West Papua, transfer to airport for flight to Jakarta and overnight.
Day 13: Transfer to airport fly to US.
More information from Oceanic Society: