Okavango Horse Safaris - vacations and travel
10 Night Itinerary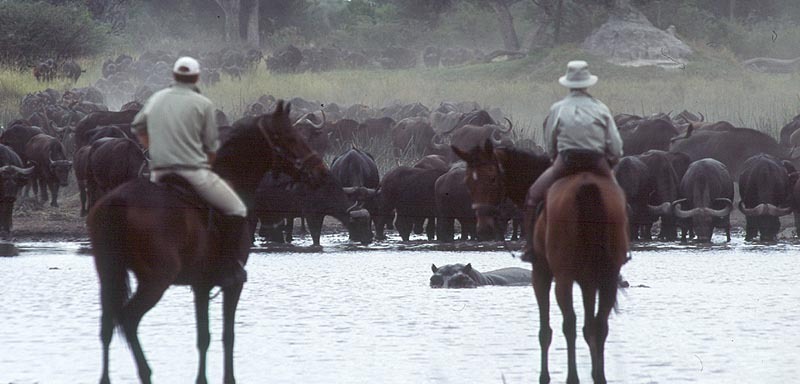 from £430* per person
11 Days
Year-round
Comfort accommodations

Exertion level: 3

Operator:

Okavango Horse Safaris

12 people max
Maun airport, maun, botswana
Active & Adventure trips

On a 10-night itinerary we work out of our base camp Kujwana. And use 3 camps. This is situated on the Xudum River in the Okavango Delta. We also use two other camps in different areas of the concession. All these camps are well situated in big game areas. They are chosen for the variety of terrain and species that favour particular areas.

This is a sample itinerary, which may vary according to water levels and game movements.

Locations visited/nearby
Botswana, Africa
Comments from Facebook
Special information
This is a custom departure, meaning this trip is offered on dates that you arrange privately with the provider. Additionally, you need to form your own private group for this trip. The itinerary and price here is just a sample. Contact the provider for detailed pricing, minimum group size, and scheduling information. For most providers, the larger the group you are traveling with, the lower the per-person cost will be.
Itinerary
Day 1 Kujwana Camp - You are met at Maun Airport by our representative and transferred by light aircraft to Xudum airstrip, a 25-minute flight. You are then driven into the camp by vehicle, which takes approximately 1 hour. (Game viewing). Alternatively you would be transferred by light aircraft to Xaxaba Airstrip where you would be met by the helicopter, a 10-minute scenic flight bringing you directly into camp. Lunch and an introduction talk with demonstration on tack and advice on game viewing from horseback. This is followed by an orientation ride for approximately 1 - 2 hours.
Day 2 Kujwana Camp - Morning game ride in the Xudum area. Wake up is 1 hour before dawn to ensure best game viewing, wading through lush green malapos that lead you from island to island, surprising a timid reedbuck out his dense cover on a heavily wooded island, or enjoy the herds of lechwe and zebra moving through the open spaces. Return to camp for lunch followed by a siesta. Afternoon game drive with sunset drinks and evening night drive with a spot light to end, returning to camp for a three course candlelit meal.
Day 3 Qwaapo Camp - (Fly Camp) A morning ride east towards Beacon and Lion Island. These are two very large islands in the area, which are cut off from Kujwana by the Qwaapu River. The area is criss-crossed with game paths leading you through a chain of rain pans. This is a great contrast to the open flood plains. Mopane forests and acacia woodlands offer a good variety of food for elephant, kudu and giraffe. Breeding herds of elephant enjoy the security of the dense forest and should the pans be holding water, zebra, wildebeest and buffalo will also be found. Animal tracks abound telling you what has been and gone - or what you might still find. Afternoon bird walk, with the opportunity to learn more about the traditional uses of the plants and trees of the area.
Day 4 Qwaapo Camp - (Fly Camp) A full days ride, heading south into the edge of the floodwaters. Large open areas are ideal for plains game. Large herds of zebra, impala and wildebeest are seen in this area. With the plains game come the predators, wild dog and cheetah are often seen from this camp. The shallow waters also make it a birder's paradise with many waders seen here. Break for a vehicle supported picnic lunch under a shady fig tree, with a siesta. Mount up for an afternoon ride along the Qwaapo River to camp.
Day 5 Kujwana Camp - A morning ride moving from Qwaapo to Kujwana camp. Shady rain pans and thick riverine forest make this ride an ideal time to track a breeding herd of elephants. Break for a chocolate bar on the edge of a hippo pool, before riding on into more open areas with the chance of picking up a herd of buffalo moving through. Afternoon mokoro allows for a relaxing trip being poled through the watery wilderness surrounding Kujwana.
Day 6 Kujwana Camp - A rest day for the guests riding for 10 days. There is the option to game drive, walk, mokoro or view a water hole from the hide. Afternoon ride. Two-hour dawn game ride for guests on a five or seven night itinerary, returning to camp for breakfast. Guests joining the safari do an orientation ride in the cool of the afternoon as the wildlife stirs from the heat of the day. 2 hours ride.
Day 7 Kujwana Camp - A full morning ride exploring the western Baobab area. Small islands linked by numerous hippo channels eventually lead you onto Boabab Island. A good habitat for Cheetah and breeding grounds for Carmine Bee eaters, our summer visitor. Boabab Island has thick riverine forest and is a good area for general game viewing (and the unexpected). Afternoon game/night drive
Day 8 Mokolwane Camp - Move from Kujwana to Mokolwane camp. This is approximately 30km ride heading northwest. The route moves through open floodplains and scattered islands towards the Matsebe river system. A picnic lunch is served on a shady island 2 hours ride from Mokolwane camp. Arrive at sunset. Guests on a 7-night itinerary would ride for 2 hours, returning to camp for a cooked breakfast, flight times permitting.
Day 9 Mokolwane - Morning game ride. This camp is on the Matsebe river system and features wide open flood plains interspersed with Mokolwane palms, favourite food of elephant and baboon. Good area for plains' game. Afternoon: 1 - 2 hours mokoro experience.
Day 10 Kujwana Camp - A full days ride from Mokolwane to Kujwana with a picnic lunch along the way. A 35 Km ride with 4 hours ridden in the morning and two hours in the afternoon. This ride moves through a variety of game areas fording the Xudum River at numerous hippo channels. Picnic lunch, arriving at Kujwana at sunset.
Day 11 - Early morning game ride out of Kujwana camp if flight times permit. Guests leave after breakfast. One hour's game drive to the nearest airstrip for transfer by light aircraft into Maun.
More information from Okavango Horse Safaris: