ECHO River Trips - vacations and travel
Rafting In Nepal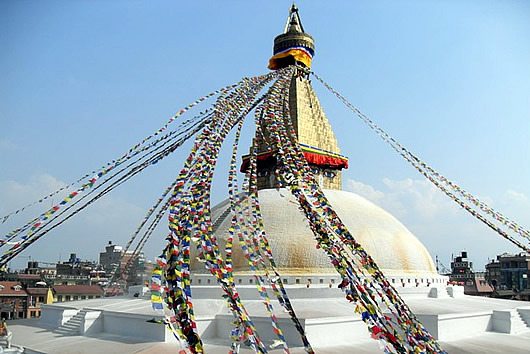 from $2,400* per person
15 Days
October
Comfort accommodations

Exertion level: 3

Operator:

ECHO River Trips

12 people max
Kathmandu airport, nepal
Boats, Barges & Small Ship Cruises trips
Join us in Nepal to run the famous Karnali River on a trip brimming with scenery, culture and adventure. The trip begins with a flight into Nepal's capital city, Kathmandu. Bustling with trekkers from all over the world this is a common stop for adventurers looking to climb the tallest peaks, hike gorgeous trails and raft the snow melt of the mighty Himalayas.

You'll spend 2 nights here getting acclimate to the time and altitude while enjoying this magical town. You'll visit interesting historical sites complete with transportation and a guide.

Nepal is a wonderful country, with friendly citizens that enjoy travelers. The food is healthy and most people eat a diet of rice and lentils although food from around the world is available in Kathmandu. After getting somewhat acclimated to our new surroundings, we'll be off for the Karnali River and arrive at our riverside campsite and rest up before setting off downstream in the morning.

The Karnali starts in Tibet near Mount Kailash and carves its way through the Tibetan plateau and Himalayas into the lush forests of western Nepal. Pristine jungles offer views of deer, leopards, tigers and monkeys.

The Karnali is the largest and longest river in Nepal, with the upper half offering big Class IV whitewater and the lower more flatwater with stunning scenery. The river trip will cover days 6-12 of our itinerary including 1 layover day for hiking and exploring.

You'll float through sparsely populated areas, making for a trip of solitude and reflection. We'll reach civilization and our take-out in Chisopani, just before the river flows across the flat plains of India. We'll have lunch here and then head back to Kathmandu.

We'll spend the night at a hotel and have a free night for dinner, then another morning of guided sightseeing will round out this cultural tour. You can spend the afternoon shopping for textiles and trinkets before flying home in the morning.
Locations visited/nearby
Nepal
Comments from Facebook
Itinerary
Our Nepal itinerary is 15 days including travel days to and from Kathmandu. Your specific travel arrangements may deviate depending on flights, but plan to arrive in Kathmandu on Day 3 to meet the group and depart no sooner than Day 15. We may be forced to deviate from this itinerary slightly depending on river flows, but we would do this only to ensure that we can give you the best trip possible.
Day 1 - Depart U.S. for Asia
Depart on an afternoon or evening flight from the United States and you'll connect through an Asian hub like Seoul, Korea; Bangkok, Thailand; or Tokyo, Japan on your way to Kathmandu.
Day 2 - Fly from Asian hub to Kathmandu
You'll make your connection on Day 2 to Kathmandu, Nepal.
Day 3 - Arrive Kathmandu, Afternoon Free, Stay Hotel
You'll arrive late morning or midday on Oct. 3. We'll collect you at the airport and drive you to Hotel Tradition. You have the afternoon to relax and explore Kathmandu. You'll want some time to acclimate to the time and altitude.
All meals on your own.
Day 4 - Swayambhunath, Durbar Square, Stay Hotel
In the morning you'll have guided tours of Swayambhunath and Durbar Square. Swayambhunath (aka the Monkey Temple) is an ancient religious complex among the oldest religious sites in Nepal. Durbar Square is the religious and social heart of Kathmandu's old city. It is filled with palaces, temples, statues and shrines revered by both Buddhists and Hindus.
You'll have the afternoon free to see more of Kathmandu. You'll want to get a good night's sleep as we'll head out for the river the next day.
All meals on your own.
Day 5 - Fly to Nepaljung, Drive to Karnali, Stay Campsite
You'll take a short flight across Nepal and then we'll drive you from the airport to the river put-in. You'll meet your river guides and spend the night here at a riverside camp.
Dinner included.
Days 6-12 - Rafting the Karnali River
You'll wake up in camp and head out to raft the scenic Karnali River. Each day you'll have breakfast, pack up camp, and get on the water. You'll stop midday for lunch and maybe some short hikes to interesting sites. You'll arrive at the next night's campsite in the afternoon and relax.
We've built in 1 layover day which the guides will choose when we're at a particularly scenic campsite. Depending on river conditions, we may or may not choose to lay-over.
Breakfast, lunch, dinner included each day on the river.
Day 13 - Arrive take-out, flight to Kathmandu, Stay Hotel
Today will be the last day on the river and we'll arrive at the take-out just before the Karnali heads into India. You'll be picked up and driven to the airport for a quick flight to Kathmandu. We'll drive you from the airport to the same hotel you stayed at previously.
Breakfast included, lunch and dinner on your own.
Day 14 - Pashupatinath Temple and Boudhanath Temple, Afternoon Free, Stay Hotel
You'll have one more day to see the sights of Kathmandu, with guided tours in the morning and the afternoon free. The Pashupatinath Temple, the oldest Hindu temple in Kathmandu, is regarded as the most sacred among the temples of Lord Shiva (Pashupati). The Boudhanath is one of the holiest Buddhist sites in Kathmandu.
You'll probably want to spend the afternoon wandering and shopping. You can pick up handicrafts to take home and bid farewell to this charming city.
All meals on your own.
Day 15 - Fly Home or Continue Your Adventure
You'll fly home today or continue your adventure. You may not arrive back in the US until the following day.
More information from ECHO River Trips: