Tour d'Afrique - vacations and travel
An Indian Adventure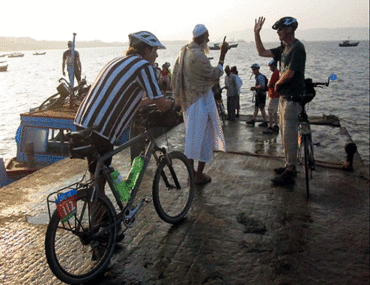 from €5,500* per person
54 Days
January-March
Comfort accommodations

Exertion level: 3

Operator:

Tour d'Afrique

12 people max
Agra airport, agra, uttar pradesh
Active & Adventure trips
The 2012 Indian Adventure will depart from the famous Taj Mahal in Agra, India on January 19th, 2012 bound for the southern tip of India at Kanyakumari. Enroute we will pass through the colourful desert cities of Rajasthan; spend a day or two in the bustling metropolis of Mumbai; visit the incredible ruins of Hampi; cycle through the undiscovered interior of Karnataka; pass through the princely city of Mysore; enjoy a day or two in a wildlife reserve; spin down from the heights of the Western Ghats to feast on seafood in Cochin; and bike alongside the gorgeous backwaters of Kerala.
Locations visited/nearby
India, Asia
Comments from Facebook
Itinerary
Join us on a bicycle journey through one of the most ancient, diverse and challenging countries on Earth. This adventure isn't about getting from A to B as quickly as possible - it's about the journey, enjoying the sights and smells and seeing as much of the subcontinent as we can. The route will pass through the legendary deserts of Rajasthan, meander off the beaten track into Gujarat, skirt the gorgeous Maharashtran coast, climb into the centre of Karnataka and then swoop down in to the astounding beauty of Kerala.
The Indian Adventure features 44 cycling days and 10 rest days. Rest days have been scheduled in some of the country's most fascinating locales. Wander aimlessly through the 'Pink City' of Jaipur. See how many temples you can visit in the Hindu pilgrims' town of Pushkar. Dine at the opulent Lake Palace Hotel in Udaipur. Check out the movie sets in Mumbai's Bollywood. Explore the other-worldy UNESCO site at Hampi. Enjoy the Keralan art of Kathakali.
There is no camping on this expedition. We will be staying in comfortable budget hotels/guesthouses each night...although we may also throw in a few pleasant surprises
The cyclists on this tour should be prepared to make their own way from town to town. General instructions will be given every evening for the next day's ride but each day will, and should, be an adventure and riders may have to deal with unpredictable situations - religious festivals, sacred cows, mischievous monkeys, stubborn bureaucrats, etc. That is India - unpredictable and unbelievable!
.
More information from Tour d'Afrique: