Arizona Outback Adventures - vacations and travel
Whistler Sea To Sky Multi Sport Adventure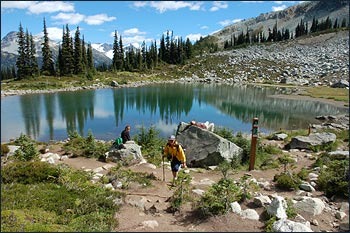 from $1,999* per person
6 Days
July-September
Comfort accommodations

Exertion level: 3

Operator:

Arizona Outback Adventures

12 people max
Vancouver international airport, vancouver, british columbia, canada
Family & Friends trips
Try this tour from luxury lodging in Whistler and we're sure you won't want to leave!

The breathtaking Sea to Sky Corridor area of western British Columbia is an outdoor enthusiast dream realized and our multi-sport exploration finds us: paddling down powerful rivers, rolling through old growth forests, trekking to alpine meadows bursting with colorful flowers, swimming in clear - clean, spring fed lakes and reaching great heights where glaciers are actively carving the landscape!

Step into a postcard as you hike, bike, paddle and dine in one of Canada's hottest vacation destinations: Whistler. Hike old-growth hemlock rainforests in Alice Lake Provincial Park, marveling at the girth of massive cedar stumps from logging days past. Bike quiet trails through wildflower meadows in Whistler Valley and through peaceful farm country in Pemberton Valley. Tackle the rapids on the mighty Elaho River and hike along the Green River to Nairn Falls. Ride the gondola to the top of Whistler Mountain before trekking the last 1,000 vertical feet to the summit for jaw-dropping panoramas of alpine lakes, wildflower meadows and glacier-covered peaks.

Enjoy a lunch at the base of Matier Glacier and (if you're feeling courageous) take a dip in one of three Joffre Lakes, whose glacier-fed waters are as pristine as they come. By night, unwind with a scenic sunset drive along the Sea to Sky highway, a well-earned meal at one of Whistler's tastiest restaurants and a restful night's sleep in the comfort of your carefully selected lodge.

Locations visited/nearby
Canada, North America
0 testimonials about this trip.
Reviewer:

Lynn Ferrin

Thanks so much for taking such good care of us - it was a wonderful trip - great food, comfortable camp - and oh, what a beautiful place. Thanks especially for your patience with this ol' lady - getting me up and down the Mooney Falls vertical trail without mishap - and your sensitive love of this very special place.
Best,

5

Reviewer:

Cindi Wilson

Although my AOA Havasupai experience was already 4 years ago, I remember that fantastic experience as if it was yesterday. It really was a phenomenal adventure, and I have discussed it with several people, and hope to plan a group event with you in the future to share the experience ... I WILL be back to tour with you again!
Best regards,

5

Reviewer:

Marjory

located in

Canada

I have just returned from the most exciting, incredible, adrenaline outdoor adventure. Many thanks for giving me the opportunity to experience the greatness and beauty of the Grand Canyon. You do a super job of giving your clients a feeling of safety while challenging them to do the extra mile.

5
Comments from Facebook
Itinerary
DAY 1: RAFTING THE ELAHO RIVER AND ARRIVE IN
PEMBERTON
Early morning pick-up in downtown Vancouver • Drive
to Alice Lake Provincial Park and embark on a warmup
hike through a second-growth cedar and hemlock
rainforest • Marvel at the girth of massive cedar
stumps from logging days past • Lunch along the
Cheekye River under Mt. Garibaldi and Atwell Peak •
Head to a rafting adventure on the mighty Elaho
River • Dinner is a barbecue followed by a sunset drive
with views of the Tantalus Mountain Range along the
scenic Sea to Sky Highway • Evening arrival at the
Pemberton Valley Lodge – Breakfast on own, Lunch &
Dinner included
DAY 2: HIKE THE JOFFRE LAKES
Today we embark on the ultimate Coast Mountain
experience! A full-day hike along forested trails with
views of the Cayoosh mountains bring us to the edge
of the three Joffre Lakes • Enjoy lunch at the base of
the Matier Glacier and perhaps an invigorating swim
• Our return hike back down the valley unveils a new
view as we continue through the rainforest • Tonight
we will dine at the local favorite, the Pony Espresso –
Breakfast, Lunch & Dinner included
DAY 3: PEMBERTON MEADOWS BIKE/ NAIRN
FALLS HIKE
Spend the morning cycling through the quiet roads of
the Pemberton Meadows • Cruise past farmland and
skyscraper mountains along the Lillooet River • In the
afternoon we will go for a short hike along the Green
River before reaching Nairn Falls • A 20-minute
shuttle drive will bring us up into the beautiful
Whistler Valley • Tonight's dinner is at La Rua,
perhaps the finest restaurant in Whistler -
Breakfast, Lunch & Dinner included
DAY 4: WHISTLER VALLEY BIKING
After breakfast enjoy a morning bike ride on paved
back roads and quiet trails through the Whistler
Valley • Ride around Lost, Alta, and Green Lakes
enjoying incredible mountain views • Picnic lunch at
Rainbow Park on Alta Lake • Continue pedaling
along a meandering river stopping often to
photograph wildlife and wildflowers, plus an option
to learn to mountain bike Whistler's world-famous
single-track trails• Tonight's dinner is on your own
to sample another one of Whistler's favorites –
Breakfast & Lunch included, Dinner on own
DAY 5: HIKING WHISTLER ALPINE
Ride the gondola to the top of Whistler mountain,
then hike along the beautiful alpine trails
overlooking the entire valley below • Delight in
flower-filled meadows and spectacular views in every
direction • Picnic lunch with a view of the many
lakes that cover the valley floor and the imposing
Coast Range glaciers• Descend by gondola for a
late afternoon to explore the village shops or visit
the spa • Tonight's dining experience at the Rim
Rock is one of the finest and sure to impress. -
Breakfast, Lunch & Dinner included
DAY 6: CHEAKAMUS VALLEY HIKE AND
TRANSFER TO VANCOUVER
Sip coffee or cocoa and enjoy a leisurely breakfast
preceding a hike into the Cheakamus Valley • Follow
the edge of the raging Cheakamus River before
crossing over the suspension bridge to venture
deeper into the quiet valley above • Lunch will be
enjoyed lake side while savoring the mountain views
• Mid-afternoon, bid Whistler farewell and depart
for Vancouver hotels or the airport – Breakfast and
Lunch included
More information from Arizona Outback Adventures: