Global Vision International - vacations and travel
Childcare Volunteering Program In Costa Rica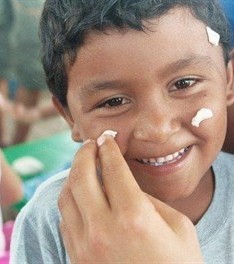 Quepos, costa rica
Volunteer Vacations trips
Learn Spanish, experience Costa Rican culture and explore this amazing part of Central America
Volunteers will be based in Quepos, a small town on the Pacific Coast of Costa Rica, famed for its National Park, rainforest and beaches. The project work involves planning and assisting with general education lessons, organizing art workshops and games at a under-resourced local primary school. The children are aged 5 to 13, and the main focus is on basic literacy and numeracy, with time allocated for English language lessons, arts & crafts, sports & games, developing the school or community garden, murals and mosaics, environmental education or assisting the teachers in the classrooms.

Surfing, white water rafting, hiking, horse riding, rainforest canopy tours, snorkelling, diving, visiting tropical beaches are just a few of the activities you can enjoy in your freetime at weekends
Locations visited/nearby
Costa Rica
0 testimonials about this trip.
Reviewer:

Carolyn

located in

United States

I've been to Guatemala 3 times now, with GVI--and I'll go back. I've tutored English, taught Fifth graders in Spanish, and built stoves. Each volunteer stint has been amazing. I entered in to worlds so different from mine at home. The children, the families, the host families, the other volunteers were all amazing each time I have gone. Everyone gives their all, works and plays together. I'm over 60 and though most of the volunteers are a lot younger, the sense of community was great. I would recommend this to anyone looking for a meaningful way to dig in deep and give, while gaining so much more than you give. Can't wait to go again and see the kids in the schools, the families, GVI staff, and meet a new group of volunteers.

5

Reviewer:

Haley

located in

United Kingdom

I can't believe it's been a month since I returned from my 10 weeks in South Africa. I had the most incredible time working at the Ikhayalethemba Sanctuary and can't wait to go back! The children are incredible, and I can't even begin to explain how amazing the program was. I spent my entire year volunteering around the world. I was initially working with a different program which was very cheap and it showed. I didn't realize until I started with GVI how much I was missing in my other programs. While GVI does initially seem a little pricey, you really see where your money goes. I wouldn't have it spent any other way. I felt so safe, happy, and stress-free during my entire 10 months in Cape Town. Unfortunately, all volunteer programs don't have that luxury. So, I just want to thank GVI for asking for the money necessary to do the amazing things they are doing for our world and for the people who want to volunteer to make it better! I can't wait to be a part of it again very soon!


5

Reviewer:

Lisa

located in

United States

Volunteering with GVI was definitely one of the most incredible experiences of my life! I spent 10 weeks doing the Wildlife and Community Expedition in Kenya, and loved every bit of it! Before I left, the staff were very helpful over the phone and by email, and were quick to reply to any questions or concerns I had. Once I arrived in Kenya, the staff there were also super friendly and knowledgable, and really played a big part in making this whole experience wonderful. We got great training and I always felt confident going into the field. It didn't take long before the small village of Shimoni felt like home, with the kids greeting you with "Jambo!" and high-fives every time you went by. From teaching english at the primary schools and singing songs with fifty kindergarteners to teaching chicken farming to ex-poachers in Tsavo, every bit of the work we did was rewarding. Snorkelling the beautiful reefs of the Kisite-Mpunguti marine park was absolutely incredible and seeing a pod of bottle nose dolphins was always exciting. Days in the forest could be tough, but no day was ever boring, and you could always feel like you accomplished a lot at the end of the day. I really feel that GVI is making a difference in Shimoni and Mkwiro, and would do the expedition again without hesitation. I definitely recommend this project for anyone looking for an adventure and an amazing experience!

5
Comments from Facebook
Itinerary
What Difference Does This Project Make?
The project takes place in a provincial costal town just outside of protected rainforest. The families in this community have access to basic education but the school is under resourced and has no formal physical education, arts, music, or remedial assistance program. The school has about 10 teachers and simple classrooms where students attend for classes for 3.5 hours, either in the morning or the afternoon. Education is key to allowing the community to improve its economic situation and this project supplies additional personnel and funding to the school. As a volunteer you will personally provide the opportunity for students to receive additional assistance, enrichment and the necessary fundamentals of their education. The project and volunteers supply resources which the under resourced school is not otherwise able to supply.
Highlights
Getting to know the children and familias of Quepos – and them getting to know and recognize you! Becoming part of the community in a stunning and biologically diverse part of Costa Rica. Learn how to surf in some of the top surfing waves in the region. Witnessing the beautiful wild rainforests, Pacific beaches and local rivers and mountains. Living in a peaceful area with a very authentic Costa Rican way of life. Witnessing some of the fantastic wildlife of the area such as scarlet macaw, toucan, four types of monkey and more. Seeing the direct impact you can make in your time of stay. Practicing you Spanish. Taking extra time to explore the wonders of Costa Rica.
Location
The project takes place in the provincial town of Quepos on the Costa Rican Central Pacific Coast, just outside of the national park of Manuel Antonio. The bus journey from San Jose takes about 3.5 hours. The town is surrounded by palm plantations and rainforest which contains a stunning array of wildlife, with monkeys and toucans being seen many days. The area is famed for its beautiful beaches and hiking trails. Quepos is medium sized with many facilities, including small shops, restaurants, bars and cafes, accommodations, marina, phone and internet communications and more. The nearby park and town of Manuel Antonio, accessible via a public bus that runs frequently, has various shops, a supermarket and an array of diverse and well reputed restaurants.
Field Conditions
You will be living in the town of Quepos and will be able to interact with locals on a daily basis. Your accommodation situation will no doubt be a cultural experience, providing you with an opportunity to practice your Spanish and learn about another way of life. Accommodation will be communal with a shared bathroom which will have all modern but basic amenities and a shared kitchen. You will be living near the ocean. Meals will be simple yet nutritional – rice and beans, occasional chicken or fish, vegetables, fried plantains, fresh fruit and typical local Costa Rican meals. Meals are prepared as a group, the job of head chef will rotate. Days will begin with an early breakfast and a walk to the school to meet the children.
More information from Global Vision International :