Global Vision International - vacations and travel
Working With Disadvantaged Children And Orphans In India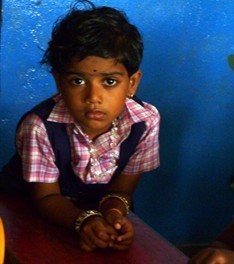 India
Volunteer Vacations trips
Get involved with teaching children whilst exploring South India's vibrant culture
This volunteer program is based in Kerala, known as 'Gods own Country'. Volunteers will be given an orientation around the beautiful city of Kochi on arrival. Your living arrangements will be with other volunteers in a house in the heart of the local community of Fort Kochi, where you will experience the rich culture of India. This volunteer project involves working and teaching in a local school, which is attended by children from disadvantaged families, as well as from the adjoining girls orphanage. Work days are spent assisting local teachers in the classrooms, and also taking small tuition groups and activity lessons before and after school. The focus is on improving conversational English of students from Lower Kindergarten through to Grade 6, as well as introducing sports and arts

During downtime volunteers can go cruising in a houseboat on the backwaters, visit spice plantations, villages, stunning beaches, watch a traditional Kathakali dance performance, go kayaking or trekking at a Wildlife Sanctuary or take cooking classes.
Locations visited/nearby
India
0 testimonials about this trip.
Reviewer:

Carolyn

located in

United States

I've been to Guatemala 3 times now, with GVI--and I'll go back. I've tutored English, taught Fifth graders in Spanish, and built stoves. Each volunteer stint has been amazing. I entered in to worlds so different from mine at home. The children, the families, the host families, the other volunteers were all amazing each time I have gone. Everyone gives their all, works and plays together. I'm over 60 and though most of the volunteers are a lot younger, the sense of community was great. I would recommend this to anyone looking for a meaningful way to dig in deep and give, while gaining so much more than you give. Can't wait to go again and see the kids in the schools, the families, GVI staff, and meet a new group of volunteers.

5

Reviewer:

Haley

located in

United Kingdom

I can't believe it's been a month since I returned from my 10 weeks in South Africa. I had the most incredible time working at the Ikhayalethemba Sanctuary and can't wait to go back! The children are incredible, and I can't even begin to explain how amazing the program was. I spent my entire year volunteering around the world. I was initially working with a different program which was very cheap and it showed. I didn't realize until I started with GVI how much I was missing in my other programs. While GVI does initially seem a little pricey, you really see where your money goes. I wouldn't have it spent any other way. I felt so safe, happy, and stress-free during my entire 10 months in Cape Town. Unfortunately, all volunteer programs don't have that luxury. So, I just want to thank GVI for asking for the money necessary to do the amazing things they are doing for our world and for the people who want to volunteer to make it better! I can't wait to be a part of it again very soon!


5

Reviewer:

Lisa

located in

United States

Volunteering with GVI was definitely one of the most incredible experiences of my life! I spent 10 weeks doing the Wildlife and Community Expedition in Kenya, and loved every bit of it! Before I left, the staff were very helpful over the phone and by email, and were quick to reply to any questions or concerns I had. Once I arrived in Kenya, the staff there were also super friendly and knowledgable, and really played a big part in making this whole experience wonderful. We got great training and I always felt confident going into the field. It didn't take long before the small village of Shimoni felt like home, with the kids greeting you with "Jambo!" and high-fives every time you went by. From teaching english at the primary schools and singing songs with fifty kindergarteners to teaching chicken farming to ex-poachers in Tsavo, every bit of the work we did was rewarding. Snorkelling the beautiful reefs of the Kisite-Mpunguti marine park was absolutely incredible and seeing a pod of bottle nose dolphins was always exciting. Days in the forest could be tough, but no day was ever boring, and you could always feel like you accomplished a lot at the end of the day. I really feel that GVI is making a difference in Shimoni and Mkwiro, and would do the expedition again without hesitation. I definitely recommend this project for anyone looking for an adventure and an amazing experience!

5
Comments from Facebook
Itinerary
What Difference Does This Project Make?
Volunteers will be providing invaluable help with hands on work at the school, and will help improve the future of underprivileged children. Your contribution will not only help fund the project but it will also assist with the supply of study materials to the children and the purchase of project equipment to the local partners. The hands on work and the funding provided by volunteers will greatly help improve our local partners ability to improve their facilities and services.
Highlights
Learning new skills in caring for and teaching underprivileged children, experiencing a new culture through its local people, local cooking lessons, and a traditional Kathakali dance performance, and exploring the amazing local environment. Nearby highlights that some volunteers choose to experience include staying overnight on a houseboat and cruising along the enchanting backwaters, kayaking along the river and cycling through villages, relaxing on the gorgeous beaches, language classes, or indulging in a traditional Ayurvedic massage.
Location
This program takes place around the stunning city Kochi (Cochin), a port town since the early centuries. Cochin offers fascinating snippets of history and culture that include -the Jewish Synagogue, St Francis Church which is the oldest European Church in India, the Santa Cruz Basilica built by the Portuguese, the spice market and the famous 15th Century Chinese fishing nets. The surrounding areas of Kerala, which is known as the new Goa, is definitely one of the highlights of India and a "must see" destination, said to be what Goa was before it became destroyed by mass tourism.
Field Conditions
The accommodation is in a basic but clean house, with dormitory style rooms (up to 4 people to a room). The accommodation is well located, it has electricity, running water, and flushing toilets. Internet and phones can be accessed at local internet cafes. Food is simple but nutritional and you will be expected to assist with cleaning up.
More information from Global Vision International :