Global Vision International - vacations and travel
Volunteer In Laos
"I was so lucky to have chosen the Laos project as my first. The welcome, set up and experience as… "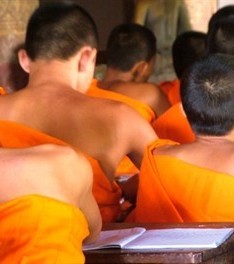 Luang prabang, laos
Volunteer Vacations trips
Enhance the education of Buddhist monks in Laos as well as other members of the local community while experiencing the amazing local culture
Enjoy the amazing culture and traditions of Laos, the "Land of a Million Elephants", teaching novice Buddhist monks and community members in the Royal City of Luang Prabang, a city of silent saffron robed monks and ancient monasteries on the mighty Mekong River.

In Laos, many rural boys move to urban areas to ordain as Buddhist monks for low-cost living and for the opportunity of an education. As a GVI volunteer, you will teach English – the most popular subject – to the monks at Wat Siphoutthabat School in Luang Prabang, helping the school's few staff to provide their students with an excellent education. Volunteers will have time off at weekends to explore the local area and can take a boat trip up the Mekong to the Pak Ou Caves, swim in the Khuang Si Waterfalls, watch the sunset from the top of Mount Phu Si, take a tour of the night market, raft, trek or even take an elephant tour
Locations visited/nearby
Lao, People's Democratic Republic
2 testimonials about this trip
Reviewer:

Greg Wright

located in

Australia

I was so lucky to have chosen the Laos project as my first. The welcome, set up and experience as well as the privilege of working with Tricia Feeney convinced me I had done the right thing. But, getting off the plane, I did wonder what I was letting myself in for. I had no real idea and I worried that I wouldn't be able to do what needed to be done. It was brand new for me and certainly one of those "putting yourself out there" situations but that was the exciting part and, ultimately, what I got out of it was finding that I could do it.

5

Reviewer:

Patricia Bennett

located in

UK

Spending an extended time in Luang Probang was a wonderful opportunity to get to know Laos and its people so much more than we would have done had we just been passing through. We were able to understand something of the history, culture, customs and values and to respect them. There was time to visit some beautiful and fascinating places and to reflect on what we saw. To work as closely as we did with members of the Buddhist community was a privilege and I have a much better understanding of that religion as a result.

Working in a group of volunteers and sharing social activities with people of all ages and from many different countries was a privilege

5
Reviewer:

Carolyn

located in

United States

I've been to Guatemala 3 times now, with GVI--and I'll go back. I've tutored English, taught Fifth graders in Spanish, and built stoves. Each volunteer stint has been amazing. I entered in to worlds so different from mine at home. The children, the families, the host families, the other volunteers were all amazing each time I have gone. Everyone gives their all, works and plays together. I'm over 60 and though most of the volunteers are a lot younger, the sense of community was great. I would recommend this to anyone looking for a meaningful way to dig in deep and give, while gaining so much more than you give. Can't wait to go again and see the kids in the schools, the families, GVI staff, and meet a new group of volunteers.

5

Reviewer:

Haley

located in

United Kingdom

I can't believe it's been a month since I returned from my 10 weeks in South Africa. I had the most incredible time working at the Ikhayalethemba Sanctuary and can't wait to go back! The children are incredible, and I can't even begin to explain how amazing the program was. I spent my entire year volunteering around the world. I was initially working with a different program which was very cheap and it showed. I didn't realize until I started with GVI how much I was missing in my other programs. While GVI does initially seem a little pricey, you really see where your money goes. I wouldn't have it spent any other way. I felt so safe, happy, and stress-free during my entire 10 months in Cape Town. Unfortunately, all volunteer programs don't have that luxury. So, I just want to thank GVI for asking for the money necessary to do the amazing things they are doing for our world and for the people who want to volunteer to make it better! I can't wait to be a part of it again very soon!


5

Reviewer:

Lisa

located in

United States

Volunteering with GVI was definitely one of the most incredible experiences of my life! I spent 10 weeks doing the Wildlife and Community Expedition in Kenya, and loved every bit of it! Before I left, the staff were very helpful over the phone and by email, and were quick to reply to any questions or concerns I had. Once I arrived in Kenya, the staff there were also super friendly and knowledgable, and really played a big part in making this whole experience wonderful. We got great training and I always felt confident going into the field. It didn't take long before the small village of Shimoni felt like home, with the kids greeting you with "Jambo!" and high-fives every time you went by. From teaching english at the primary schools and singing songs with fifty kindergarteners to teaching chicken farming to ex-poachers in Tsavo, every bit of the work we did was rewarding. Snorkelling the beautiful reefs of the Kisite-Mpunguti marine park was absolutely incredible and seeing a pod of bottle nose dolphins was always exciting. Days in the forest could be tough, but no day was ever boring, and you could always feel like you accomplished a lot at the end of the day. I really feel that GVI is making a difference in Shimoni and Mkwiro, and would do the expedition again without hesitation. I definitely recommend this project for anyone looking for an adventure and an amazing experience!

5
Comments from Facebook
Itinerary
What Difference Does This Project Make?
As the national government relies heavily on foreign aid to support itself, very little funding flows to rural education. As a result, many rural boys move to urban areas to ordain as Buddhist monks and further their education and opportunities for the future. This education is provided by the temples at very little cost and as a result resources are often stretched beyond capacity. English is the most popular subject in a school of 700 students and they are desperate for native or fluent speakers to help provide assistance. As Luang Prabang and surrounding communities gain economic benefits from tourists and adventure travellers through the region, they are realizing more and more the importance of English skills and the demand for quality teachers is growing. By providing local people with English language training you will help them take steps to improve their livelihoods and futures.

Highlights
Have the rare opportunity to work closely with novice monks in a temple school; live in Luang Prabang, a UNESCO heritage town; assist local community members in obtaining and practicing valuable English skills; learn about Lao culture, history, food, religion and language; visit local sights; enjoy a weekend break on the banks of the Mekong River.
Location
Luang Prabang is the former royal capital of Laos and is a very relaxing town located on the Mekong River. It is about 900 km northeast of Bangkok, Thailand. Lovely French Colonial buildings and fresh baguettes fused with exotic Southeast Asian culture and charm make for a wonderful setting to gain some teaching practice and experience a unique culture. 200 year old Wat Siphoutthabat stands at the base of Mt. Phousii in the heart of historic Luang Prabang. It is the largest school for monks in the city, having over 700 novices who live in the other temples and come here each day to study. Other schools, colleges, and language centres are all within walking distance of this lovely town. The surrounding hills contain traditional villages, waterfalls and other scenic pleasures.
Field Conditions
Volunteers will have their own room in a centrally located guesthouse. It has electricity and a variety of facilities are plentiful and nearby. Basic Lao and western food is supplied. In Luang Prabang laundry will be at your own expense.
Laos generally enjoys a mild, tropical climate, but it can get quite chilly in the cool season. Temperatures range from 10 – 40°C in the Mekong Valley, and may dip below zero in the mountains and on the Xieng Khouang and Bolaven Plateaus. There are three distinct seasons: cool from November-February; hot from March-May and the rainy season which lasts from June -October. Most people find the best time to visit from October-February; however the low season offers lush green landscapes in the rainy season and the colourful Lao New Year's festival in April.
More information from Global Vision International :