Global Vision International - vacations and travel
Thailand Elephant Volunteer Program
"The part I loved most about my trip was the Elephants. Everything about the Elephants. I loved just watching them,… "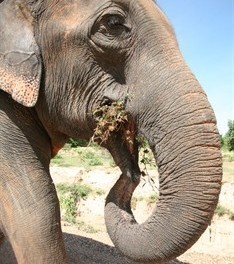 Mae chaem district, thailand
Volunteer Vacations trips
Working with indigenous communities to create a new future for this endangered species
Volunteers will have daily contact with elephants that have been rescued from unacceptable living conditions. Saved from begging on city streets or performing in circus shows, they are being reintroduced into their natural habitat. This program brings volunteers for 1 to 8 weeks to a remote area in Chiang Mai Province of Northern Thailand, famous for its elephant keeping tribal traditions. This province is home to several elephant-keeping communities tucked away in the mountainous border region. A main focus of this project is reintroducing elephants into a protected forest, and researching the current status of biodiversity. You will be working with local communities to provide basic elephant care, food, and habitat for these endangered gentle giants. Volunteers who stay on longer or apply as interns can expect to get more deeply involved with elephant behaviour research, lead biodiversity surveys, and retrain local people in alternative livelihoods so they won't return with their elephants to work in the circus
Locations visited/nearby
Thailand
2 testimonials about this trip
Reviewer:

Ashley Merbach

located in

Australia

The part I loved most about my trip was the Elephants. Everything about the Elephants. I loved just watching them, trying to mentally save every detail that a camera could not. I loved the emotion in their eyes, the delicacy in which they walked and their clam presence. I also will treasure the moments when I was able to get close up to the Elephants, feed them, pat them and measure their height and aid Dr. Pak in his veterinary tasks. This experience with these intelligent, aware and caring creatures has changed my perceptive on life and the values I placed upon it.

5

Reviewer:

Christine Hopson

located in

UK

I would recommend GVI firstly and most importantly because the ethics of the company and charity are right. The staff members in Chiang Mai were genuine, organised and full of enthusiasm. When joining GVI you really are making a difference, even if only a small one but by getting involved you are helping and making that start.

Secondly, it is really good fun! Where else in the world can you touch, watch and feed elephants naturally every day? No zoo, wildlife sanctuary or safari can compare to the experience I had!

5
Reviewer:

Carolyn

located in

United States

I've been to Guatemala 3 times now, with GVI--and I'll go back. I've tutored English, taught Fifth graders in Spanish, and built stoves. Each volunteer stint has been amazing. I entered in to worlds so different from mine at home. The children, the families, the host families, the other volunteers were all amazing each time I have gone. Everyone gives their all, works and plays together. I'm over 60 and though most of the volunteers are a lot younger, the sense of community was great. I would recommend this to anyone looking for a meaningful way to dig in deep and give, while gaining so much more than you give. Can't wait to go again and see the kids in the schools, the families, GVI staff, and meet a new group of volunteers.

5

Reviewer:

Haley

located in

United Kingdom

I can't believe it's been a month since I returned from my 10 weeks in South Africa. I had the most incredible time working at the Ikhayalethemba Sanctuary and can't wait to go back! The children are incredible, and I can't even begin to explain how amazing the program was. I spent my entire year volunteering around the world. I was initially working with a different program which was very cheap and it showed. I didn't realize until I started with GVI how much I was missing in my other programs. While GVI does initially seem a little pricey, you really see where your money goes. I wouldn't have it spent any other way. I felt so safe, happy, and stress-free during my entire 10 months in Cape Town. Unfortunately, all volunteer programs don't have that luxury. So, I just want to thank GVI for asking for the money necessary to do the amazing things they are doing for our world and for the people who want to volunteer to make it better! I can't wait to be a part of it again very soon!


5

Reviewer:

Lisa

located in

United States

Volunteering with GVI was definitely one of the most incredible experiences of my life! I spent 10 weeks doing the Wildlife and Community Expedition in Kenya, and loved every bit of it! Before I left, the staff were very helpful over the phone and by email, and were quick to reply to any questions or concerns I had. Once I arrived in Kenya, the staff there were also super friendly and knowledgable, and really played a big part in making this whole experience wonderful. We got great training and I always felt confident going into the field. It didn't take long before the small village of Shimoni felt like home, with the kids greeting you with "Jambo!" and high-fives every time you went by. From teaching english at the primary schools and singing songs with fifty kindergarteners to teaching chicken farming to ex-poachers in Tsavo, every bit of the work we did was rewarding. Snorkelling the beautiful reefs of the Kisite-Mpunguti marine park was absolutely incredible and seeing a pod of bottle nose dolphins was always exciting. Days in the forest could be tough, but no day was ever boring, and you could always feel like you accomplished a lot at the end of the day. I really feel that GVI is making a difference in Shimoni and Mkwiro, and would do the expedition again without hesitation. I definitely recommend this project for anyone looking for an adventure and an amazing experience!

5
Comments from Facebook
Itinerary
What Difference Does This Project Make?
The practices of elephant street begging and circus performing significantly reduce the life expectancy of this endangered species, diminishes their high cultural importance, and place individuals in inhumane living conditions. We are creating a new future for the species, and bringing new hope to elephants with tragic pasts. Volunteers provide basic care and see that the elephants' social needs are met. We are helping local communities to establish a new sanctuary for these rescued elephants, where they can live out their days as naturally as possible. A forest reintroduction program is underway. Volunteers are supporting a community driven effort to bring the elephants back to live in the forest. You will see the profound difference this program is making on the lives of each elephant and the people involved.
Highlights
You will be assigned an elephant to observe during your stay, taught how to read her behaviour and encouraged to bond with her so she recognizes you as a friend. We want you to be able to see the happiness you can bring to these incredibly sophisticated animals. Volunteers provide important data for the reintroduction program, supporting local forestry conservation. You will explore new trends in ethical and sustainable elephant eco-tourism. This is an opportunity to learn about elephants from Karen communities who have worked with them for centuries. This project draws advice from expert Thai veterinarians, community leaders, and western experts in animal psychology.
Location
The project takes place in Mae Chaem District, northern Thailand. This mountainous border region is home to the famous Karen elephant-keeping communities who've shared a unique and sacred relationship with elephants for hundreds of years. We work directly with the Karen community of Huay Pakoot. Volunteers meet in Chiang Mai City and spend the night, then travel about 5 hours into the mountains to reach the village where we stay, and also the site of the new elephant sanctuary. On weekends a visit into town or adventure tours can be arranged. Surrounded by breathtaking mountainous scenery, volunteers will quickly ease into a very peaceful way of life that still exists here, undisturbed for centuries.
Field Conditions
We live within a traditional community so volunteers must adapt and show respect for local customs. Most meals are prepared by local villagers. Vegetarian options are available. Living conditions are basic, with intermittent cold running water, large basins of water provided for bathing, basic mattresses, bedding, and mosquito nets provided. This traditional village still uses Asian style squat toilets. There is electricity available in the village most of the time.
There is no internet access. For longer staying volunteers visits into the city can be arranged at your own cost. Be prepared for long hikes with the elephants in the forest, on mountain trails.
More information from Global Vision International :