Global Vision International - vacations and travel
Volunteer Teaching In Thailand
"I would recommend GVI because they are different to other volunteering companies; they make an effort to benefit the local… "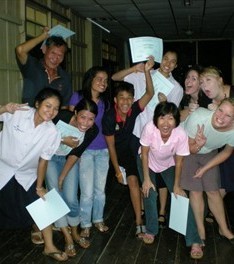 Krabi, thailand
Volunteer Vacations trips
Combine professional teaching courses, cultural and adventure activities with critical volunteering projects
This volunteer teaching program is located in the Thailand, Asia and volunteers are immersed into the local community from the start. Volunteers will be teaching adults aged 15-80 whilst simultaneously training to become a qualified TEFL (Teach English as a Foreign Language) teacher. Durations range from 2 to 10 weeks, but staying longer means you can gain extra teaching experience at the local community center or local schools, and benefit from the support of GVI's on-site staff and teacher trainers. During your time on the project optional cultural and adventure trips are offered to help you explore and experience the most of this exciting region. GVI offers a job placement service to all GVI TEFL graduates, assisting them in finding paid work placements in local communities around the world or paid positions in the TEFL Industry. GVI is listed as an Institutional Member of the International Association of Teachers of English as a Foreign Language (IATEFL) and is a Member the College of Teachers (CoT)

Other training options available at this location include a short term community development internship.
Locations visited/nearby
Thailand
2 testimonials about this trip
Reviewer:

Laura Williams

located in

UK

I would recommend GVI because they are different to other volunteering companies; they make an effort to benefit the local community in as many ways as they can, through working with local partners and trying to be as green as possible. I also love the mix of opportunities on a single project with varying work and travel experiences. You actually feel like you are making a difference by developing skills that you can observe impacting on the local community.

5

Reviewer:

Alex Tong

located in

UK

I have gained in confidence so much, I feel a lot more capable of doing something new and something I wouldn't have done before now that I have been to Thailand. I also feel that I have gained some amazing memories which will stay with me forever and will influence me for many years. The experience has also helped me decide my future career direction and the next steps with education. The respect that I was given by the Thai students was so refreshing and I am very grateful that I got to teach them.

5
Reviewer:

Carolyn

located in

United States

I've been to Guatemala 3 times now, with GVI--and I'll go back. I've tutored English, taught Fifth graders in Spanish, and built stoves. Each volunteer stint has been amazing. I entered in to worlds so different from mine at home. The children, the families, the host families, the other volunteers were all amazing each time I have gone. Everyone gives their all, works and plays together. I'm over 60 and though most of the volunteers are a lot younger, the sense of community was great. I would recommend this to anyone looking for a meaningful way to dig in deep and give, while gaining so much more than you give. Can't wait to go again and see the kids in the schools, the families, GVI staff, and meet a new group of volunteers.

5

Reviewer:

Haley

located in

United Kingdom

I can't believe it's been a month since I returned from my 10 weeks in South Africa. I had the most incredible time working at the Ikhayalethemba Sanctuary and can't wait to go back! The children are incredible, and I can't even begin to explain how amazing the program was. I spent my entire year volunteering around the world. I was initially working with a different program which was very cheap and it showed. I didn't realize until I started with GVI how much I was missing in my other programs. While GVI does initially seem a little pricey, you really see where your money goes. I wouldn't have it spent any other way. I felt so safe, happy, and stress-free during my entire 10 months in Cape Town. Unfortunately, all volunteer programs don't have that luxury. So, I just want to thank GVI for asking for the money necessary to do the amazing things they are doing for our world and for the people who want to volunteer to make it better! I can't wait to be a part of it again very soon!


5

Reviewer:

Lisa

located in

United States

Volunteering with GVI was definitely one of the most incredible experiences of my life! I spent 10 weeks doing the Wildlife and Community Expedition in Kenya, and loved every bit of it! Before I left, the staff were very helpful over the phone and by email, and were quick to reply to any questions or concerns I had. Once I arrived in Kenya, the staff there were also super friendly and knowledgable, and really played a big part in making this whole experience wonderful. We got great training and I always felt confident going into the field. It didn't take long before the small village of Shimoni felt like home, with the kids greeting you with "Jambo!" and high-fives every time you went by. From teaching english at the primary schools and singing songs with fifty kindergarteners to teaching chicken farming to ex-poachers in Tsavo, every bit of the work we did was rewarding. Snorkelling the beautiful reefs of the Kisite-Mpunguti marine park was absolutely incredible and seeing a pod of bottle nose dolphins was always exciting. Days in the forest could be tough, but no day was ever boring, and you could always feel like you accomplished a lot at the end of the day. I really feel that GVI is making a difference in Shimoni and Mkwiro, and would do the expedition again without hesitation. I definitely recommend this project for anyone looking for an adventure and an amazing experience!

5
Comments from Facebook
Itinerary
What Difference Does This Project Make?
Ao Luk is located in the south of Thailand in small, yet rapidly developing traditional Thai town. GVI's Thailand project focuses on building local capacity by providing English language and environmental education to the local people, so they can maximise from the benefits of local development. In Ao Luk, GVI works closely with a number of local organisations and attendance of GVI's English lessons is fully credited towards graduation from one of the area's recognised education centres. This English language education assists in providing local people with viable employment alternatives, who have previously had little or no opportunity.
Highlights
Participating in a 50-hour or 100-hour TEFL course, as desired; immersing yourself in a traditional Thai community within a beautiful tropical paradise; living and working alongside local people, experiencing their culture, food and way of life; assisting in both child and adult environmental education and awareness programs, visiting and teaching within the local community centre, schools, project base and in the open environment; learning how to cook a number of tasty Thai dishes, including some regional favourites; going on an exciting trip to Wat Tham Seua (the Tiger Cave Temple) – a forest monastery built upon a karst cliff with stunning views; and visiting beaches in your free time.
Skills And Qualifications Received
TEFL Training and certification (50 or 100-hour), Classroom teaching experience, Curriculum development and lesson planning, Resource making, Report writing and public speaking experience, First Aid & CPR training (certification optional), Basic Thai Language, Thai culture and community including cooking, religion, etc, Environmental education and community development, Interpersonal skills.
Location
The Krabi province is located on the Andaman Sea, and is blessed with an abundance of natural resources, numerous national parks and stunning scenery with a wide range of attractions. Krabi is made up of white sandy beaches, tropical islands, amazing limestone rock formations and a rich culture. Being close to town, the project base gives volunteers the opportunity to be immersed in the local culture with the opportunity to explore local attractions on the weekends.
Field Conditions
The project base is a large house located in the town of Ao Luk in the Krabi Province, close to a number of natural attractions including mountains, waterfalls, caves, mangroves and beaches. The base has running water, electricity, a basic kitchen, a communal area, a small library and dorm-room accommodations with bunk beds, and outdoor sitting areas. Cooking and cleaning of the base is shared on a rotational basis by volunteers. The TEFL training will take place on base, and the English Language lessons will principally be conducted at the local community centre. Other projects take place in surrounding rural villages.
More information from Global Vision International :