Large Minority - Adventure Holidays & Tuk Tuk Challenges - vacations and travel
More Local - Amazon Travel Experience
"From Ana Maria A.K.A. La Beby ... As for the Amazon trip we did together, I think there is only… "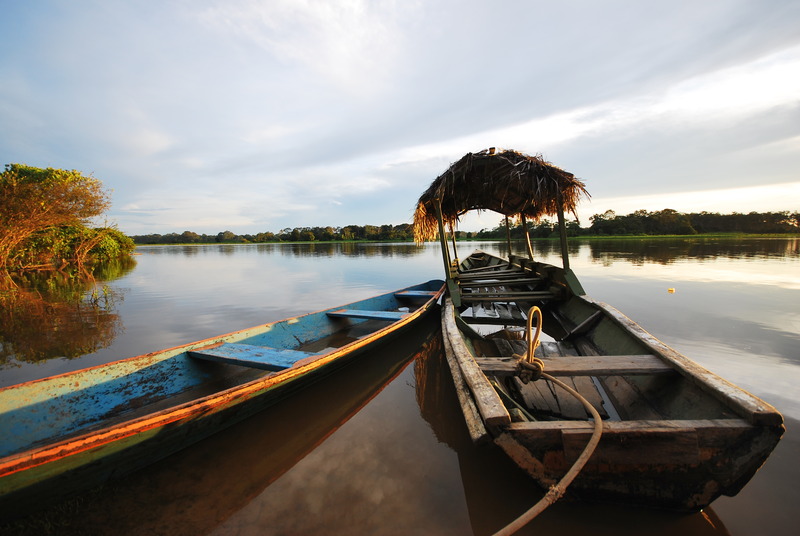 Leticia airport, colombia
Active & Adventure trips
Deep down in Colombia's South-eastern tip, lies a tri-border where languages, accents and looks barely make a difference or matter. A captivating corner of peace and tranquillity where man and nature have learnt to co-exist in relative harmony. This little piece of heaven, home to enduring indigenous communities and thriving fauna and flora, is without a doubt one of the most charming spots on the globe. A 'must' that ought to be ticked off your 'must do before I die' list.

Dare to swim in the darkest of waters, surrounded by abundant wildlife. Canoe down river like a local and fish for the mighty piranhas. Walk in virgin jungle and learn about nature's deepest secrets and healing powers. Spot rare birds and fall in love with the delicate pink and playful grey dolphins. Dive into a culinary feast of homegrown exotic produce. Make a difference by supporting our Sustainable Water Management Program.


Locations visited/nearby
Sacambu , Peru , Yavari , Colombia , San Juan del Soco , Puerto Nariño , Amazon , Colombia, South America
3 testimonials about this trip
Reviewer:

Ana Maria Grossi

located in

Cordoba

,

Argentina

From Ana Maria A.K.A. "La Beby" ...
"As for the Amazon trip we did together, I think there is only one word that can sum up everything: WONDERFUL. From the group leader to the other travelers ... the places chosen were incredible and provided wonderful life-changing experiences!
I must highlight the level of dedication and attention to detail provided by More Local, our safety and well being was a priority at all times.
The latest addition to their team, Federico the "Experience Leader", has all the ingredients to provide a relaxed, incredibly fun and rightly unstructured experience.
I think that More Local is right for all ages - the activities can be performed by all, so one is guaranteed to have fun ... very well thought out and extremely well organized. Congratulations to the managers and all who helped. "

5

Reviewer:

Emily Dorn

located in

Denver

,

Colorado

USA

From Emily A.K.A "Dora the Explorer" ...
"My Amazonian adventure with More Local was like stepping into a dream for a week…every minute of this trip was a magical, out of this world experience - from fishing for piranhas, to playing football with village kids from a tiny community of 250 people, to snatching Caymans from the river in the middle of the night, to traversing the imaginary borders between the remote jungles and rivers of Peru, Brazil and Colombia via crazy modes of transportation.
It would be impossible to access this level of intimate local life without the expertise and organization of the LARGE minority team and most importantly, the mutual relationships they have fostered with the local families, communities and businesses in the Amazon. These guys are passionate about sharing the splendor of their country with travelers while simultaneously supporting local projects to ensure the sustainability of this type of tourism. The Amazon experience is simply a must for anyone living or traveling in Colombia!"



5

Reviewer:

Fina de Paredes

located in

Caracas

,

Venezuela

From Fina A.K.A "The traveler" ...
"What a ride! I wish I could´ve stopped time! I enjoyed every second of it, everything went great!
Thanks to the More Local staff for choosing, organizing and planning every place and experience.
Thanks to the Soco community! To the Doña Juliana for sharing her house with us, her home cooked meal full of love and simplicity. John and Manuel, for their stories and teachings of the jungle, their customs, the chagras ... to the children for their joy, good football and smiles. Benjamin Constant was a great plan and Sacambú out of this world. To the Incredible George with his kindness and warmth ... the alligators, especially the one that got away... haha.
I will never forget the hammocks and sounds of nature at night. Yavary, wow! Those malokas were paradise!..kayaking, playing "Uno" – the best!
The lagos Tarapoto were beautiful! And great to swim and fish at, especially for piranhas! Leticia, Tabatinga, how wonderful! What an amazing trip!
Thank you LARGE minority and I hope to repeat this adventure"!

5
Reviewer:

Warut Phanomphaitoon

located in

Bangkok

,

Thailand

Who needs a tour guide when you can make your own way around Sri Lanka? Lanka Challenge was a fun-filling-10-day-trip with Amazing People from all over the world. LC is definitively one of the world's most adventurous activities. It's not only about winning the Challenge but also about helping the kind people of Sri Lanka. It offers you a chance to absorb the Lankan culture and eventually turn into one of them for a while.
Believe me when I say that Large Minority's people will make you do things Lankan style. LM has done it this time and I am sure they will do it again... Two thumbs up for the good people at Large Minority and those who participated in the event in 2009.



5

Reviewer:

Tim Hartford

located in

Dubai

,

UAE

Who else can claim they have circumnavigated Sri Lanka and Cambodia driving a Rickshaw? Or bought fuel in a coke bottle whilst wearing pyjamas? I truly believe there is no better way to see a complete country and get down with the local culture. You just can't do this on a tour. Make no mistake, this is a mentally and physically challenging adventure that will test you in many ways.
The social side plays the biggest part - we made a great group of friends and every night was a party. Large Minority gave us an expertly planned fully-inclusive holiday which would be nearly impossible to organise on your own, all for a great price and still supporting local charities. Bring on the next location!



5

Reviewer:

Jamie Raskin

located in

Tokyo

,

Japan

People keep asking me about the Cambo Challenge and I think I've nailed what makes it so incomparable for me, it's all about the human interactions. The group were fun, switched on, non-competitive and from all over the map. The challenges got us past our barriers and into authentic Cambodian communities and interactions.
The LM team were smart, creative, playful and good times. Traveling by tuk tuk was crazy, liberating and totally engaging with your surroundings, and Cambodia itself...half confronting, half embracing and incomparable throughout. We loved it.



5
Comments from Facebook
Special information
You need to form your own private group for this trip. It will be scheduled for a date you arrange with the provider. The itinerary here is just a sample.
Offers some solo-only/singles departures.
Itinerary
Day 1 - Leticia (Colombia)
Colombia's Amazonian capital pulses with energy. This gateway into the jungle offers the perfect balance between urban and rural life. Explore the one and only paved road (fully 14 miles long). Start your trip with a nature walk to an indigenous Maloka (hut) where you will learn all about the process of Mambe, Rape and Ambil.
Day 2 - San Juan Del Soco (Colombia)
Feel the wind whip past while traveling down the almighty Amazon in a speedboat. Visit this distant community and see the reality of Amazonian life. Witness the impact of shortsighted development and the constant struggle to save customs and traditions. Learn the local ways and get back to basics.
Relish a walk through the virgin jungle and get involved in community activities. Take part in our project setting up a sustainable water supply for the local people before spending the night in a hammock on a riverbank.
Day 3 - Puerto Narino (Colombia)
Arrive at Puerto Narino, the prime jewel of the Amazon and a world-class model for sustainable living. This ecological community is living proof that man and nature can peacefully exist. Explore this captivating symbol of hope and meet the local community.
Spot the gentle pink and playful grey dolphins on a visit to the Tarapoto lakes. Turn hunter-gatherer, as you catch piranhas that you might have the chance to chuck on an evening BBQ.
At night, hit the billiards hall, bar and disco.
Day 4 - Sacambu (Peru)
Cruise on a traditional slow boat down the enigmatic Amazon. Stop for lunch and a swim at Benjamin Constant (Brazil) before heading on a motorbike-taxi jaunt through the funky little town. Pass by Islandia (Peru) an enchanting, sleepy, semi-floating village before cruising down the River Yavari to Sacambu.
At Sacambu, the delightful owner and his family will charm you with their Amazonian hospitality. Spend the night suspended in a hammock over wooden decking above a pristine lake, surrounded by the enchanting sounds of nature.
Day 5 - Yavari (Peru)
A slow ride through winding canals and thick mangroves take you to the Yavari Nature Reserve. Kayaking, canoeing, fishing, swimming, walking and bird watching guarantee an unforgettable day.
Day 6 - Leticia (Colombia)
Head back to something approaching normality and readjust to urban life.
More information from Large Minority - Adventure Holidays & Tuk Tuk Challenges: