ECHO River Trips - vacations and travel
Ancient Anatolia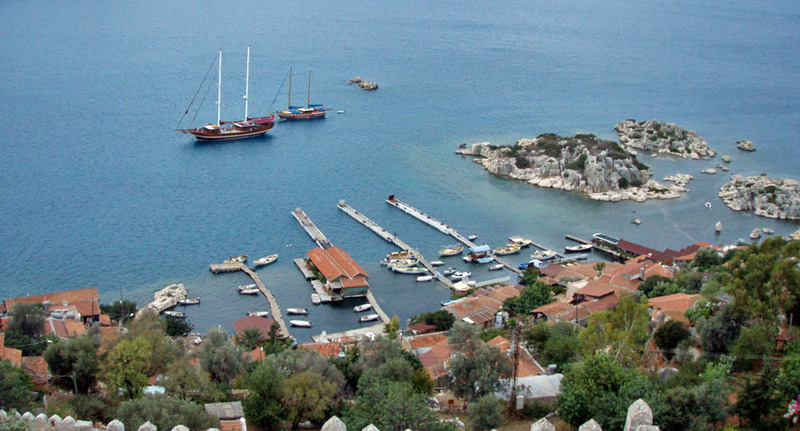 from $3,995* per person
14 Days
May, October
Comfort accommodations

Exertion level: 3

Operator:

ECHO River Trips

12 people max
Istanbul airport, turkey
Active & Adventure trips
This is a special, new trip trip that takes us both farther east and farther into the past of Anatolia. We will explore Cappadocia with its exotic landsape and it's history dating back to the Hittites, visit ancient towns along the Euphrates River, tour climb Mount Nemrut with its colossal stone heads, and tour Sanli Urfa, the birthplace of Abraham, the patriarch of the three great religions that come from the Middle East: Judaism, Christianity and Islam.

Americans are finally realizing what Europeans have known for some time: Turkey is an incredible place to visit. It is where East meets West; where Europe meets Asia. It is a Moslem country and yet it is democratic and secular, and the Turks love their beer and wine. They especially love their raki, the anise-flavored national liquor similar to Greece's ouzo. Turkey is both ancient and traditional on the one hand, and amazingly modern at the same time. On the streets of Istanbul one sees women totally covered in burkhas walking alongside others wearing modern clothes.

Turkey is one huge outdoor museum, with more 'Greek' ruins than Greece and more Roman ruins than Italy. Istanbul is one of the world's oldest and most fascinating cities. The Bosphorus not only bisects the city; it is the border between Europe and Asia.

Locations visited/nearby
Turkey, Europe
Comments from Facebook
Special information
This is a custom departure, meaning this trip is offered on dates that you arrange privately with the provider. Additionally, you need to form your own private group for this trip. The itinerary and price here is just a sample. Contact the provider for detailed pricing, minimum group size, and scheduling information. For most providers, the larger the group you are traveling with, the lower the per-person cost will be.
Itinerary
Day 1 - Leave United States
Fly from the United States and arrive in Istanbul the morning of the second day. Once you arrive you'll need to get a visa and go straight to the hotel.
Day 2 - Arrive in Istanbul, Welcome Dinner
Self transfer to your hotel and overnight at the hotel. Meet with your guide and welcome dinner. D
Day 3 - Tour Istanbul
This morning we will start our sightseeing with the visits to the Hippodrome, Hagia Sophia, the Basilica Cistern, and Blue Mosque. Overnight at the hotel in Istanbul. B
Day 4 - Tour Istanbul
Visit Topkapi Palace, Treasury and the Harem in the morning. Later a short visit to Grand Bazaar and the spice market. In the afternoon we will have a cruise on the Bosphorus by a local ferry and have our dinner in one of the fish restaurants by the Bosphorus. Overnight at Hotel in Istanbul. BD
Day 5 - Cappadocia
In the morning we will be transferred to the airport and fly to Cappadocia. After check in to our hotel we will start to discover the area by a walk through this lunar landscape. Overnight at our cave hotel in Cappadocia. B
Day 6 - Cappadocia
Optional Hot air balloon flight at sunrise. You will return to hotel at 8:00-8:30. After breakfast at 9:00 in the morning we will leave the hotel to visit Derinkuyu Underground City and see where up to 20,000 people lived in this multi level city complete with stables, kitchens, storage chambers and wine making rooms. We will also visit Pasabaglari (the world-famous Fairy Chimneys), the village of Avanos, where you will witness a pottery-making demonstration using ancient Hittite techniques, Overnight at our cave hotel in Cappadocia. B
Day 7 - Gaziantep
Departure from your hotel at 8:30. Drive to Karatay Kervansaray and visit the Kervansaray. Stop at Kahramanmaras for lunch and a taste of its famous ice cream. Continue onto visit the world famous Gaziantep Mosaic Museum. This museum is getting richer and richer with the continued discoveries from Zeugma. We will also visit the copper bazaar and the famous baklava shop (Baklava is originally from Gaziantep). Overnight in Gaziantep. BD
Day 8 - Gaziantep
This morning we will drive to Birecik. The Northern Bald Ibis used to nest here and winter in the deserts of Arabia. Later we will drive to Halfeti, which is a small farming district on the east bank of the river Euphrates. We will take a ferry boat to explore this unique area. We will drive back to Gaziantep . BD
Day 9 - Adiyaman
We will drive to Kahta and hike to the summit of the mount Nemrut (one of the most popular UNESCO world cultural heritage sites). Here, with the colossal heads and statues of ancient deities, we step into ancient mythology. This extraordinary landmark rests at an elevation of 8000 ft. The mountain top complex is composed of two flattened areas strewn with statues and separated by a false peak of crushed rock. Antiochus built the entire complex approximately 2000 years ago as a monument to his divine ancestry. We will also cross over the still functioning Cendere Bridge (Septimius Severus bridge) dating back to the 3rd century and the Tumulus Tomb of Karakus. Overnight at a hotel in Ad?yaman. BD
Day 10 - URFA
Today we drive to Sanli Urfa.Urfa, the birthplace of the prophet Abraham. Urfa has been occupied since the Babylonians followed by the Hurrites, Hittites, Assyrians, and Greeks. We will visit nearby Harran and see the incredible beehive houses. According to the Bible, Harran was where prophet Abraham spent a few years with his family before moving on to Israel, the Promised Land. Overnight in Urfa. BD
DAY 11 - URFA
In the morning we will drive to see Gobekli Tepe, a hilltop sanctuary erected on the highest point of an elongated mountain ridge some 15 km northeast of the town of Urfa. The structures here are the oldest man-mde structures that we know of. They date back to at least 9000 BC, which makes them older that Hittite, Babylonian, and Egyptian cultures. The rest of the day we will also visit the holy sites at the Ain zelha, a lake with millions of domesticated fish and the visit the cave where the prophet Abraham was born. There are exceptional photo opportunities in this area. Overnight in Urfa and we will end our trip with a very local way of special farewell dinner. BD
DAY 12 - Fly Back to Istanbul and Home
Head back home or continue on the yachting extension/the tour ends upon arrival to Istanbul airport.
Yachting Extension
(Optional)
Day 12
Connection flight from Istanbul to Bodrum, a town on the Aegean. Transfer to yacht, or Gulet. Dinner on Yacht.
Day 13
Sail to Kara Adalar or Black island, famous for its spectacular coastline, hot springs and caves that we can swim into. We will take time to swim, snorkel hang out on a beautiful beach before sailing on to Kisrebuku a quiet by where we will anchor for the night. BLD
Day 14
Early morning sail to Yedi Adalar (Seven Islands),eating breakfast on the way. We will spend the day exploring these islands, again with plenty of time to swim and snorkel. BL
Day 15
We will sail along the rugged mainland coast, stopping for lunch at Cleopatra's Island. Mark Antony and Cleopatra did indeed spend time here, and legend has it that Antony had white sand shipped from north Africa for the to lie on. Then on to Karacasogut, a village with a couple restaurants and some Turkish vacation homes. We will anchor here for the night.
Day 16
Transfer to the Dalaman airport for flights back to istanbul and connecting flights home
More information from ECHO River Trips: