CMH Heli-Skiing & Summer Adventures - vacations and travel
High Flying Heli Adventures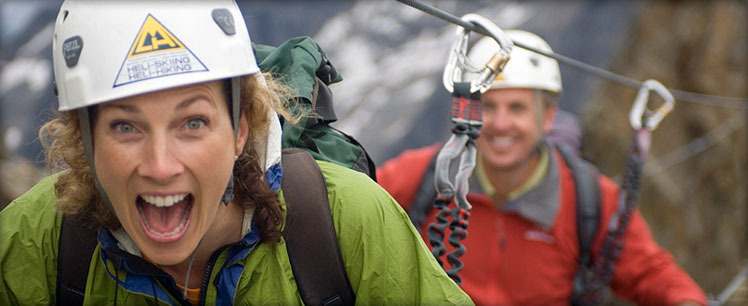 Calgary international airport, calgary, alberta, canada
Active & Adventure trips
Looking for an adrenalin rush? Our guides have combined some introductory mountaineering elements with the Bobbie Burns via ferrata and our zip-lining adventure trail. The program is not set in stone so you may find yourself summitting a craggy peak you hadn't believed accessible. Or roped up together with fellow travellers, traversing a snow-covered glacier. Maybe you will rappel over sheer rock-face. No matter what, you will push yourself beyond your comfort zone and discover a deep sense of pride and achievement. This is your chance to gulp – and experience an adventure like no other.

Locations visited/nearby
Canada, North America
Comments from Facebook
Special information
Accommodates certain types of disabilities. Contact the operator for more information.
Itinerary
DAY 1: BANFF TO BOBBIE BURNS HELIPAD
7:00 am Meet at the Brewster Transportation Centre for the ground transfer from Banff to the
Bobbie Burns Helipad.
7:15 am Depart Banff.
10:00 am (Mountain Time) Arrive at the helipad for the quick, flight to Bobbie Burns Lodge.
Get outfitted with all the necessary hiking/climbing gear. Lunch at the lodge. Following a
helicopter safety talk, your certified mountain guide will escort you through this untamed
wilderness where you have the opportunity to test your mountain legs and gain some
personal insight into how this high-flying adventure will unfold. Heli-flight back to the lodge
late afternoon for appetizers and beverages, and relaxation before dinner.
7:00 pm Dinner is served family style, with guests and staff eating together. (L, D)
DAY 2,: BOBBIE BURNS
Morning starts with a stretch class so you can warm up your muscles and prepare yourself for
a full day of mountaineering. After breakfast, your a-waiting helicopter will transport you out
into the field for a full day of adrenalin filled exploration. Your guide will set up your program
for you. Perhaps you'll start with our Bobbie Burns Canyon Adventure Trail offering an extra
opportunity for any novice adventure-seeker to test their limits of excitement. Experience a
thrilling ride across a zip-line secured over a raging river. Inch your way between tree tops
along a spectacular high ropes course. Rappel down a vertical rock face before scaling the
length of a via ferrata. Lunch is out in the field. Return this afternoon for down-time before
joining your new-found friends at dinner. (B, L, D)
DAY 3: BOBBIE BURNS
After the morning stretch and breakfast you are off to another adventure. Our certified
mountain guides will escort you on an adventure like no-other. A short helicopter flight will
drop you at the base of Nimbus Tower (elevation 8,700 feet) in the Columbia Mountains for a
breath-taking, heart-pounding, muscle-testing day of exploration. Guests will be roped up with
the latest technical climbing gear, before being instructed and guided through a series of high
mountain adventures. Approaching the first of two towers, your guide will clip you in to the
self-protecting cables of the via ferrata system. Climbing, scaling, and scrambling you will
make your way over the first tower where you will find your next challenge awaiting: a high
cable bridge spanning 160 feet across a steep gully with the bottom an amazing 2,000 feet
below. Your next challenge will be to scale the second tower before your final descent – a
free-hanging rappel 180 feet to the valley below. At the end of the day you are back at the
lodge comparing experiences with fellow-guests over appetizers and later dinner.
(B, L, D)
DAY 4: BOBBIE BURNS TO CALGARY
8:00 am Breakfast, then prepare for departure.
9:30 am Heli-exchanges begin from Bobbie Burns Lodge to Helipad.
11:30am Depart the helipad by motorcoach, returning to Calgary Airport. Boxed lunch is
provided for the return trip.
2:15pm Arrive in Banff. (B, L)
4:00 pm Arrive Calgary Airport.
More information from CMH Heli-Skiing & Summer Adventures: