Classic Escapes - vacations and travel
The Best Of Kenya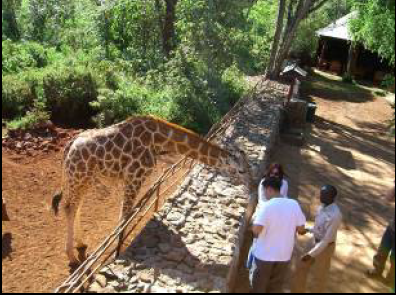 from $4,795* per person
18 Days
June
Luxury accommodations

Exertion level: 3

Operator:

Classic Escapes

24 people max
Jomo kenyatta airport, nairobi, kenya
Culture & Nature trips
Peter Njuguna, one of the most experienced naturalist guides in Kenya, has been escorting safaris
since 1986. Peter is of the Kikuyu tribe from the Rift Valley area, and is a graduate of the Swiss
Government Tourism and Hotel School as well as Kenya's Utali College. Peter feels that promoting
understanding between cultures will not only increase our global views, but create a better world for
wildlife. His quiet manner combined with expert knowledge on Kenya's wildlife and culture make
him one of our most appreciated naturalists.

Locations visited/nearby
Kenya, Africa
0 testimonials about this trip.
3 testimonials about the provider, Classic Escapes:
Reviewer:

Ron Magill

located in

Miami MetroZoo

Stacy Fiorentinos is a traveler's dream. As the Goodwill Ambassador for one of the top zoos in the country, I have had the privilege of leading groups on wildlife adventures planned and coordinated by Stacy for over a decade. She demands only the best for her clients and provides nothing less. Through her extensive experiences visiting properties and her personal relationships with the people who live and work in the exotic destinations that she services, she is able to create itineraries that are unforgettable and will inspire feelings that words alone cannot describe. Her attention to detail is second to none and her determination to ensure that you experience the trip of a lifetime is truly unparalleled. As a small child, I would constantly dream of exploring far away lands and wild places. Thanks to Stacy, I, as well as my fellow travelers, have been able to live those dreams over and over again! When taking the type of trip that Classic Escapes provides, the most important thing to have is "peace of mind." With Stacy, you will have that and so much more.

5

Reviewer:

Rick Barongi, Director,

located in

Houston Zoo

I have led over 20 trips to Africa with several different tour operators. Stacy Fiorentinos is one of the best in the business. I recommend her without reservation. She is knowledgeable, experienced, flexible and above all professional. Her knowledge of Africa and other eco-tour destinations is exceptional. I have entrusted her with some very special VIP's and have never been disappointed.

5

Reviewer:

Patti Glover

located in

LA Zoo

Stacy Fiorentinos is very detail-oriented, well-informed, and provides wonderful customer service. Stacy is extremely knowledgeable in her field, and always goes above and beyond what I request of her. This knowledge helped to make my job easier in planning and implementing numerous trips for my company. From the planning stages of a trip until the end, I knew I could always call Stacy with questions and she would provide a thorough response in a very timely manner. Her timeliness provided a sense of security for me and all the travelers in the group. It was simply a pleasure working with Stacy.

5
Comments from Facebook
Itinerary
DAY 1~FRIDAY~JUNE 1
NEW YORK/ EN ROUTE
Your journey begins as you board your American Airlines overnight flight to London. (Meals Aloft)

DAY 2~SATURDAY~JUNE 2
LONDON/EN ROUTE
Arrive in London's Heathrow Airport this morning, where you connect with your flight to Nairobi, the safari capital of
East Africa. Arrive in the evening, where you will be
welcomed by your Classic Escapes expert driver/guides and
naturalist and escorted to your luxurious hotel. After checkin,
a chance for a good night's rest.
Located about 20 minutes from downtown Nairobi, this is a
62-acre complex of convention center, resort and hotel. The
architecture is large, dramatic and very impressive. The hotel
features 204 spacious rooms, each with individual balconies
overlooking the gardens, hand-carved four poster beds,
refrigerated mini-bar, and many other amenities. The
grounds showcase landscaped gardens, rich with exotic
African trees, plants, birds and a 2000-square meter tropical swimming pool, one of the largest in Africa. In addition, the
hotel has a second swimming pool, a world-class fitness center, five restaurants, and a shopping arcade.
Overnight at the NAIROBI SAFARI PARK HOTEL. (Meals Aloft)

DAY 3~SUNDAY~JUNE 3
NAIROBI
After a briefing about the wonderful events ahead, get set for an
exciting adventure as you visit Daphne Sheldrick's Elephant
Orphanage at the edge of Nairobi National Park, which is a nursery
and rehab center for infant elephants that have lost their families, as
well as rhino and occasionally zebras and other wildlife. Daphne was
the first person to successfully master the art and raise orphan infant
elephants. The wife of the famous naturalist David Sheldrick, Daphne
has dedicated her life to conservation. David was founder Warden of
Kenya's giant Tsavo East National Park, in which he served from
1948
until his death in 1976. Daphne has continued her involvement
and has had real impact on the lives of elephants and rhinos,
which would have normally died due to human poaching and
surrounding population conflict. You'll enjoy a visit with the
elephants as they're brought by their keepers to the waterhole
and salt lick to be fed and socialize – see how they roll in the
mud and play fight, and their affectionate interaction with their
keepers. Daphne, or a member of her staff, will be on hand to
discuss their habits, as well as impart interesting facts about
their upkeep. These infants are eventually released into the
wild at Tsavo East National Park and end up in the care of
other orphans who have been successfully reintroduced to the
wild.
Continue to the AFEW Nature Center near Giraffe Manor
where you may hand-feed the Rothschild giraffe that live here. The giraffe were brought here by Jock and Betty Leslie-
Melville, who founded AFEW (African Fund for Endangered Wildlife) and built the Nature Center to help educate young
African children about wildlife conservation. The Rothschild giraffe are the tallest species and may reach 18 feet in
height, but you can see eye to eye with them on the elevated walkway at the center. Lastly, visit the Karen Blixen House,
the former house of the Danish Baronness, Karen Blixen (1885-1962) author of the book Out of Africa. Karen lived in this
green residential area from 1914 to 1931 when she left permanently for Denmark. The house was built in 1910 and when
Ms. Blixen bought the property, it had 6,000 acres of land but only 600 acres were developed for growing coffee; the rest
was retained under natural forest. The house was bought by the Danish Government which offered it back to Kenya in
1963. In 1986, the house, formerly used as a school, was transformed to a
National Museum. Much of the original furniture is on display in the
house and most objects were either used by Karen herself or for the
shooting of the film or donated to the museum. You will have lunch at
Blixen's Cottages.
Overnight at the NAIROBI SAFARI PARK HOTEL. (B,L)

DAYS 4/5~MONDAY/TUESDAY~JUNE 4/5
SAMBURU RESERVE
Your drive now takes you north through rich farm land, to Samburu
Reserve, which lies 200 miles north of Nairobi on the hot and arid fringes
of the vast northern region of Kenya. The reserve is within the lands of
the colorful Samburu people, close relatives of the Maasai, and home to a
number of wildlife species rarely found elsewhere in Kenya: Grevy's
zebra, reticulated giraffe, and Beisa oryx, all found only north of the
equator. The graceful gerenuk, an antelope with its characteristic long
neck, spends much of its time in a bipedal stance seeking relaxation in the
sparse scrub that grows in this harsh terrain. This dramatic landscape is
blanketed by the hot equatorial sun for most of the year. Relief comes
from the cool waters of the Uaso Nyiro ("Brown") River, which rises to
the west on the foothills of the Aberdares and which vanishes beyond
Samburu in the soggy expanse known as the Lorian swamp. The scenery
in Samburu is magnificent and the birdlife awesome. En route enjoy
lunch at the Trout Inn situated in a tree-filled valley overlooking a trout
pond.
Your accommodations are in a luxury tented camp built on
the banks of the Uaso Nyiro River. If you're an elephant
lover, you'll truly understand the name of camp when you
see the abundance of these magnificent animals in this
location. Enjoy the comfort of your ensuite tent, the
friendly service and delicious food, prepared fresh for you
daily.
Overnights at the ELEPHANT BEDROOM CAMP. (B, L, D
Daily)

DAY 6~WEDNESDAY~JUNE 6
SWEETWATERS
Continue with your exploration of this magnificent country
with its diverse landscapes and hospitable people, and drive north to Sweetwaters Tented Camp, which lies in the heart
of the privately owned 22,000-acre Reserve, enjoying magnificent views across the bush to the snow-capped peaks of Mt.
Kenya. Overlooking a floodlit waterhole, the camp offers visitors an unforgettable opportunity to watch and photograph
wildlife in its natural habitat.
During your stay here, you will visit the 200-acre
Chimpanzee sanctuary that has been set up here. Although
chimps are not indigenous to Kenya, the aim of the project,
initiated by Lonrho East Africa, Kenya Wildlife Services
and the Jane Goodall Institute, was to set up a colony where
chimps could be introduced, rehabilitated and taught to
fend for themselves in an area similar to their natural living
conditions. Priority is given to orphaned and abused
chimps. The Sanctuary currently has 27 chimps, including
two babies born in the Sanctuary. While here, you will be
treated to a guided
walking safari. At
an optional cost,
you can enjoy camel safaris, and horse-back riding.
Enjoy a night drive (at an additional cost); you may see nocturnal animals such as
aardvark, aardwolf, genet, caracal, porcupine, spring hare and galagos. During
your drive, stop and feast your eyes on the brilliant star-studded sky, also take a
moment to absorb the wondrous African night. This is definitely what Mother
Nature intended.
Exquisitely appointed tents under thatched roof have en-suite facilities and
private verandahs. Relax at the Waterhole Bar for uninterrupted views of visiting
wildlife or cozy up to a blazing log fire in the Kashoggi Bar and Lounge. In the
heat of the day, take a refreshing dip in the pool. Sundowner cocktails, excellent
cuisine, safari luncheons, bush dinners and campfire suppers create a truly
unforgettable safari. While here, you will be treated to a night wildlife drive to see
those creatures that do their prowling by moonlight.
Overnight at SWEETWATERS TENTED CAMP. (B, L, D)

DAYS 7/8~THURSDAY/FRIDAY~JUNE 7/8
LAKE NAKURU NATIONAL PARK
You now explore the Great Rift Valley, a huge geological fault-line that stretches round one-sixth of the Earth's
circumference and is visible from far out in space. At 2,000 feet deep and 30 miles wide, it runs as far as the eye can see.
Its walls are sheer and high and along its length, there are many volcanoes, most now dormant. With bubbling springs
and geysers, the landscape is spectacular. Lake Nakuru National Park is a shallow alkaline lake that is world-renowned
for its huge concentration of flamingos; at times, hundreds of thousands of these birds give the lake a pink shimmering
glow. The park boasts a huge variety of animals, including leopard which is often found snoozing on the branches of the
magnificent yellow-barked acacias, lion, buffalo, hippo, waterbuck, warthog, baboon, the endangered Rothschild's giraffe
only found in this park in Kenya, white rhino and the rare black rhino which is protected and guarded here. For the birdwatching
enthusiast there are 450 species found in the park vicinity, with a vast concentration of water birds including
Marabou Stork, pelican, and of course the worldfamous
flocks of flamingo. Your wildlife drives will
allow ample wildlife viewing and you'll also get a
chance for a bird and wildlife walk at nearby
Soysambu and Lake Elmenteita.
Mbweha Camp is located in the privately-owned
Congreve Conservancy, hidden in a grove of
euphorbia cactus with lovely views of the Eburu and
Mau ranges, only 15 minutes away from the gate to
Lake Nakuru National Park. The Conservancy is
home to over 300 species of birds, and to the majority
of plains animals such as eland, zebra, Grant's
gazelle, waterbuck and impala, as well as to hardy
predators such as hyena and leopard. Mbweha is the
Kiswahili word for jackal, and it is here that one can
see all three species of jackal found in East Africa:
side-striped, silver-backed, and golden. Also present are dik dik, warthog, buffalo, giraffe, aardvark and baboon.
The thatched cottages with walls of natural lava rock have a roomy, circular
sleeping area with en-suite shower and a private verandah. All cottages are
completely separate, and are simply designed featuring natural materials and
tastefully furnished. The camp's sunken bar and spacious lounge has an open
fireplace, a pool table, darts board, and looks out at eye level onto a small
waterhole. The bush restaurant serves a choice of freshly prepared meals in a
separate thatched dining room. Activities on offer include nature walks, bike
rides, hiking, day and night wildlife drives, bush dinners, and sundowners.
Overnights at the MBWEHA CAMP. (B, L, D Daily)

DAYS 9/10/11~SATURDAY/SUNDAY/MONDAY~JUNE 9/10/11
MAASAI MARA/NORTHERN SERENGETI
Get ready to discover the sweeping landscapes, incredible wildlife and amazing
people of Kenya as you board your comfortable minibus for your drive to the
Maasai Mara, Kenya's most famous wildlife reserve, much the setting for the film
Out of Africa. (An optional flight is available at a cost of $300 per person). It is
classic savannah – grasslands, where animals are plentiful and the vistas
spectacular. In this dreamlike land, animals live in freedom, and the Maasai tend
their cattle, all sharing the same land with minimal conflict. You will have three
days of wildlife-viewing opportunities in the Maasai Mara Reserve, also known as the "Jewel of Africa," a site with one
of the largest and the most spectacular animal migrations in the world. The reserve is inhabited by many of Africa's most
popular wild animals, including lion, cheetah, elephant, leopard, black rhino and hippo. There are also over 500 resident
species of birds in the park including ostrich, larks and sunbirds as well as the lovely Lilac-breasted Roller.
The area is famous for rolling
grassland and for the Mara River,
which runs through the reserve from
north to south. The reserve covers an
area of 700 square miles and forms
part of the Serengeti ecosystem,
hosting the world famous spectacle
of the annual migration of up to two
million wildebeest, thousands of
zebra and an escort of carnivores
from the Serengeti plains that follow
the rains and succulent new grass. A
costly trek as many of the lame,
laggard and sick will fall prey to the
ravening pack of predators and
many more will die in the swirling
flood waters of the Mara River as
they try to cross it. While you will
not be in the Mara during the
migration, you are sure to enjoy the
astounding resident wildlife that calls the Mara home all year round! Optional activities abound while you're in the
Maasai Mara. You can try a balloon safari for an exhilarating experience over the savannah as the early sun rises and the
animals are more active. Or, take a short flight to Lake Victoria, where either at Mfangano or Rusinga Islands you can see
the life of the natives who rely on fishing and what the lake has to offer – in fact,
you can try your hand at fishing as many a times visitors can catch up to 100-
pound Nile perch. If fishing is not your thing, there's a paleoanthropological site
to be visited, and the area is lovely. Duties permitting, a Maasai warden will
discuss current conservation issues faced in the Mara. If you wish, for a nominal
fee, you can also visit a Maasai Village to experience this nomadic tribe's way of
life and see their colorful culture.
Your luxury tented camp is located on the banks of the Talek River in one of the
most active wildlife areas of the reserve. In the true sense of ecotourism, a
portion of your fee is given to the local community to support various projects
and the Maasai have a very visible presence in the camp – from your askari
outside your tents who tend to your safety, to the staff employed from the nearby
villages. Technically outside the reserve (crossing a bridge brings you into the
reserve) you can enjoy activities that are not allowed in the reserve such as
wildlife walks, as well as visits to the Maasai manyatta and tree-planting to
enhance the look of your camp. You're sure to enjoy your fabulous tent. Roomy,
with two queen-size beds, each tent has ensuite facilities and tasteful furnishings
with a private verandah facing the bend of the river. Every attention to detail has
been made to provide a comfortable and unforgettable stay while in the Mara.
Overnights at the MARA TIPILIKWANI CAMP. (B, L, D Daily)

DAY 12~TUESDAY~JUNE 12
MAASAI MARA/NAIROBI/EN ROUTE
A last chance to photograph that awesome sunrise before driving back to Nairobi. (An optional flight between Maasai Mara
and Nairobi is available at a cost of $300 per person.) A day room will be supplied for you at the STANLEY HOTEL. This
afternoon, you may opt to shop in town, or at the African marketplace, or just relax at your hotel. Soon you are escorted
to the airport for your flight to London. As your journey comes to a close, you say a fond farewell to your driver/guides
and naturalist and promise to come back in the not too distant future. (B)

DAY 13~WEDNESDAY~JUNE 13
LONDON/NEW YORK
This morning your jet lands in London where you connect with your flights home, bringing with you the memories of all
the wonderful sights of East Africa. (Meals Aloft)
5-DAY OPTIONAL POST-EXTENSION TO AMBOSELI &TSAVO
A minimum of 5 passengers is required for this extension

DAY 12~TUESDAY~JUNE 12
MAASAI MARA/NAIROBI
This morning offers a last chance to photograph that incredible cheetah, or awesome sunrise before driving back to
Nairobi. (An optional flight between Maasai Mara and Nairobi is available at a cost of $300 per person.) This afternoon, you may
opt to shop in town, or at the African marketplace, or bask in the sun at the lovely pool of your hotel. Bid farewell to the
rest of the group departing for the USA and prepare for your next adventure.
Overnight at the STANLEY HOTEL. (B)

DAYS 13/14~WEDNESDAY/THURSDAY~JUNE 13/14
AMBOSELI NATIONAL PARK/MOUNT KILIMANJARO
Continue to Amboseli National Park, located at the foot of Africa's highest mountain, Mount Kilimanjaro. The snowcapped
peak of Mount Kilimanjaro rises above a saucer of clouds and dominates every aspect of Amboseli. This park
covers only 150 square miles but despite its small size and its fragile ecosystem it
supports a wide range of mammals (well over 50 of the larger species) and birds
(over 400 species). Years ago this was the locale around which such famous
writers as Ernest Hemingway and Robert Ruark spun their stories of big-game
hunting in the wilds of Africa. This too, is part of Maasailand, and it's not
unusual to see the proud Maasai warrior or small children tending their cattle as
you traverse their territory. In this land, animal and man have learned to coexist
and thrive together, despite the harsh conditions. This is also the park that has
been made famous by Cynthia Moss, the noted American naturalist and author
who has one of the longest-running studies on elephants. You might even see
some of the elephants that Cynthia has immortalized in her many books and
award-winning film Echo of the Elephants.
In the shadow of Mount Kilimanjaro, beside a copse of giant acacia trees and a
gently flowing natural spring, stands Amboseli Serena Safari Lodge. With
Kilimanjaro's 19,340 foot snow-capped summit presiding over the landscape, the
setting is unrivalled. All around the lodge roams the wildlife that has made East
Africa legendary – lion, buffalo, cheetah, giraffe, baboon, gazelle, and wildebeest.
Influenced by native Maasai architecture, the
lodge is in perfect harmony with its
environment. Beautifully-landscaped gardens,
unique guest services and exceptional
amenities enhance the distinctive ambience.
The uniquely constructed Ivory Class guest
rooms – 96 in total – with en-suite bathrooms,
individually appointed with authentic Africana
and murals painted by a renowned local artist,
convey a distinctive Maasai Manyatta mood.
Grouped in the manner of a Maasai village,
each room enjoys a view of either majestic
Mount Kilimanjaro or the expansive Amboseli
plains which are home to herds of elephant that
feed on the large, feathery acacia trees.
Overlooking the saltlick and floodlit waterhole,
the open air dining room serves guests
sumptuous international menus, buffets and
barbecues alongside authentic African dishes. A full service bar and refreshing outdoor pool are some of the other
luxuries one is expected to find at this lodge.
Overnights at the AMBOSELI SERENA SAFARI LODGE. (B, L, D Daily)

DAYS 15/16~FRIDAY/SATURDAY~JUNE 15/16
TSAVO WEST NATIONAL PARK
Your drive takes you to Tsavo West National Park (an optional flight is available at a cost of $300 per person.) At just
over 8,000 square miles, Tsavo is the largest national park in Kenya and one of the largest in the world. Because of its size
the park was split into two, Tsavo West and Tsavo East, for easy administration. Located midway between Nairobi and
the coast, the area boasts volcanic hills, four rivers, more than 60 major mammal species and 1,000 plant species. The
northern part of Tsavo West is the most developed and has spectacular scenery with a rolling volcanic landscape
carpeted in long grass and dense bush. Although the tall vegetation makes game spotting trickier than in some of the
other parks, Tsavo West's bio-diversity is amazing. The landscape is a mixture of grassland and forest shrub vegetation.
Thus driving and exploring the vegetation almost assures you close encounters with the following animals: lions,
leopard, cheetah, zebras, giraffes, antelopes, kongoni, waterbuck, klipspringer, impala, gazelles, buffalos, and elephants.
Apart from Tsavo's elephant population there
are many lion – some undoubtedly the
descendants of the infamous and feared "Maneaters
of Tsavo" popularized in the film Ghost
in the Darkness. In addition to lion the resident
carnivores in Tsavo include serval, hyena,
leopard, cheetah, and caracal. The landscape is
dominated, especially off the hills, by the giant
baobab, a tree which is reputed to live 1,000
years.
Tsavo West is famous for the Mzima Springs.
This star attraction is a pool of natural spring
water with underwater viewing hides for
observing hippos where a gushing supply of
fresh, crystal clear water has created an oasis
for wildlife. A specially constructed
underwater observatory provides visitors with a unique view into the underwater world of Mzima. The water catchment
is divided into two pools; here you can view hippos and crocodiles. The upper pool is occupied by the hippos and lower
pool by the crocodiles. While here, you will visit a nearby local village and school.
The first lodge ever to be built in a Kenyan National Park, Kilaguni Serena Safari Lodge is superbly situated in the lee of
Mount Kilimanjaro, encircled by volcanic splendor, adjacent to a teeming waterhole and daily visited by vast herds of
elephant, buffalo and plains animals. Inspirationally positioned so that not only all the rooms but also the open-air
restaurant, timbered viewing decks and rock-built bar enjoy uninterrupted views of the legendary snows of Kilimanjaro,
the lodge also stands central to miles of lion-stalked
grasslands, elephant-studded plains and wildlife-teeming
bush and is ideally placed for visits to all the park's prime
attractions. Faced in volcanic stone and utilizing the natural
rocky outcrops of a valley known as 'the place of the young
rhino', from which it takes its name, the lodge has been
designed to blend chameleon-like into the savannah
landscape. Cool, tranquil and hushed for optimum
wildlife-viewing, the open-air dining area, timbered decks
and rock-hewn bar blend the traditional "khaki-andcanvas"
look with bright-painted banners, sepia-hued
paintings and evocative olive-wood carvings of elephant
herds and tail-erect warthogs. The elegantly renovated
rooms draw on a sun-gold, sky-blue and bush-green
savannah color palette and have been so styled to provide world-class luxury and a quintessential African aura while
featuring private verandahs with views of eternity.
Overnights at KILAGUNI SERENA SAFARI LODGE. (B, L, D Daily)

DAY 17~SUNDAY~JUNE 17
NAIROBI/EN ROUTE
Drive back to Nairobi this morning (an optional flight is available at a cost of $300 per person.) A day room will be supplied
for you at the STANLEY HOTEL. Soon you are escorted to the airport for your flight to London. As your journey comes
to a close, you say a fond farewell to your driver/guides and naturalist and promise to come back in the not too distant
future. (B)

DAY 18~MONDAY~JUNE 18
LONDON/NEW YORK
This morning your jet lands in London where you connect with your flights home, bringing with you the memories of all
the wonderful sights of East Africa. (Meals Aloft)

More information from Classic Escapes: