Cultural Explorations - vacations and travel
Vietnam A Culinary Tour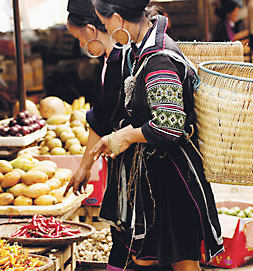 from $4,295* per person
16 Days
February
Boutique accommodations

Exertion level: 4

Operator:

Cultural Explorations

24 people max
Ho chi minh city, vietnam
Culinary & Wine Travel trips
We're endlessly fascinated by the subtle flavours and diversity of Vietnamese cuisine. What better way to get to know a country than to share a meal, visit a market and cook in a kitchen?

The signature flavours of Vietnam are the signposts along our route; we'll meet nuoc nam, the distinctive fish sauce; rice, the essential staff of life; wet, dry, thick and thin noodles and throughout, the fresh herbs, leaves and vegetables so essential to Vietnamese cuisine. There are markets to explore, the scent of street food to enjoy and meetings with cooks, chefs and farmers. Finally there is the influence of the French who introduced baguettes, crème caramel with coconut milk and the delicious ca phe.

We begin in bustling Ho Chi Minh City, rich in contemporary history and overflowing with Asian Tiger dynamism. We plunge right into the kitchens, learning to prepare Vietnam's signature pho and exploring the Mekong, the 'rice basket' of Vietnam, with its dynamic floating markets. Next it's a short flight north to the magnificent old port town of Hoi An, a treasure house of fine architecture; a graceful town of bridges and canals and shops chock full of silks, paintings, embroidery and lacquer ware. Mrs Cuc will introduce us to the regional cuisine of Hue and we'll dine in one of the town's delightful garden houses. We've allowed plenty of time in the surprisingly graceful and green city of Hanoi to sip coffee at sidewalk cafes, visit the fine art galleries and dine in the best fusion restaurants. We'll learn how to blend east and west to dramatic effect from a top chef. Our exploration concludes with an overnight cruise through jaw-droppingly gorgeous Halong Bay where the scenery is like a painting.

Our accommodation is in super central city hotels and a fine selection of heritage inns. Wherever we go we will be welcomed by an exceptional level of luxury and gracious hospitality.

And to complete the trip, consider adding a visit to Siem Reap visiting the landmark temples of Angkor Wat, Bayon and the more remote temples of the jungle. These magnificent monuments have survived the collapse of the sophisticated civilization that built them, centuries of consumption by the suffocating jungle and decades of strife to yield an enthralling finale to your journey.

Locations visited/nearby
Vietnam, Southeast Asia
0 testimonials about this trip.
Reviewer:

K r

located in

Ont

,

Canada

It was the best vacation I have ever had

5
Comments from Facebook
Special information
Accommodates certain types of disabilities. Contact the operator for more information.
Itinerary
Day 1: Arrive in Ho Chi Minh City
Day 2: Saigon's kitchens and markets
Day 3: The floating markets of the Mekong
Day 4: Bridges and gardens of Hoi An
Day 5: Traditional cooking in Tra Que
Day 6: Drive cross the scenic Hai Van Pass to riverside Hue
Day 7: Prepare 'Royal Cuisine' by the Perfume River
Day 8: Fly to Hanoi
Day 9: Art galleries and café culture
Day 10: Cooking and tasting French fusion cuisine
Day 11: Cruising gorgeous Halong Bay
Day 12: Street markets in Hanoi
Day 13: Depart Hanoi OR start an optional extension to Angkor and fly to Siem Reap
Day 14: Angkor Thom and Angkor Wat
Day 15: Forgotten Khmer temples
Day 16: Tour concludes in Siem Reap
More information from Cultural Explorations: