Cultural Explorations - vacations and travel
The Galapagos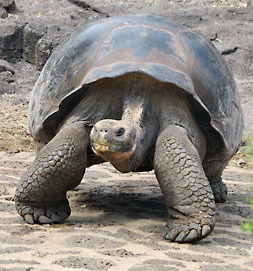 from $4,995* per person
8 Days
Year-round
Boutique accommodations

Exertion level: 4

Operator:

Cultural Explorations

24 people max
San cristóbal airport, galapagos, ecuador
Culture & Nature trips
We suggest arriving a few days early to enjoy scenic Quito and the beautiful highlands of Ecuador. Contact us to make all of your arrangements, including flights,
accommodations and private tours.
A trip to the Galapagos Islands is a journey of wonder. The volcanic islands sit about 1000km west of mainland Ecuador in the Pacific Ocean. At first they appear desolate. Yet these rough and rocky isles are home to wonderfully strange and abundant wildlife. As Charles Darwin did some 200 years before us, we marvel at the highly adapted creatures found nowhere else on earth. The very remoteness of the islands has contributed to the approachability of these creatures and we walk amongst them with ease. Giant Galapagos tortoises meander grassy highlands; prehistoric marine iguanas sun themselves on black lava rocks along the shore; flightless cormorants and tiny penguins dart though the waters while blue-footed boobies display their mating dance.

There's a Galapagos for every season and every month offers its own special attraction. We've learned from our years of experience with Galapagos travel that the best way to explore the islands is by small yacht, guided by expert naturalists. Choosing the right vessel is an important decision.

Locations visited/nearby
Ecuador, South America, Galapagos
0 testimonials about this trip.
Reviewer:

K r

located in

Ont

,

Canada

It was the best vacation I have ever had

5
Comments from Facebook
Special information
Accommodates certain types of disabilities. Contact the operator for more information.
Itinerary
Day 1: Embark at San Cristobal, Leon Dormido
Upon arrival your crew will meet you at the airport and escort you to your expedition ship anchored nearby. At Playa Ochoa, you have a chance to snorkel and swim with a small colony of seal lions. As the sun sets, you cruise around Kicker Rock (Leon Dormido). Watch for sea lions, blue-footed boobies, masked boobies and magnificent frigate birds on the cliffs.
Overnight: On board La Pinta
Meals: Dinner
Day 2: North Seymour; Cerro Dragon, Santa Cruz
This morning you will walk observe bird colonies of blue-footed boobies, frigate birds, swallow tailed gulls and also sea lions and marine iguanas. This is a great spot for snorkeling or coastal exploration. In the afternoon, you'll explore the northern shore of Santa Cruz Island, at Cerro Dragon, where an important project to save the endemic land iguanas was successful in protecting these reptiles against introduced predators. Individuals may be seen basking in the sun or feeding on the opuntia cacti.
Overnight: On board La Pinta
Meals: Breakfast, Lunch, Dinner
Day 3: Post Office Bay, Punta Cormorant, Floreana
You will land at the historic barrel that served as a post office, to learn about the human side of the islands, its early inhabitants and the adventures of pirates and whalers. There is a chance to snorkel from the Zodiacs around Champion Islet or a ride on the glass-bottom boat. A Zodiac ride along Champion islet may show the rarest land bird in Galápagos: the Charles mockingbird. Later, you'll disembark at Punta Cormorant for an easy walk to see the flamingos that inhabit a brackish-water lagoon, and other birds like stilts and sandpipers. Return to the beach to swim, snorkel or kayak.
Overnight: On board La Pinta
Meals: Breakfast, Lunch, Dinner
Day 4: Punta Moreno, Isabela; Punta Espinoza, Fernandina
Walk across a young lava field, a dramatic scenery of pahoe-hoe lava that stretches to the foot of some of the most active volcanoes in Galápagos. Lush vegetation and brightly colored birds are a striking contrast with the surrounding jet black lava. A panga ride along the shore will reveal mangrove tenants like rays, young sharks, nesting pelicans and flightless birds like penguins and the endemic cormorant. The afternoon brings you to the youngest island, Fernandina. Hundreds of marine iguanas, the largest colony in Galapagos, bask in the sun along the rugged shoreline, while sea turtles abound in the water around the coast.
Overnight: On board La Pinta
Meals: Breakfast, Lunch, Dinner
Day 5: Santa Cruz
Today you will visit the highlands of Santa Cruz Island, including the twin pit craters Los Gemelos. From December to mid-April a visit to see giant tortoises in the wild may be included. You'll return to Puerto Ayora for lunch. This afternoon you'll visit to the Charles Darwin Research Station and the giant tortoise pens, including tortoise celebrities like Lonesome George.
Overnight: On board La Pinta
Meals: Breakfast, Lunch, Dinner
Day 6: Bartolomé, Rabida
You'll climb the many steps of Bartolome, where it feels like you are walking on the moon. This young island is inhospitable to most animal and plant life. On your walk, stop to marvel at lava bombs, spatter cones and cinder cones. The view from the top is the introduction to the next activity: swimming and snorkeling along the north beach. Only a short sailing distance from Bartolomé is the tiny island of Rábida. Aquatic life includes swarms of reef fish, sea lions and often large rays. The glass-bottom boat is available as an option for the non-snorkeler.
Overnight: On board La Pinta
Meals: Breakfast, Lunch, Dinner
Day 7: Espanola
After breakfast, you'll disembark at a white coral beach where you can take a short walk and watch the sea lions, Hood mockingbirds and finches or just enjoy
the beach. There is great snorkeling in this area, or you may kayak or ride the glass-bottom boat. This afternoon you'll have an exciting walk on lava terrain to visit its unique sea bird colonies, including the waved albatrosses (May-December), colonies of Nazca and blue-footed boobies, swallow tailed gulls and the famous blowhole.
Overnight: On board La Pinta
Meals: Breakfast, Lunch, Dinner
Day 8: Disembark at San Cristobal
This morning, you'll disembark at Puerto Baquerizo Moreno and take a short minibus ride to see the emblematic reptile of the Galápagos. Afterwards, you'll head straight to the airport for your flight back to the mainland.
Meals: Breakfast
More information from Cultural Explorations: