Cultural Explorations - vacations and travel
Turkey The Grand Tour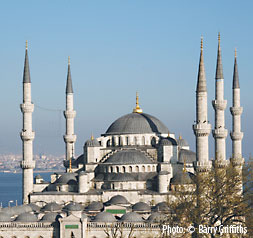 from $2,995* per person
14 Days
Year-round
Boutique accommodations

Exertion level: 4

Operator:

Cultural Explorations

24 people max
Istanbul airport, turkey
Culture & Nature trips
Turkey has always been marked by contrasts and contradictions: old and new, east and west, secular and sacred, familiar and exotic. The one constant is the genuine hospitality you will find throughout the country. This grand driving tour is, we think, the best way to take in the sights of the country; the rich, layered, magical world of history and culture that is Turkey.

No one requires reminding that Istanbul is a matchless historical treasure house. With your guide you'll visit the Blue Mosque, the Hagia Sophia and the Topkapi Palace. You'll discover the Grand Bazaar and wander the streets around the Spice Market. Then you'll set out with your driver, travelling in the footsteps of Alexander the Great across the Dardanelles. You'll visit the Gallipoli Peninsula, site of the tragic WWI battle but also the birthplace of modern Turkey. There are great historic and mythological sites to be seen here, including Homer's Troy and the ruins of the acropolis at Pergamum. You'll spend two nights at one of our favourite hotels on a scenic peninsula protruding into the Aegean Sea. From here you'll visit Ephesus, one of the best preserved ancient sites in the Mediterranean.

You'll take a break in the coastal city of Antalya, built on a rocky travertine plateau with a breathtaking silhouette of the snowcapped peaks in the distance. From here, you'll visit the 12,000-person ancient Roman stadium at Perge and the 2,000-year-old theater at Aspendos. Your return route to Istanbul takes you through wondrous fairy chimney landscapes at Cappadocia, the spiritual centre of Konya and the Green Ottoman centre of Bursa.

This is a comprehensive look at Turkey's most intriguing sites. Making this your private journey lets you explore the country at your own pace and truly make the experience your own.

Locations visited/nearby
Turkey, Europe
0 testimonials about this trip.
Reviewer:

K r

located in

Ont

,

Canada

It was the best vacation I have ever had

5
Comments from Facebook
Special information
Accommodates certain types of disabilities. Contact the operator for more information.
Itinerary
Day 1: Arrive in Istanbul
Upon arrival the airport, you will be met and assisted by our Turkish representative and transferred to your hotel.
Overnight: Istanbul
Day 2: Istanbul: City Tour
Begin the day at the magnificent Topkapi Palace. Once home to the great Sultans, it is filled with treasures and antiquities including twelve thousand pieces of fine Chinese porcelain. Then you'll visit the unique Blue Mosque built in 1609 by Sultan Ahmet. The interior walls are covered with twenty thousand blue Iznik tiles. In the afternoon venture into the Grand Covered Bazaar. Built in 1457, it is famous for its selection of goods and is the largest bazaar in the world with over four thousand shops. Later, you will visit the Hippodrome and Basilica of St. Sophia, which has inspired architects and religious leaders for over fifteen hundred years. Constructed in 326 by Constantine the Great, it has been a cathedral, a mosque, and now a museum.
Overnight: Istanbul
Meals: Breakfast
Day 3: Gallipoli-Dardanelles-Canakkale
As wondrous as was Turkey's past, its contemporary history has seen many equally moving moments. The World War I battle for control of the Dardanelles strait was fought mainly on Turkey's Gallipoli peninsula with appalling casualties. Your drive from Istanbul takes you through this historic area where the gorgeous coastal setting stands in eternal contrast to empty battlefields. You continue across the Dardanelles to Canakkale.
Overnight: Canakkale
Meals: Breakfast, Lunch or Dinner
Day 4: Canakkale-Troy-Pergamum-Kusadasi
After breakfast, embark on your drive to Troy, one of the oldest discovered sights in Asia Minor with its nine different settlements and related 30 cities. Trojans lived in this land dating from 3000 BC, and there were others there before them. Continue to the ancient city Pergamum, once ruled by Alexander the Great. You'll visit the glorious Temple of Isis, an Egyptian deity, who was worshipped as the archetypal wife and mother and also the goddess of magic and healing. You'll then drive to the ancient resort town of Kusadasi.
Overnight: Kusadasi
Meals: Breakfast, Lunch or Dinner
Day 5: Ephesus
Ephesus is the largest ancient city ever uncovered and remains a spectacular sight. According to the old legends, Ephesus was founded by female warriors known as the Amazons. Once populated with three hundred thousand people, it has an enormous amphitheatre, which can still hold twenty four thousand spectators. Here you can soak in the atmosphere of Roman times. As you walk down the marble covered streets, you see gymnasiums, baths houses, public latrines, and the library of Celsius. According to a vision of a woman in 1812, here in Ephesus at the "House of the Virgin Mary" is where the Apostle John cared for the mother of Jesus and where Mary died.
Overnight: Kusadasi
Meals: Breakfast, Lunch or Dinner
Day 6: Kusadasi-Aphrodisias-Pamukkale
Today you will drive through fertile valleys to Aphrodisias, the city of Aphrodite, then continue to Pamukkale, an unusual natural and historical site with sparkling white castle-like cascades. The dazzling white calcareous castles are formed by limestone-laden thermal springs, creating an incredible formation of stalactites, potholes and cataracts. In Turkish, Pamukkale means "cotton castle."
Overnight: Pamukkale
Meals: Breakfast, Lunch or Dinner
Day 7: Pamukkale-Antalya
Visit Hierapolis ("sacred city"), believed to have been founded by the god Apollo. It was famed for its sacred hot springs, whose vapours were associated with Pluto, god of the underworld. There is a great view of the spectacular white terraces of Pamukkale. You'll continue to Antalya, arriving in time to enjoy a relaxing afternoon by the Mediterranean coast.
Overnight: Antalya
Meals: Breakfast, Lunch or Dinner
Day 8: Perge, Aspendos
From Antalya you'll take a half-day tour to the ancient cities of Perge and Aspendos. Located on the plains of Pamphylia, both cities have very long legacies. Originally a Hellenistic settlement (from almost 1500 BC), Perge developed into a thriving Roman city. Aspendos, located beside the river Eurymedon, is renowned for its magnificent amphitheatre.
Overnight: Antalya
Meals: Breakfast, Lunch or Dinner
Day 9: Antalya-Konya-Cappadocia
After breakfast, depart for Konya, one of the most ancient settlements of Anatolia, with evidence of inhabitants here in the Neolithic Age (7000 BC). You'll visit the Karatay Koran School and the Mausoleum of Mevlana, founder of the Whirling Dervishes. There is an option (not included) to attend a Whirling Dervishes performance in a 13th century caravanserai before continuing to Cappadocia.
Overnight: Konya
Meals: Breakfast, Lunch or Dinner
Day 10: Cappadocia
There is scenery and then there is Cappadocia. The incredible "fairy chimneys" standing out against the stark lunar landscape make this a truly wondrous setting. While there is a perfectly natural explanation (the towers are the result of volcanic ash solidifying into soft stone eroded over centuries), the landscape seems to defy logic. There is an optional (not included) early morning balloon tour, floating over the valleys with the sunrise. After breakfast, visit Goreme, Avanos, Pasabag, the Red Valley and the underground city of Ozkonak.
Overnight: Cappadocia
Meals: Breakfast, Lunch or Dinner
Day 11: Cappadocia-Ankara
On your way to Ankara, stop at the 13thcentury Agzikarahan caravanserai in Aksaray. Caravanserais have been used since 10th century. Trade across Turkey in mediaeval Seljuk times was dependent on camel trains (kervan, anglicised as caravan), which stopped by night in inns known as kervansaray or caravanserai, literally "caravan palaces." These buildings provided accommodation and other amenities for the merchants and stabling for their animals. Some of the most beautiful examples of caravanserais are found in the region of Cappadocia, especially between Aksaray and Kayseri, since it is an intersection on the Silk Road, east to west and south to north.
Putting it all into perspective means spending some time at the Museum of Anatolian Civilizations, where archaeological pieces dating as far back as the prehistoric age are exhibited. The Mausoleum of Ataturk, founder of modern Turkey, awaits you later in the day.
Overnight: Ankara
Meals: Breakfast, Lunch or Dinner
Day 12: Ankara-Bursa
After breakfast, depart for Bursa. Known as "Green Bursa," the city is filled with gardens and parks and overlooks a verdant plain. It is at the centre of an important fruit growing region. Bursa was, and is still, famous for its silk trade, towel manufacture and thermal springs. You'll visit the Green Ottoman Complex and will have a chance to take a Turkish bath.
Overnight: Bursa
Meals: Breakfast, Lunch or Dinner
Day 13: Bursa-Istanbul
You'll cross the Sea of Marmara to return to Istanbul today. This afternoon you are free to do some last-minute shopping in the spice market or take a half-day Bosphorus Cruise (not included).
Overnight: Istanbul
Meals: Breakfast, Lunch or Dinner
Day 14: Depart Istanbul
You will be taken to the airport for your flight home.
Meals: Breakfast
More information from Cultural Explorations: